What a 10,000 Mile Road Trip Taught My Kids About America's Beauty — and Complications
We saw, we learned, and we debated issues that didn't always have easy answers.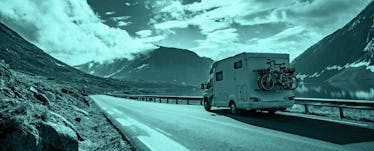 Inching up the icy trail, we were acutely aware there were no railings to grasp if we slipped toward the snow-crusted mountainside. Fortunately, we arrived intact. There, in Wyoming's Bighorn National Forest, we contemplated the ancient stones of the Medicine Wheel. Looking out from the Wheel, we were dazzled; the view was like being on top of the world. Looking into the Wheel, we were humbled by the knowledge that indigenous peoples have trekked to this spiritual site for thousands of years.
Heat surpassed 102°F as clouds of dust stirred around our shoes. Cracked foundations and two crumbling pillars are the last remnants of the World War II-era Dalton Wells concentration camp for Japanese Americans. The sunbaked site in Moab, Utah, was otherwise marked only by a small plaque. It read in part: "May this sad, low point in the history of our democracy never be forgotten, in the hope that it will never happen again."
The gazebo seen in the infamous security video has been moved to a memorial in Chicago, Illinois. But it was undoubtedly the Cudell Recreation Center in Cleveland, Ohio. We stopped by and found adults relaxing and children having fun. The day was sunny and bright, and it almost seemed inconceivable that 12-year-old Tamir Rice was murdered here in broad daylight by a cop. This story was submitted by a Fatherly reader. Opinions expressed in the story do not necessarily reflect the opinions of Fatherly as a publication. The fact that we're printing the story does, however, reflect a belief that it is an interesting and worthwhile read.
Water pounded us hard enough to soak under our ponchos at the Hurricane Deck halfway down New York's Niagara Falls. Water had also pounded Percival, Iowa, where we witnessed acres of farmland still flooded after the Missouri River's catastrophic overflows. In Butte, Montana, we surveyed the brilliant green waters of the Berkeley Pit, one of the most polluted Superfund sites. Old Faithful didn't erupt with precision like the Bellagio's fountains in Las Vegas, but it was more impressive. Michigan's Flint River seemed as tranquil as the National Mall's Reflecting Pool, belying the river's role in the still-unresolved water crisis.
In Yellowstone, the world's first national park, a wild bison rolled its eyes and then ignored us. In Nebraska, at the world's largest zoo, a captive lioness did the same. Off the coast of Maine, a finback whale looked like maybe it was thinking about it.
This summer, I was blessed with the opportunity to take a road trip across the country with my kids, ages 11 and 14. Across more than 10,000 miles and 30 states, America became our museum of nature, history, politics, and more. We saw, we learned, and we debated issues that didn't always have easy answers.
Our major conclusions? First, America's heroes are more complex than their myths. Second, it's a big, spacious country, and its far-flung regions are more connected than we admit.
Heroes and Flaws
We sat in quiet awe on Rosa Parks' bus, a powerful symbol of antiracism. Ironically, that bus sits in a museum founded by Henry Ford. He was a hero of American industrial capitalism whose namesake automotive company is a global icon of business. And yet, Ford was so antisemitic that Hitler awarded him the Nazi's highest possible medal.
In Gary, Indiana, we saw the humble birthplace of the legendary musician, Michael Jackson. The city has among the worst histories of poverty, crime, and segregation in America. Considering his roots, Jackson's success is even more exceptional. But then there were the regular allegations of child abuse that rose again in the news during our trip.
Abraham Lincoln looked somber at Mount Rushmore in South Dakota, and tired at his memorial in Washington, D.C. We ran into him again in Louisville, Kentucky, on the plantation of Joshua Speed, his closest friend. Speed influenced Lincoln's opinion toward slaves, and yet he owned slaves and opposed emancipation. Lincoln himself once said, "I am not, nor ever have been, in favor of bringing about in any way the social and political equality of the white and black races."
At the Smithsonian National Air and Space Museum, we saw the Spirit of St. Louis and admired the bravery of Charles Lindbergh, the first pilot to fly solo nonstop across the Atlantic. At the United States Holocaust Memorial Museum, we encountered Lindbergh again where an old newsreel of his "America First" speech, in which he argues against the U.S. joining Europe in the fight against the Nazis, revealed his thinly veiled antisemitism.
These men join the array of national heroes who, upon examination, are less luminous than their legends. The kids and I discussed: Why do we often imagine famous people as purer and less nuanced than they were? Why do our stories tend to suppress faults — or amplify them? How many flaws can an American hero have before they're not a hero anymore?
The Spaces That Connect Us
We have flown across the country before. It's easy to disregard the land as it recedes behind the plane. Roadtripping the distance is different. You can't ignore the long empty spaces as you spend countless hours staring at them through the windows.
Some folks act as if America is overpopulated and ready to burst at the borders. It might feel that way in places like New York City, where my kids joked that there wasn't enough oxygen for everyone. But that sense of density disappears as you pass into less-peopled locales — especially when your minivan is low on gas or somebody needs a toilet.
"We've seen a whole lot of nothing," remarked my daughter somewhere in the green rolling hills of Vermont, and I agreed.
Why do we have all that nothing? Much of it produces our food. The diet of the nation demands more than 50-percent of our land be devoted to agriculture and livestock, including a lot of agriculture for livestock. At first, that percentage sounded impossible. It became easier to believe as we drove through it.
Along the way, I realized the word "rural" is poorly defined. In the Atlantic Northeast, rurality refers to people settled lightly across forests, mountains, and other landscapes of the older spirits. Farms are less common, smaller in acreage, and often focused on niche products or practices. That's different from the Midwest, or the Palouse region of the Pacific Northwest. There, much rurality is due to industrialized agriculture mass-producing a few staple crops across millions of acres.
Both regions have a low population density and are full of plants. But the industrial farmland is so forcefully sculpted and groomed that, to me, it feels as manmade as any urban sprawl. Is it agricultural sprawl? If nothing else, it is evidence that ruralness ain't the same everywhere.
My son noted halfway through Kansas corn country, "the Northeast basically needs the Midwest to be farmland." I think he's right. It may be that the Northeast can only preserve its natural landscapes because it relies on others for food. In return, the Midwest needs the Northeast to keep eating.
We had to wonder: Would the nation be more unified if we understood how much our different parts depended upon each other?
The Miles Ahead
I often reminded the kids that we were only scratching the country's surface. We could spend far longer at any of the places we stopped, not to mention the countless places we skipped. And this trip was a privilege. It's not time or cost everyone can afford.
Still, we reached my main goal: giving the kids a broad sample of the nation. We marveled at majestic mountains and world-famous architecture. We visited monuments to past wars and research centers for future weapons. We saw neighborhoods wasted by opioid addictions and forests charred by wildfires. We touched dinosaur bones in the quarry they had been dug and shot three-pointers in the town where basketball was invented. We ate pizza in Chicago, BBQ in St. Louis, fried chicken in Kentucky, cheddar in Wisconsin, lobster in Maine, and cheesesteak in Philadelphia.
Every stop, every sight, and every bite was a taste of America.
The journey was physical but the destination was intellectual. And, in a sense, the next steps are spiritual. Has the trip changed any of our beliefs about the nation or the world? Will it change our behaviors today, or in the future? Why, or why not?
Life experience is one of the greatest gifts you can give a child. Whatever experiences I provide, I want my kids to consider them thoughtfully, as building blocks to become better people.
Then the miles behind us, and the miles yet to come, will all be worth it.
Tor de Vries is the father of two who runs And I'm the Dad, a blog of funny, crazy, and insightful scripts and scraps from his real-life parenting sitcom. He has been highlighted by Mashable, Laughing Squid, and others. At his day job, he teaches in the Digital Technology and Culture program at Washington State University in Pullman, Washington.
This article was originally published on