What It Was Like to Adopt a Child From Foster Care
After the emotionally draining struggle with infertility came the emotionally draining process of adoption. But then we were a family.
by William Hemphill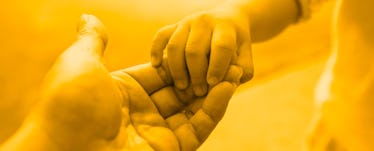 As a child I always assumed that I would become a father. My life goals were to grow up, get a good job, find a lovely woman to marry, and become a parent. I wanted three children: two boys and a girl. It never occurred to me that being a father might not happen.
For the most part I had accomplished my goals. I had a good career and I married a wonderful woman. However, after several years of marriage my wife and I had difficulty conceiving. We took several trips to the fertility doctor and they could find nothing wrong. My spouse was also reluctant to move forward with some aspects of treatment that were uncomfortable and invasive, both physically and emotionally. Eventually, we did go through treatments for a period of time, but they were unsuccessful.
So, in some ways we were stuck. Life was still good and we enjoyed ourselves. But I still wanted to be a father. One day at work a colleague spoke to me about adoption, specifically from the foster care system. My wife and I had thought about adoption but never really pursued the option. And so, we coasted for a while, not devoting too much energy to the question of becoming parents, until my nephew was born. Spending time with him reignited our dream to have children and reminded us that we were aging: our timeline to become parents was not closing, exactly, but it also wouldn't be open forever. We began to pursue adoption more diligently.
This story was submitted by a Fatherly reader. Opinions expressed in the story do not reflect the opinions of Fatherly as a publication. The fact that we're printing the story does, however, reflect a belief that it is an interesting and worthwhile read.
In the adoption process your whole world is placed under scrutiny. Your finances, work history, medical history, and other aspects of your life are put under a microscope. Home studies, credit reports, and background checks are done to see if you would be suitable parents. Your friends and family are questioned to examine your character. Your employment history and finances are checked to see if there are any issues. Multiple home visits are done to see if your residence is a safe and suitable place. Training on understanding the issues surrounding adoption is required before proceeding (not that you will understand the issues, but that's for another article).
And this process continues even after children are placed in your home. A person called a guardian ad litem comes to your home and checks on the status of the children for the court. All of this occurs while you're working with the adoption agency and the Department of Family and Children's Services. Emotionally, it can be a tiring process, even though it's necessary. (The crazy thing is, after finalization, all of these people disappear.)
After you have finished all of the steps, then you wait. And continue to wait. During our waiting time there was a prospective match that didn't work out. This happens a lot. We also had identified several children, but those connections did not come either. It was a long and frustrating process. In our case we waited almost two years before a match was made.
Then, finally, we would meet our children — three of them. At first, they really weren't too excited about meeting us. One of my sons informed us that he was going to do whatever he could to get rid of us. Welcome to adoptive parenthood.
As the day progressed, our other twin son and our daughter warmed up to us. The son who wanted to get rid of us became jealous at the attention his siblings were receiving. He joined in as we sat on the swings and began to learn a little bit about one another.
One of the things they don't tell you is that adoption is a nerve-wracking and scary process for all involved. You are bringing together parents and children who have experienced tragic and traumatic situations. In our kids' case, abuse and neglect brought them to us. We were coming from the emotionally difficult situation of infertility. As we became a family, we have been challenged to navigate those experiences together. Sometimes the navigation was easy. And sometimes it was very difficult. There were seasons of joy and times that I wanted to run away. But as of this writing we have been together 10 years. My two sons have graduated high school and are in college. My daughter is a senior and figuring out the next steps for her life.
Was it easy? No. Is it rewarding? Yes. Could I do it again? I am not sure. But I am thankful for my children and my family. They have helped me to mature and become a better man.
William Hemphill, II is a husband and a father of three children. As a pastoral counselor and an adoptive father, he understands the blessings and challenges of blending a family. He is also the author of Praying With Your Spouse: A Secret To Building Intimacy In Your Marriage.