Tony Goldwyn Talks Privilege, Parenting, and the Power of Being Present
The 'Scandal' president says having ambition is a good thing.
by Donna Freydkin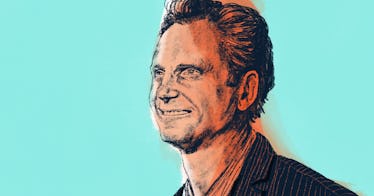 Julia Barnes for Fatherly
If ever there existed a scion of Hollywood royalty who didn't act the part, it's Tony Goldwyn. His grandfather was legendary film producer and studio head Samuel Goldwyn. His dad founded Samuel Goldwyn Films. As for Tony, 59, he too ascended to power when he occupied the Oval Office on ABC's Scandal, which ended its tumultuous run last April with Goldwyn's Fitzgerald Grant III running a foundation and possibly maybe getting his happily ever after with his great love, fixer Olivia Pope (Kerry Washington). In an industry of poseurs and fauxfluencers, Goldwyn has the goods, but acts more like a mellow suburban dad manning a grill in his backyard.
"The assumption of being from a showbiz family are slightly skewed. I had good parents who taught me to be kind. And to always be humble," he tells Fatherly.
Those lessons didn't skip a generation. Goldwyn raised his daughters far away from Sunset and Melrose, in suburban Connecticut with his wife, production designer Jane Musky. Now a free agent, Goldwyn appeared on Broadway in Network and is currently shooting Lovecraft Country, an HBO series produced by Jordan Peele and J.J. Abrams about a man traversing 1950s Jim Crow America in search of his missing father. Here's what Goldwyn has learned as a dad, and wants to pass on to his own girls.
Having a famous last name doesn't make you more important than anyone else. Treat everyone with respect and kindness.
People ask me that a lot. It's a credit to my parents. One of the great advantages for me from being from a multigenerational showbiz family is that the goal is not to be the hot guy or be on the cover of a magazine. The goal is to quietly build a strong foundation of quality work that will sustain you. When you focus on that, your ego calms down and you can be rooting for other people's success. People are unkind in this business because they get very afraid. It makes people pretty crazy.
It's not about grand gestures. It's about just being present, for the tiny moments and the big ones.
More specifically, Jane and I quickly realized — me being a narcissistic actor — that I could no longer be the center of my universe. It's not about me. It's not about her. We tried to always make them understand that they were the center of our lives, as opposed to our careers. It was me trying as best as I could, given my crazy job, to just show up. It's hard. I travel for work. I had to bounce around. I would take the red-eye back home — 90 percent of life is showing up. I couldn't always but I did when I could.
Kids don't follow a communications schedule. When they're ready to dump on you and suddenly talk feelings, you'd better be prepared to listen.
In terms of communication, and stages of their development, it's hard for kids to communicate with their parents. I remember wishing my parents would evaporate when I was a teenager. You need to be present for those moments when they need to communicate. I learned pretty quickly that after nine or 10 years old, they clam up. But when you least expect it, they open up and unload. If you're not present for those moments, you miss them. I did not succeed all the time. I talk to my adult girls about how hard it was for them when I was away. They're in their 20s. We're very close and have a good form of communication.
Kids feel pressured to look and act a certain way. Do your best to buffer that and keep them away from those situations.
I didn't raise them in Hollywood. We preferred living on the East Coast. Family and friends raise amazing children in Los Angeles. There are hazards when you're surrounded by show business. I was fine. Show business is very image-conscious. It's very conscious of who's hot and who's not. That pressure should not be on kids. We raised them in a normal suburban town in Connecticut. When they reached college age, they asked why we didn't raise them in New York City.
Give your kids every advantage you can, but don't do anything stupid or egregious. And make sure they understand just how lucky they are.
Yeah, we bribed the crew coach to get them into college! Luckily we didn't get caught up with that. It's horrifying what these parents were doing, I have to say, this issue of privilege extends beyond that unethical behavior. We paid for SAT tutors. It was legit. It helped them. While we were doing it, we were, like, the family five miles down the road can't do it. Jane and I felt that very acutely. The system is messed up. My kids went to UCLA and Northwestern.
As a parent, give yourself a break and cut yourself some slack. You won't be 100 percent 100 percent of the time. And that's OK.
I felt like I took to fatherhood pretty naturally. The advice I would have given my younger self was what I instinctively felt. You're not going to be perfect. Just show up as much as you can. When you die, you'll never regret spending too much time with your kids. As a young father, who was ambitious and my career was just starting to take off, I felt this tremendous conflict between my professional aspirations and being a good parent. I should have relaxed about that. It's an ebb and a flow. You need to make your kid the center of your universe. In the long run, you can have both. I had so many friends who neglected their kids due to ambition. I had a lot pain over the fact that I gave up career opportunities to be with my kids but when I was away on location, I felt so much pain.
Being ambitious is not a bad thing. In fact, it's a great example for your kids. So own it.
It was much harder for Jane than for me. When I was away, she was working hard, long hours, and racing home from work to get home by six so our babysitter could go and she could get dinner on the table. She killed herself to do it. We realized it was a great example for our girls to see that we both work equally hard, and both of my kids are ambitious.
This article was originally published on