CBS Mornings Host Tony Dokoupil Shares The Only Three Rules To Writing The Perfect Love Letter
This article was produced in partnership with Pandora Jewelry. ADVERTISEMENT Fact: Any partner who's ever told you they were fine with a romantic love letter in lieu of a gift was lying. Also a fact: A romantic note paired with the perfect gift will win you points that will last you into the New Year... View Article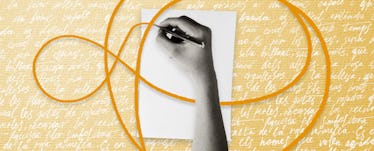 This article was produced in partnership with Pandora Jewelry.
Fact: Any partner who's ever told you they were fine with a romantic love letter in lieu of a gift was lying. Also a fact: A romantic note paired with the perfect gift will win you points that will last you into the New Year and beyond. Such a note shouldn't recount your entire epic love story — there's only so much paper real estate on fine stationery — so a short and sweet encapsulation of the unique love you've found is all you need. In Found Love: Gift Notes, we asked fathers to share a quick tip on how to say a lot to the mother of their children in only a few words.
I have three rules for a successful love letter. First, get a working pen. Second, search for a new way to say I love you. Third, know that you will fail but that trying is succeeding. You can't explain love. You can only demonstrate it—which is the point of a love letter. For example:
Dear Katy,
The only thing I'd ever dream of doing without you is going on a cruise because I know you hate the idea of a cruise. But honey? I don't like a Disney Magic Stateroom without you.
XO
Tony
Tony Dokoupil is the co-host of CBS Mornings; his spouse is MSNBC correspondent Katy Tur.
The perfect note deserves the perfect gift. Take our quiz to reveal which piece of Pandora jewelry best fits your partner's personality.
This article was originally published on