What a Professional Sex Coach Wants Every Couple to Know
Professional Sex Coach Kenneth Play discusses how he gets couples to unleash their best bedroom selves.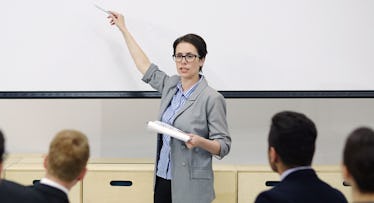 Sex, at its most basic, is a fairly mechanical process. There's an in, and an out, and often, a climax. But good sex is more complicated. There's risk, and there's reward. It requires honesty, patience, and a good deal of ingenuity. And, maybe more to the point, it takes a level of communication most couples aren't comfortable entertaining. In general, we're pretty bad at talking about sex. And we need some help.
"If you want improve your fitness, you can go to a trainer. You can take a class. You can hire a nutritionist. There are tons of options. With sex, it's very limited," says Kenneth Play, professional sex coach, first of his name.
READ MORE: The Fatherly Guide to Sex After Kids
Play is a founding member of the Brooklyn-based sex-positive community, Hacienda Villa. The villa, which has 15 bedrooms, 13 bathrooms three kitchens and a hot tub, hosts classes, trainings and workshops in communication, sexual health, BDSM, kink, and polyamory. Also, sex parties. A few years back, he teamed up with Dr. Zhana Vragalova, an NYC-based sex researcher, to work on something called The Casual Sex Project, "a collaborative effort to share our true stories of casual experiences or hookups of all kinds." He's also released a series of "how-to" videos dedicated to the subject of female ejaculation. More recently, he decided to add "sex coach" to the resume. For a thousand dollars (or more), he'll come to your house, talk to you and your partner about sex, and eventually, he'll watch you guys have it.
In case you're not comfortable with that level of, well, comfort with a sex coach, here's how Play's sessions play out.
Stage One: Talk The Talk
"There are so many things that turn people on, but they never talk about it. It's like they don't know how to," says Play. His sessions run for a total of three hours, but the first 30 minutes are always dedicated to discussion. "It's important to create a safe space to talk about sex," he explains.
He starts by feeling around for what turns each member of the couple on. He'll ask if they masturbate. He'll ask how they masturbate. He'll ask them what kind of porn they watch. He'll ask about their fantasies. "If people have been together for a really long time, they kind of merge their sexuality together," says Play. "I try to find compatibility based on what they share as individuals."
At Play's sessions, some people express an interest in exploring kink. Some women want to be spanked, and some men too. In fact, helping individuals explore what some could consider "non-traditional" sexual desires is a big part of what he does.
"I think different generations have different hang ups," he says. Many of his older clients have a hard time stepping outside of basic gender role in bedroom. And some of his younger clients, especially those who have grown up under the wing of feminism, have a hard time stepping back into them.
According to Play, a lot of guys want to learn how to be more dominant in bed. "50 Shades of Grey did a lot for that scene," he says. Unfortunately, most have no idea how to introduce that desire to their wives. Thankfully, Play is there to help broker the conversation.
"Sometimes there are fights," he explains. "Sometimes there are tears." To reassure his clients that they are indeed in a "safe space," Play lets them know that there is zero pressure involved. If they need a break, they can have one. If they want to call things off, they can. Play offers a money-back guarantee for all of his services, though he says no one yet has taken him up on the offer.
"Really, the problem is that people don't know what is on the menu," he says.
Stage Two: Learn About Your Lady
From there, Play moves on to what he calls his "pussy mapping" exercise. This is where he encourages men to find answers to some pretty specific questions. How is her vulva shaped? Do her inner labia protrude? Do her outer labia respond to touch? How much territory does the clitoral hood cover? "I spend a lot of time on cliteracy," says Play. "I really want to educate men on how the clitoris works – not just on what it looks like outside of the body, but how it responds internally."
"A lot of women are consistently disappointed with partnered sex," he added. "My goal is to change that. I believe most men want to pleasure women. It's not like they set out to be selfish douchebags. A lot of them have just been robbed of the sexual education they need to get the job done."
Stage 3: Walk The Walk
The first step of this final process largely revolves around encouraging individuals to articulate their authentic desires. If stage two is about arming them with skills needed to provide physical pleasure. But last leg of the journey is really where it all comes together. Yeah, this is where the physical stuff begins.
Of course, it's not always easy to perform under pressure, least of all when there's someone watching. Typically, Play encourages his clients to get things started with different forms of touch. He asks them to be mindful of certain sensations. Do they enjoy being licked, for instance, or do they prefer a gentle pinch? The idea is to prime the body for sex so that the mind can follow. This is known as "responsive desire," and according to Play, it's how most individuals in long-term relationships get down.
"A lot of people see this as a problem," says Play. "They worry it means they don't really want their partner anymore." But Play says that concern is largely unfounded. "You don't spend all day walking around wanting to fuck your spouse. It's just not how things work after that infatuation phase," he adds. "You still have that desire, you just need to activate it differently."
Most of Play's clients fall somewhere between 35- and 55-years-old. They're typically middle- to high-income individuals in committed relationships and steady jobs, and that makes sense. His services aren't exactly cheap. A lot of them are working to find their way back to the bedroom after major lifestyle changes. "I see a lot of young couples," says Play. "When they become parents, it's very hard for them get out of that 'parent' mode. They need time to transition back into their erotic self."
Play offers a series of "sex hacks" to help them get there. Often, he'll challenge couples to get physical without using their hands. That one was a hit with a couple he recently coached. "I told them to touch each other using their face, their mouth… Just to use their body," he explained. They did. And that's how the male member of the couple discovered he likes when his girlfriend gives him back rubs with her butt. Without a sex coach handy, his penchant for that erotic activity could have easily fallen through the crack.