These Are the Coolest Musician Dads in America
From Diplo to Killer Mike, America's best musicians share one trait: They're dads.
by Emily Kelleher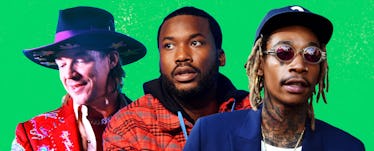 What makes musicians cool? Hard to say. They've always been cool. But what makes these musicians cool is their commitment to their own styles. These guys deliver songs no one else could. And they do so with swagger.
Sturgill Simpson
Cool Dad Job: Musician.
Latest Cool Dad Achievement: Releasing an unexpected anime.
Before Sturgill Simpson made country music cool again, he became the first man in his family not to work in a mine by enlisting in the Navy. When he got out, he got a stable job as a manager of a railroad yard and made music his hobby. But fame had different ideas. His unique take on twang— a far cry from songs about trucks and girls and beer (although there's some of that as well) — caught the ear of people ready for something new. And Simpson has been just that. He's poked the country music establishment (busking for tips to donate to the ACLU outside the CMAs) and been an advocate for LGBTQ voices and gun control. In so doing, he's become something unusual: a beloved outlaw. He's also risked his career. But rather than going the way of the Dixie Chicks, who were run out of town on a rail in the early 2000s, Simpson has built a bigger platform and used it to speak truth and tackle increasingly idiosyncratic creative projects. His anime film is something to behold. And that's not an insult.
Meek Mil
Cool Dad Job: Rapper, dissident
Latest Cool Dad Achievement: Otherside of America
As a rapper, Meek Mill knows how to use words. He has words for the police. He has words for the officers that beat him up and the officers that, over a series of years, picked him up for a series of parole violations, prioritizing the harassment of a community leader over anything remotely resembling the protection of Philadelphia. No surprise then that Mill released a searing track about police brutality as the George Floyd protests spread across the country. "The Otherside of America" is a hard listen because truth is a hard listen. But Mill is committed to his community and to shedding light on the brutality of those that would rather subjugate than serve.
Diplo
Cool Dad Job: Sex Symbol
Latest Cool Dad Project: A country album. Seriously.
As a DJ and producer, Diplo has had a role in the creation of pretty much every club banger to break big in the last decade. He is steeped in internet culture, fashion, and fame. He's known for being a bit of a womanizer and party boy turned party man. He's annoyingly good looking. He's a lot. He's also renowned for being an exceptional father. It's a lot.
The chaos of his club life doesn't keep Diplo from doing dad things like taking his kids to a pumpkin patch. He just looks better getting gourds. Diplo proves that dads don't have to mellow. They just have to show up. Then they have to show up again. And again.
Killer Mike
Cool Dad Job: Teller of Truth
Latest Cool Dad Project: Dropping RTJ4 at the exact moment the world needed it
Killer Mike stood up during the protests of the murder of George Floyd. He stood up not only for the Black community in Atlanta but to those that intended to do harm. He spoke passionately about his father being an Atlanta cop and urged protestors to stop burning down their own neighborhoods in order to burn systemic racism to the ground. The impassioned speech became one of the signature moments during the weeks that marked the renewed rise of the Black Lives Matter movement. Killer Mike wasn't advocating compromise. He was caring for his people.
That's what Killer Mike does. Since becoming a father as a teenager, Killer Mike has been attentive to the needs of his children and the needs of his community. He has fought tirelessly for the rebuilding of the social safety net, advocated the transfer of Black peoples' money into Black-owned banks, and supported Black gun owners. His work is an outgrowth of his conscience. (So is his rapping btw and RTJ4 slaps.)