The Wildly Innovative, Unexpectedly Fun, and Very Expensive Future of Education
How students are learning and the tools they're learning with — tablets, apps, fast Internet connections — have radically changed, often in ways that incur costs.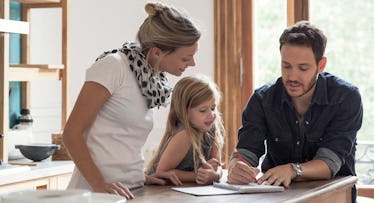 The following was produced in partnership with our friends at New York Life, who are committed to helping families be happy, successful, and good at life.
Education is becoming increasingly expensive. The real-world price of going to college has outpaced inflation for all but two of the last 35 years, according to the College Board. In 2016, college costs once again hit an all-time high, with students paying $20,090 in total each year to attend an in-state public university and a whopping $45,370 to attend a private university. It's not just higher education either. Classroom supplies and school activity fees on average now cost parents $662 a year in elementary school, $1,001 a year in middle school, and $1,489 a year in high school.
Furthermore, technology has caused a seismic shift in the classroom and work world. How students are learning and the tools they're learning with — tablets, apps, fast internet connections — have radically changed, often in ways that incur costs. The good news is that education continues to be a worthy investment — there's still no single better way to prepare parents or kids to be good at life. Education experts agree that there are basic, manageable steps families can start taking now to be ready for the classrooms and lecture halls of the future.
Studying with Screens Is the New Norm
Families need to start preparing for big, ongoing changes in how students learn. This means trading in books for screens, teachers for algorithms, and research libraries for the internet. "When you think about what artificial intelligence and virtual reality will allow teachers to do, it's amazing," says Jordan Shapiro, senior fellow at the Joan Ganz Cooney Center at Sesame Workshop, where he engages in research and advocacy involving technology and education policy. Soon enough, Shapiro predicts virtual reality will allow teachers to build interactive, three-dimensional models in the middle of their classrooms. He also believes tracking programs will allow instructors to assess individual student's accomplishments and struggles at a far more granular level than ever before.
To make sure your kids are ready for these developments, Shapiro suggests making sure that when your kids are at home, they're blending old learning tools like math worksheets with new tools like computers and tablets. "It doesn't make sense to say, 'No computer time until you do math with pencils,'" he says. "They need to learn how to balance these things. You need to get on the computer and work with them on this stuff." Kids should be introduced early — but sparingly — to tablets and computers so that by the time they are school age, they will be able to transfer learnings onto the screen without too much oversight. Beware of buying into "kid-friendly" tablets or other costly items — a parent's existing smartphone, tablet, or computer should suffice for most tasks until the kids are middle-school age. It's a good way to save money as well as to closely monitor screen time.
College Finances for the Family
Learning to incorporate technology into study is relatively easy next to the daunting task of financially preparing for college. For starters, parents need to assume that education costs, particularly for college, will continue to rise for the foreseeable future. The reason, says Robert Farrington, student loan expert and founder of the website The College Investor, is that thanks to substantial financial aid and student loan programs, universities have little incentive to rein in budgets. "It's a vicious cycle in that colleges can charge whatever they want because they know students can borrow to pay whatever," he says. In total, Americans now owe more than $1.45 trillion in student loan debt, far outpacing the country's total credit card debt.
Don't go out seeking those free streaming courses just yet. The best answer to preparing for a great education is to seek out a credentialed financial professional to weigh in on the various pros and cons of various education-oriented savings and investment options. Budgeting apps are a decent way to start saving for the future, but human conversations with investment pros are necessary to build a long-term financial plan that works specifically for your family.
One thing most advisers will tell you is that it's important to start putting money aside for your kids' education as early as possible. When you start to establish some measure of financial security while your children are still in school, it can really enhance your economic stability and your quality of life.
Parents need to be clear and open with their kids, explaining how much higher education is going to cost, but also why it's one of the best investments possible. Then, they should encourage children to get involved with their own education savings. Parents can show them how much they have saved and how much they are putting in. Instead of presents every holiday, kids can ask friends and family to contribute to a 529 plan, savings plans that come with tax benefits as long as you use them for future college costs. When they get older, you can even recruit them to put aside some of their allowance for college funds.
Preparing Kids to Problem-Solve Rather Than Job Hunt
A good education is now, and will forever be, a worthy investment. While this is common knowledge for many, stats back it up: In 1979, college graduates ages 25 to 32 earned roughly 25 percent more than their peers who only had a high school degree. Fast forward to 2014 where young college graduates earn nearly double those who only had a high school diploma.
But the way schools teach and the world schools are preparing students for are both fast-changing. It's why Jordan Casap, education evangelist at Google, where he works on building innovation into school systems, says parents need to shift the very way they talk with their kids about education. "The majority of 'jobs' in the future do not exist today," he says, "so, we should be asking students what problems they want to solve. This is how parents can help students develop lifelong learning skills."
Parents, too, need to develop lifelong learning skills, says Casap. "Gone are the days when we could get away with a four-year college degree as the only education we need," he says. "The pace of innovation and automation requires all of us to be lifelong learners, to always resell ourselves."
In other words, it's time to take that local graphic design class, or attend a meet-up with young computer coders. From Casap's perspective, this is where the real cutting-edge learning is taking place these days – and it's open to people of all ages. Best of all? Many of these opportunities are very cheap or free. So it's one less education expense you have to worry about.
This article was produced in partnership with our friends at New York Life, who are committed to helping families be happy, successful, and good at life. Learn more at newyorklife.com.
This article was originally published on