The Top 6 Expenses In Your Baby's First Year
Expenses for your infant might not look like much at first — but they can add up quickly.
by Ben Radding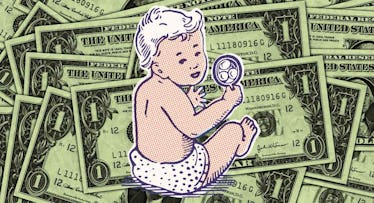 The birth of a child is a beautiful and deserving of unqualified celebration. Unfortunately, it's hard to peep those hospital bills and not feel a twinge of concern and even harder to allay nerves around the cost of making sure that a baby spends its first year on Earth healthy, happy, and cleanish. Yes, babies are expensive. The best way to get through the anxiety is to be proactive about budgeting for the expenses of having a baby that needs, you know, lots of stuff. You can think of costs in terms of new baby expenses per month, but it's realistically best to think about new baby expenses more globally then focus on the big ticket items and recurring costs, which might not be what you think.
Here are the things you have to worry about before you start worrying about everything else.
1. Daycare
When your paternity and maternity leave is up (if you're lucky enough to get any at all, which you likely aren't) and it's time to get back to work, you'll need to find a childcare provider. Make no mistake: Daycare can and inevitably will be a serious drag on your bills. "You can get a rock star stroller and it still costs less than a month of daycare," says Patrick Ortman, CFP, of Ortman Financial Planning. "None of the other expenses even compare. Other smaller expenses do add up, but chances are they all add up to less than the cost of childcare for working parents." As Ortman points out, daycare for an infant might be $1,000-per-month depending on the part of the country—and up to $2,000 in more expensive cities. The best way to save money is to share a provider with another family, but that only limits expenses. Caretakers remain profoundly expensive.
2. Health Insurance
If you're working, then your baby should (should, as in, hopefully does but double check) have its health insurance covered. But you may want to take another look at what plan the kid is on—yours, or your partner's. "Many employers cover 80% or 100% of the cost of coverage for their employees, but cover dependents of their employees at a far lesser rate," says Ryan Frailich, financial planner at Deliberate Finances. "If your employer only covers 25% of the cost of dependents, you'll have to come up with $300-a-month to cover the premium for the baby. My advice to expecting and new parents is to compare the healthcare plans offered to each member of the couple—if both are working—and figure out the true out of pocket cost for adding a baby to either plan."
Though it's not a thrilling way to spend an evening, comparing notes on health insurance with your partner could save you some scratch or, at least, make it clear how much scratch you're going to want to set aside.
3. Formula
That idiom "another mouth to feed" is popular for a reason. Food and fomula can be a pretty serious financial burden. "Breastfeeding moms can mitigate this cost," says Mark Boujikian, CFP, of Keymark Finanical, "but we had trouble, as many women do, and needed to purchase formula weekly." Depending on your kid's appetite, formula can cost anywhere from $70 to $150 per month. That's a pretty penny when it comes to feeding one other person.
4. Gadgets and Toys
Babies are notoriously hard to please. After all, well, they can't really eloquently voice their displeasure—so be prepared to shell out a whole lot of cash on one-and-done toys and gadgets. "From the bouncer the baby didn't like, but still spit up on, to the specialized nail clippers, weight scales, to the five forehead thermometers you'll buy because you need it now," says Marie Thomasson, financial planner at Modern Assets, they really add up over time. "Babies need to be occupied and there is no shortage of toys that promise to do it," says Boujikian. "You tend to get overwhelmed by the need to purchase new things and this adds up fast."
Look for hand-me-down toys and (gently) used gadgets that could bring you a bargain in the long run.
5. Diapers and Wipes
It'll cost you every time your baby goes to the bathroom. As Thomasson says, "You can't live without them, and you sure can't reuse them." Diapers and wipes can cost a whole lot added up over time—about $30 to $60 a month, depending. "There is a great Family Guy episode where Stewie walks in with a cloth diaper that is totally full, held on by a belt," says Boujikian. "That doesn't fly in real life and this cost adds up in a hurry if you go organic." Get ready to save for a whole lot of diapers.
6. Clothes
Babies are inconsiderate when it comes to their outfits. Not only do they tend to spit up all over them, but they outgrow them quicker than you can slap your credit card down at the baby store. How much you spend monthly on baby clothes will vary wildly, but you can save a whole lot by not going for broke when it comes to your little prince/princess. "It's a baby," says Miguel Gomez, CFP, of Lauterbach Financial Advisors. "He or she doesn't know about brands. Your baby doesn't need a $200 pair of shoes—he can't even walk!—and will outgrow them in a matter of weeks." Gomez recommends saving those expenses and putting them elsewhere. "Save the money instead in a college fund," he says. "He'll be more thankful that you did instead of buying uber-expensive shoes and clothing. Yes, your baby needs clothing, but you can find very good quality at low prices at your Target or Walmart."
Top Baby Expenses: A Cheat Sheet
• Compare notes on health insurance plans with your partner to get the best deal for your kid.
• Your top expense will likely be daycare when you and your partner go back to work.• Formula and diapers aren't a lot at first but add up over time. Start saving now.• Buy cheaper clothes — your kid doesn't care what they wear.
This article was originally published on