The Hidden Messages in My Kid's Pandemic Drawings
I'm grateful we've allowed our boys to tattoo their minds onto the walls of our house. It's another way we get to hear them. 
by Sean Smith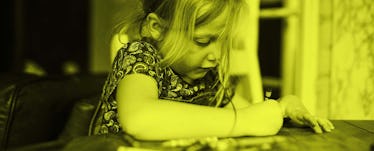 Growing up, I don't remember my parents letting us kids tape our drawings to the walls inside our house. It would never have even occurred to us to ask. The walls were the domain of our framed school photos, department store art, and certain trappings of our Catholicism — a crucifix, a portrait of JFK.
Once, when I was six, I did paint Memorial Coliseum on butcher paper and hung it like a banner in our garage, where our family had a basketball hoop, and where I won many a last-second game for the Portland Trailblazers. Only, I spelled the team's home arena, "Memral Colsum," and my brother Tom, ten years older than me, howled at my spelling and made fun of me, theatrically mispronouncing the name over and over.
This story was submitted by a Fatherly reader. Opinions expressed in the story do not necessarily reflect the opinions of Fatherly as a publication. The fact that we're printing the story does, however, reflect a belief that it is an interesting and worthwhile read.
For my boys, age six and four, and largely trapped at home for the better part of a year, the walls inside our house exist less to support the roof than to serve as a gallery of their life's work. The pieces come in generally one medium: standard white copy paper, marked with colorful ink. And they go for volume, so the ones that do end up on the wall represent something absolutely imperative to them — a drawing so important that it has to be hung up. In time, the pieces will be replaced with ones that are even more urgent, and the walls, collectively, will go from telling one story to showcasing a new one.
Walking around the rooms after putting them to bed tonight, the quiet house is a perfect time capsule for this precise moment in their lives, a snapshot of their hobbies, their interests, their fears.
For one, a notable shift in their development is underway. The signs far outnumber the drawings. A few stray apple trees hang in the dining room, but methodically placed throughout the house are all manner of signs—instructions, designations, announcements. Suddenly, my boys have a lot to say.
Despite not being in the car very much, they have papered the walls with a large number of roadside signs. There are green, yellow, and red traffic signals regulating entrance into the kitchen, and speed limit signs in four different rooms. Flanked on either side of the living room entryway are two identical warnings: "Do Not Enter – it's not safe to go inside here!" As far as I know, nothing actually dangerous occurs in there. The markings are a vestige of a pretend flood — and a tribute to the first signs the 4-year-old could read. The living room versions are spelled: "Do not entr – it is not saf to goin sid hyr!" I laugh when I read them, thinking how times have changed. Nowadays, "brave spelling" is encouraged, and even Uncle Tom, were he with me as I gaze upon it, would proudly remark on their acumen.
On the door to their bedroom hangs this announcement: "Ninja place where ninjas in training come to train to be a real ninja." These nimble and secretive heroes loom large in the boys' imagination. They climb and swing from things they shouldn't, but with COVID, our house is their playground, and we generally let them have at it. Sam, the 6-year-old, practices sneaking around undetected. In his mind he is learning how to become a ninja; in mine, he is in training to be a teenager. I shudder and try to savor this moment.
Not all ninjas are do-gooders, however, and somewhere along the way, the boys stumbled upon the idea that especially skilled ones could be lurking in our home, unseen, waiting to wreak havoc. A sign taped to a windowpane on our front door declares: "Hey Ninjas! If you enter you will get trapped, probably. Do NOT enter! But if you want to get trapped, enter. Have fun somewhere else." Yes, there are ninja traps throughout the house — and they haven't even seen Home Alone yet. When I was their age, I was convinced that I was going to be snatched out my room in the middle of the night. They don't seem as terrified as I was back then — and with their warning sign and traps — they are displaying far more agency than I did. Perhaps they know it's all pretend; after all, they have much more immediate concerns. When an unseen virus has disrupted everything you know about life, who needs a boogeyman?
Above a shelf in the dining room hangs a sign, "Library where Sam's books get published," with an arrow pointing down to a collection of his most recent works: Pirates (books 1-9); Facts About Volcanoes; and, of course, Facts About Ninjas. On the other side of the dining room, in case we had forgotten: "Sam's Library About 8 Feet Away From Here ß." (Sams Librare ubawt 8 Fet uwa frym her).
Elsewhere around the house, there are official pronouncements: "There will be a fort in the room that has bunkbeds;" and "Get Your Tickets Here à." There are multiple reminders to me: "Tell the Dawn Redwood Story." A simple bedtime tale I made up at the start of lockdown has turned into a 27-chapter epic from which I can't escape.
On the wall next to their bunkbeds is a message from Sam to his little brother, a symbol of how much the pandemic has brought them closer together, and one sign that I hope never comes down: "Dear Lucas, I love you infinity forever."
I'm now grateful we broke tradition, and have allowed our boys to tattoo their minds onto the walls of our house. It's another way we get to hear them. The walls don't merely tell a story about their lives in a particular moment, they contain a message for us as well. And in this moment of great anxiety, where our adult worries know no end, these boys are immersed in a very normal-feeling childhood, and seem to be telling us, we're doing alright.
Sean Herington Smith is a father of two boys and lives in Berkeley, California. When he's not playing firefighter, he runs the Reputation practice at Porter Novelli.