The Chore Gap Is a Problem — and an Opportunity — for American Families
A new survey sheds light on the perils of unfairly divided housework and the benefits of getting it right.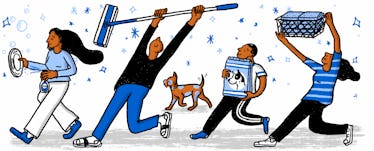 Vidhya Nagarajan for Fatherly
This story was produced in partnership with Dawn and Swiffer.
someonewhoA majority of women say they do the majority of the housework.
The status quo isn't working for women.
When men help out more, it's good for them and their marriage.
Closing the chore gap benefits kids.
lot
This article was originally published on