The Best Mid-Summer Hairstyles For Boys — And How to Ask Your Barber For Them
Show this page to your barber the next time your kid goes under the smock.
by Adam Hurly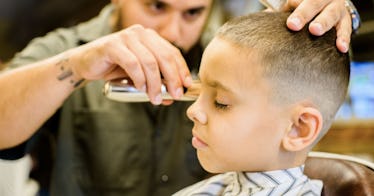 You're raising your son to be a gentleman — to be polite, to work hard, to tell the truth. Part of this is making sure he looks the part, too. It's also on you to get him haircuts that keep him looking presentable and — because why the hell not? — keep him looking fly. Whether you need some cut inspiration or are just looking for a few cues to give your barber when you send junior under the smock, we doctored up this handy guide to kids' summer cuts with help from Lauren Rachel, men's grooming expert at Boardroom Salon for Men. Each of the 6 styles she offered fits a variety of hair (and head shape) and varies in texture and length. All, however, give your little man a fresh, sweat-free look to enjoy the second half of summer.
Crew Cut
What it is: With a crew cut, the upright hair on the top of the head is cut relatively short, graduated in length from the longest hair that forms a short pomp at the front hairline to the shortest at the back of the crown. The hair on the sides and back of the head is usually tapered short or medium.
Who it looks best on: This looks great on all face shapes. It is a great choice for thinner hair texture because it helps hair seem fuller. It is also extremely suitable for a thicker, afro hair texture – even wavy or curly hair.
What to ask for: Ask your barber to buzz the sides tightly (ask for a one if your kid has thinner hair; you can go down to a zero for thicker hair if you'd like.) As for the top: ask for an inch or two at the longest for thinner hair and no more than an inch if your kid has thick hair that stands up on its own. Hair should start fading to a longer length just above the ears. Lastly, you'll need to tell them to taper the top of your kid's head down slightly from back to front and fade everything else downwards.
Undercut
What it is: This is similar to a crew cut, but different in that the hair on top is long and parted. The back and sides are still buzzed. This can also be styled in a variety of ways: slicked back, combed over, spikey, or worn down.
Who it looks best on: It's good for nearly any hair style (although those with curlier hair may find it harder to style) but is ideal for kids who are a little older and more comfortable with their hair, as the cut does require some styling in the morning.
What ask for: A small trim on top to keep that portion of your hair long and then taper the sides and back. (Or, go extremely buzzed with a 0 or slightly buzzed with a 1 for a less drastic look.) Pick a side then ask your stylist or barber to add in a side part with their clippers. It's best to add the part on the side of their head that their hair naturally parts or falls from.
The Curly Cut
What it is: Hair is a cut at a medium length and styled so curls look natural and tousled, not unruly and shaggy.
Who it looks best on: Any boys with thick or curly hair who want to embrace their natural texture. Also great for kids who don't like styling their hair or parents who don't have time to style said kid's hair.
What to ask for: A scissor cut with a little more length left on top with the sides cut shorter. Natural curls should be cut closer to the head on the sides than on the top. This will leave a natural texture to your hair to create a more relaxed feel. Be sure to ask your barber to add some layers to create texture.
The High and Tight
What it is: This hair cut is similar to a crew cut. The difference between the two is that the backs and sides of the head are shaved to the skin and the back is kept short while the hair up top adds a little volume and height.
Who it looks best on: This hairstyle works wells for all hair types: short, fine, textured, and anything in between. It requires requires little to zero maintenance, while still looking tailored and sharp. The style looks modern, while still being easy to execute daily.
What to ask for: A high fade (hair's length gradually shortens in length from the top of your head down to the back of your neck), starting with a one on the sides and back. Leave an inch or two on top with some added layers for texture. Add a mohawk on top for a fun twist.
Hi-Top and Drop Fade
What it is: On the sides of head, there is a fade into longer hair on top of your head. Style by brushing the long hair on top upwards and the hair on the sides downward. It's a fun style for those who aren't quite sure how to embrace their natural texture yet.
Who it looks best on: Kids with afro-texture who want a cool, modern yet clean cut.
What to ask for: Leave the hair long on the top to bring out the hair's natural texture. Create a fade into the sides and back of head. A good rule of thumb is keeping the hair up top one or two numbers higher than the sides and back. If you start with a one on the sides and back, ask for a three up top.
Shaggy Side Swept Haircut
What it is: A layered cut of hair varying in length. It can be medium or long.
Who it looks best on: This style looks best with fine to normal hair and can work with both wavy and straight hairstyles. For kids who want long hair, this is a great compromise as they still have some length but not enough to make mom and dad cringe.
What to ask for: A scissor cut all over. Tell the barber you're looking for a layered cut to achieve the side swept shaggy look. Decide how much of your son's face you're okay with being covered; this helps determine the length of the cut.
This article was originally published on