The Best Credit Cards for Parents
Save money when you spend it.
by Shane Roberts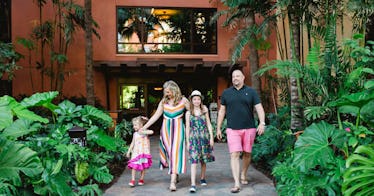 Fatherly has partnered with Skimlinks and The Points Guy for our coverage of credit products. Fatherly, Skimlinks, and The Points Guy may receive a commission from card issuers.
Being a parent is expensive, but like with almost all spending, maximizing the return on the purchases you make for your family can be incredibly rewarding—even more so when put toward travel. These are the best credit cards to use for the kinds of purchases parents typically find themselves making day in, day out.
We'll cover both cashback and travel rewards credit cards here, but the first and most important thing to understand about travel rewards points is that they're potentially worth exponentially more when transferred to partner programs and used for point redemption sweet spots. Back in 2016 I cashed in 25,000 points for a roundtrip flight to Hawaii, a route that can cost hundreds or even thousands of dollars, and in 2018 I flew to the Maldives in first class and stayed at the St. Regis, one of the world's most aspirational resorts, solely on points. In short, unless you never travel, travel rewards credit cards are far more… rewarding than straight up cashback cards.
Dining and U.S. Supermarkets
Whether you're a family of chefs or you've made a home in the McDonald's drive thru, a lot of your monthly budget is going to go to feeding everyone. After multiple major recent upgrades, the American Express Gold® Card has become the best card for dining and U.S. supermarket spend for most people. I have 17 credit cards, and the Amex Gold has become my most used card by a wide margin.
The most exciting bullet point of the Amex Gold is the 4x return on spending at restaurants, but since the Amex Gold earns Membership Rewards, not straight cash back, your return is more like 8% (based on The Points Guy's latest valuations), if you spend those points on good travel redemptions. As if that wasn't enough, the Gold also earns 4x points on spending at grocery stores in the U.S., on up to $25,000 per calendar year, then 1x after.
The Amex Gold is currently offering a 35,000 Membership Rewards point welcome bonus after new cardholders spend $2,000 on it in their first three months. These points are worth around $700, according to The Points Guy's latest valuations; it's not a massive number, but it's also a relatively low spending threshold.
The Gold card includes a $250 annual fee, not waived the first year, but with an annual dining credit of up to $120 (doled out in up to $10 monthly increments), and an up to $100 annual airline fee credit, the Amex Gold easily effectively reduces its fee to $30. The dining credit even applies to online food delivery like Seamless.
Most importantly, a stunning limited edition Rose Gold version of the Amex Gold is available until July 17.
If travel isn't your thing:
No annual fee cashback dining: The Capital One Savor Cash Rewards Credit Card earns a great, unlimited 4% cashback (not travel points) on dining and entertainment spend, with no annual fee and a $300 cash bonus after spending $3,000 in the first 3 months.
6% cashback at U.S. Supermarkets: The Blue Cash Preferred® Card from American Express offers a huge 6% cashback on your first $6,000 of U.S. supermarket spend annually, then 1% after, along with 6% on purchases with select streaming services in the U.S., and 3% back on gas in the U.S. and transit purchases. It comes with a $95 annual fee and a welcome offer of a $250 statement credit after spending $1,000 in the first 3 months.
Travel
Travel can obviously get very expensive; family travel even more so. Airline and hotel loyalists should definitely apply for their respective brands' cobranded cards, while hardcore travelers should periodically sign up for new travel rewards cards, essentially jumping from lucrative sign-up bonus to lucrative sign-up bonus. As this is a guide for beginners, let's focus on the best travel rewards credit card for beginners, The Chase Sapphire Preferred Card.
The Chase Sapphire Preferred is the gateway card to Chase's Ultimate Rewards ecosystem, and to travel rewards in general. With a $95 annual fee, newbies to the points game can avoid sticker shock, and the card's respectable 2x return on travel and dining spend are easy to understand and universally redeemable.
So why not jump directly to a more expensive card with a higher return? Because maximizing travel rewards is as much about sign-up bonuses as return on everyday spend. Once you sign up for the Chase Sapphire Preferred, for example, you'll have to wait two years before you're eligible for the sign-up bonus on the $450 annual fee Chase Sapphire Reserve, and you want both bonuses.
Spending $4,000 on your Chase Sapphire Preferred in your first three months will earn you a sign-up bonus of 60,000 points, worth around $750 on paper (when redeemed through Chase's travel portal), or up to $1,200 when transferred to almost 30 partner airlines and hotel brands, according to The Points Guy's latest valuations.
One other universal travel rewards credit card families may want to consider right off the bat is the Platinum Card® from American Express. While the Platinum is a fantastic travel rewards card all around, where it leaves all peers in the dust is its lounge access. With it you'll be able to enter Amex's own amazing Centurion lounges, along with Priority Pass Lounges and Delta Sky Clubs.
The Platinum earns the same Membership Rewards points as the Amex Gold we recommended above, and yes, you can combine your points across cards. You'll earn 5X points on air travel booked direct through the airlines or through American Express Travel, and 5X points on prepaid hotels booked through American Express Travel. You'll also get 60,000 Membership Rewards points after spending $5,000 on your Platinum card in the first three months, worth around $1,140 according to The Points Guy's latest valuations, along with Marriott and Hilton Gold Statuses, just to name a few of the perks.
The Platinum card comes with a $550 annual fee, not waived the first year, which is among the highest of any credit card, but up to $200 in annual Uber credits (up to $15 monthly increments and up to $35 in December), and an up to $200 airline fee credit quickly wittle that down.
Gas and Everything Else
Shuttling the family around can get wildly expensive, especially if you've found yourself residing somewhere where public transit isn't an option, and/or in a state with high gas taxes. The Chase Freedom Unlimited is the card I'd use at the pump. It earns the same Ultimate Rewards points as the Chase Sapphire Preferred recommended above: normally an unlimited 1.5% back on all purchases. However, Chase is currently offering new Unlimited cardholders an incredible 3% back on their first $20,000 spent in their first year, a promotion pretty much everyone should take advantage of.
You'll get maximum return for the points you earn on your Freedom Unlimited by transferring them to your Chase Sapphire Preferred or Reserve.
Any opinions, analyses, reviews, or recommendations expressed on this page are those of the author alone, and have not been reviewed, approved or otherwise endorsed by card issuers. Please note: the offers mentioned below are subject to change at any time and some may no longer be available.
This article was originally published on