The Baby Furniture Rental Industry Could Be a Game Changer for Parents
More companies are renting bassinets, cribs, and other such baby gear to parents. Is it a smart move to rent your nursery or does the math not add up?
by Adam Bulger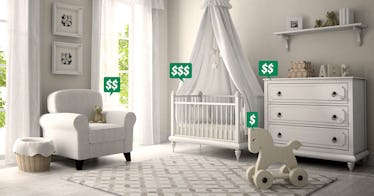 We bought a co-sleeping bassinet when my daughter was born but my wife and I soon realized she slept much better elsewhere. Looking back, I don't think she slept in it more than twice. I sold the barely-used bassinet and was happy to recoup some of the expense. But if I'd been able to rent it instead of buying it in the first place, I could have saved far more.
If you only consider the financial return and ignore everything else, every dollar you spend on kids furniture is a bad investment. Despite their size, immobility, and deceptive cuteness, babies are unstoppable forces of destruction who will inevitably break, wear down, defile, or instantly outgrow everything you buy for them. If we only need baby furniture for a short time, doesn't it make sense to rent it and return it?
A handful of start-up and established companies are starting to come to this conclusion, renting parenting gear for a daily or monthly rate. And major international corporations may soon join them. This could mean more than just a change in earning report presentations. Rentable kids' gear might hold financial and environmental advantages. If they come to pass, we could soon be parenting in a post-ownership world.
My bassinet troubles may have been avoided if my daughter was born today and I got her a Snoo, the high-tech, Harvey Karp-approved, swaddling bassinet that promises parents of newborns an extra hour of sleep per night. My sleep-averse newborn might have been soothed by the bassinet's smart features and its responsive movements. And if she wasn't, I might not have had to pay the full retail price. Snoo makers Happiest Baby now rent the bassinet for just shy of $150 a month, plus a $45 reconditioning fee (which was waived when we visited the site) and a $175 security deposit. The deposit is returned at the end of the rental period, provided that the damage your family inflicts on the bassinet doesn't exceed normal wear and tear. Otherwise, the renter pays fees ranging from $20 to $50 to replace broken or missing parts and components or full retail price if the bassinet is broken beyond repair.
Parents renting the Snoo get new swaddles and a new sheet and a mattress so everything that comes in contact with your newborn's skin is fresh. Happiest Baby says an average rental lasts four months, so parents spend about $600 aside from the reconditioning fee and deposit. That's less than half of the Snoo's $1,295 retail price tag and it's likely to cover the entire part of your child's life that require a bassinet.
Depending on where they live, new parents could continue renting their baby's bedding after they outgrow the bassinet. In cities like New York and Seattle, startups like Mobley, CasaOne and Fernish target cash-strapped millennials with refined tastes by offering monthly deals on stylish furniture. Venture capital-funded furniture subscription service Feather offers New York City and San Francisco parents monthly rentals on cribs and child-sized beds alongside adult furniture. It isn't clear that the service saves money; when Curbed ran the numbers on Feather's price for renting the $449 Budgie Convertible Crib, they found customers will just about pay the retail price if they return it after a year.
Clearly, investors believe temporary ownership is the future of furniture. For the sake of the environment, maybe we should hope they're right. According to data compiled by the EPA, Americans bought about 12 million tons of furniture in 2015. That year, 9.7 million tons of disused furniture wound up in landfills.
The EPA doesn't track demographics closely enough to isolate how much of that furniture trash is from new parents. But once we consider common new parent behavior, it can reasonably be assumed that young families make up a significant chunk of the people throwing out furniture. Parenthood often means moving and the used and bargain-priced furniture young couples gravitate towards has a nasty habit of disintegrating in a moving van.
Ikea furniture is arguably the least likely furniture to survive a move. The home-assembled particle board and cardboard components of the bargain-priced minimalist furniture tend to crumble upon impact, prompting owners to trek back to the big blue stores for another MALM dresser. The Swiss furniture company is aware of the environmental toll of furniture waste. In addition to undertaking several pilot programs for recycling and reusing furniture in Europe and Asia, the company has pledged to source all wood and paper from sustainable sources by 2020 and stop relying fossil fuels by 2030. The Guardian recently reported that Ikea plans to rent office furniture and may expand into home furnishing rentals too. Ikea's earlier programs could inform their furniture rentals, including repairing furniture with spare hardware and custom parts made by 3D printers.
In addition to being more environmentally friendly, rental furniture could save parents money and, possibly, reinvigorate at-risk retail operations. Last March, Deloitte released the results of a year-long study on the health of the American retail sector in their report "The Great Retail Bifurcation." The accounting giant found that America's wealth inequality led retail to thrive in luxury and budget markets. The report noted that between 2007 and 2015, the wealthiest 20 percent of Americans got richer while the rest of America struggled with stagnating wages and skyrocketing costs for nondiscriminatory expenses like healthcare, education and food. American families have less money. Tenting a crib or a bassinet would be an attractive alternative.
Living in a post-ownership world comes with risks. While furniture rental startups are stylish and sexy, their brick and mortar antecedents are cautionary consumer tales. Once you factor in markups and interest, rent-to-own furniture stores like Rent-A-Center are often more expensive than buying furniture. And online rental services have pitfalls, too. Customers of popular designer clothing rental company Rent-The-Runway complain that service's late fees ended up costing them twice as much as the cost of buying the dress.
The Rent-A-Center agreements are bad in the long run and Rent-The-Runway troubles arise when customers don't return the dresses as quickly as they're required. If you're renting a bassinet for six months before returning it, it could be that goldilocks-like not too hot not too cold length of time where rentals make sense. Or at least they make sense until your second kid comes along and you have to rent everything again instead of using a bassinet twice.
This article was originally published on