9 Important Tax Tips All Parents Need to Know For The 2021 Filing Season
Before you file those taxes, keep these nine considerations in mind.
by Jesse Will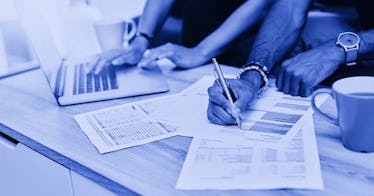 Tax season is here. And if you thought that trying to figure out the United States tax code could not get more byzantine, well, you were wrong. Because it has. The pandemic is wreaking havoc on tax prep as the IRS doubles back to classify and clarify the implications of pandemic relief measures. The $1.9 billion American Rescue Plan helps, as it includes significant relief aimed at easing the burden on parents. And the IRS has pushed the filing deadline to May 17th to give everyone some extra time. But, still, filing taxes could get a bit messy this year — especially for parents. Whether you take on the task solo or go in with a tax pro, here are nine big things to consider before jumping into your 2020 tax prep.
1. Look closely at your 2019 and 2020 earnings before rushing to file.
2. Don't forget that your unemployment is taxable.
3. Make a charitable contribution? You should deduct it.
4. Did you have a baby this year? Make sure they have a Social Security number.
5. If you're self-employed and got sick due to COVID in 2020, or cared for someone who was sick with COVID, you may qualify for a credit.
6. If you bought Bitcoin — or other crypto — you need to fess up.
7. Got an adult child in the house? You might need to have an awkward conversation.
8. Don't forget your Robinhood phase.
Robinhood appreporting Robinhood tax reports 374 pages long
9. And don't forget about spousal contributions.