Survey Shows Gay Parents Are Deeply Invested in Their Communities
An exclusive survey from Fatherly asks gay dads about raising children in modern day America.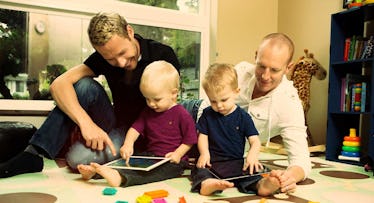 The following was produced in partnership with our friends at New York Life, who are committed to helping families be happy, successful, and good at life.
It is estimated that at least six million American children and adults have an LGBTQ parent. Given that non-traditional families are becoming more commonplace, some of the barriers toward acceptance are crumbling. According to a recent survey of gay male parents conducted by Fatherly and New York Life, more than 67 percent said they believe it's getting easier to be a gay parent. "It does not take anything but a kind, loving human to care for a child," one respondent noted. Still, there are clear hurdles for gay parents; many of our surveyors reported that stigma around their abilities to raise successful, well-adjusted kids still lingers. To overcome such stigmatization, gay parents make a concerted effort to invest their time, energy, and money into like-minded communities that support their families. Prejudices may persist, but gay dads are proving that by planning with and for their communities, their kids are set to fare just as well as or better than more traditional counterparts.
Gay dads are keenly aware of the challenges they face. Of the fathers surveyed, 60.5 percent claimed to have felt stigmatized as a result of their sexual orientation, be it by a family member, friend, neighbor, co-worker, or religious community member. However, when asked whether their children had ever been bullied, teased, or otherwise shamed as a result of their non-traditional family status, the results were split nearly 50/50; a single vote separated "Yes" from "No." This finding is in line with much research on the subject of gay parenthood, which finds no discernible difference in outcomes for children of heterosexual versus homosexual couples.
The lack of difference may speak to the way gay parents actively seek out supportive communities of people who share their values to help make their family's experience easier. Community involvement is part of a planning process for all parents, but same-sex couples need to research schools and pediatricians and the like not just for reputation and quality but also to determine those institutions' history of openness to homosexual couples. This is likely why more than 64 percent said they regularly talk to other gay parents and couples about their experiences or ask them for advice, including 49 percent who specifically sought others in similar situations.
Given the importance of community, geography, and mobility are top-of-mind for gay parents. About 60 percent of the fathers surveyed said they choose to live in LGBTQ-tolerant communities. And another 14 percent said that while they don't necessarily feel limited by geography, they would likely still end up living in an LGBTQ-friendly environment.
It's not necessarily a surprise that gay fathers would be willing to move to the communities they believe will support their families, but mobility comes with costs. Survey respondents declared that they are financially prepared. A majority (54 percent) said that choosing to start a family represented what they would consider to be a significant expense, but that it was one they expected. More than 66 percent claimed that, if required, they could afford to shield their child from intolerance, whether by placing them in a private school or moving to one of the aforementioned communities.
For gay men who want to start families, stigma may be diminishing, but it still exists. Through careful financial planning, research, and community outreach, gay parents are able to build successful families that become part of inclusive, supportive neighborhoods.
This article was produced in partnership with our friends at New York Life, who are committed to helping families be happy, successful, and good at life. Learn more at nylife.com.
This article was originally published on