5 Ways Parents Can Build Social Skills For Kids at Home
Social skills can still be developed at a distance.
by Ashley Abramson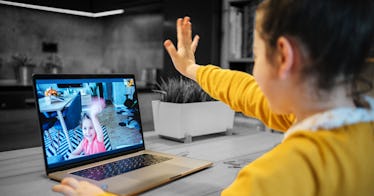 At-home learning allows kids to improve their math, reading, and writing skills. But as important as these lessons are, school isn't just about academics. It is a place where important social skills for kids are developed, too — skills like cooperation, self-control, confidence, empathy, and friendship, all of which are hard to learn in isolation. So how can kids continue to learn these skills when they aren't seeing their friends and classmates in person?
While it's true your kids might be missing out on some important opportunities to grow socially, don't worry too much — you as a parent play an important role in teaching your child how to relate to other people. And it is certainly possible to continue building social skills outside of the school environment. Here are 5 practical ways to sharpen your kids' social skills at home, according to child development experts.
Set Up Virtual Playdates
It might not be safe for your kid to gather with friends in person, but you can still help them maintain relationships — and glean essential social skills from them — in a low-risk way.
Allison Wilson, senior director of curriculum and innovation at Stratford School, says parents can set up virtual playdates with their kids' friends, classmates, or relatives.
For younger kids, it's a good idea to structure the virtual playdates around common interests, like drawing, singing, reading, or dress-up. If your kid is old enough to carry a conversation, encourage a regular, one-on-one FaceTime call or Zoom meetup with their closest friends.
In either scenario, try to keep the hangout to a few kids to prevent chaos and distraction. School psychologist Jessica Garrett, director of the Center for Psychological Assessment at Birmingham Maple Clinic, says a smaller number of participants is ideal for sharpening social skills. (You want each child to actually have a chance to chime in.)
Read a Lot (And Choose the Right Books)
Social skills are as much about speech and communication as they are emotional intelligence. So speech therapist Michelle Lachman suggests spending as much time as possible reading aloud with your kids. There are plenty of books out there that directly address social skills (Lachman likes Mind Your Manners and What Should Danny Do?). But with the right perspective, any book can become a lesson on relationships and emotions.
To add another learning layer, debrief after reading together. Garrett recommends asking your child questions about the characters and their behaviors and feelings to help them understand how their actions affect other people. For example, you could ask, "Did you see any examples in that story of someone being kind?" Or "What would you say to your friend if she was crying?"
"Helping your children to look for these types of lessons in any book that they read will help them to not only become critical thinkers but to also process the fundamental qualities that make up positive social skills," Garrett says.
Encourage Pretend Play
Books and activities are important. But younger kids also learn about the world through play. As a parent, you can structure your kid's playtime to continue fostering social skills. One way to do that, according to Garrett, is to role play with stuffed animals, dolls, or puppets.
You might feel silly talking in a stuffed dog's voice, but consider pretend play an opportunity to impart lifelong social and emotional skills in a way your kid can understand and even be excited about. Garrett suggests playing out scenarios like how to approach new friends, how to congratulate a classmate on an accomplishment, or how to say sorry for hurting someone's feelings — any situation that can be played out and discussed with parents serving as the role model.
Use Games to Bridge the Gap
Games aren't just about strategy and rule-following. If your kid has ever melted down after losing, you already know that playing a game can be a great way to help your kids learn how to regulate their emotions (and not to be a sore loser). Try to make an effort to play your kid's favorite board game with them regularly, or even set up a weekly family game night. (Yes, that can include video games, as long as you're incorporating lessons in the process.)
For an added benefit of social interaction, speech therapist Jocelyn Wood suggests setting up virtual game playdates with friends, either through an online platform or with one person controlling the board while the other participates digitally. "Strategic games, such as Connect 4, chess, or checkers work really well for this because you can have conversations about what is happening, who made a specific move in the game, or where the game is headed," she says.
Have Discussions About the Things They Like
Sure, there's no substitute for working through a conflict with a classmate on the playground. But Meredith Essalat, a K-8 principal in San Francisco and author of The Overly Honest Teacher, says parents can bridge the gap by equipping their kids with the same skills through intentional conversation.
"Work on the tenets of solid communication skills — eye contact, listening and responding, and being authentic in sharing thoughts, ideas, observations, and feelings," she says. Not sure what to talk about? Essalat suggests honing in on your child's interests to spark a discussion they'll actually participate in, even if that means brushing up on your know-how of YouTubers, video gamers, and recent Netflix releases.