5 Sex Positions Found in Porn That Are Terrible in Real Life
Some things are best left for the big screen
by Carrie Weisman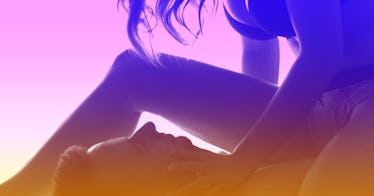 It's a shame we don't have better sex education in this country. Without access to reliable information about sex, people are turning to unconventional mediums to learn about the subject and what it may look like in practice. Like porn. But remember, the industry never intended to inherit that job. At the end of the day, porn is much more about theater than it is about realistic depictions of pleasurable sex. Attempts to emulate what we see on screen are, in fact, more likely to end an embarrassing collection of sore limbs than any kind of mind-altering orgasm. So maybe it's time to stop trying. It's funny; other genres of film don't seem to require the same kind of warning. Listed below are sex positions frequently employed in porn that you probably want to avoid at home.
The Sexy Crab
In real life, we can entertain the "reverse cowgirl" position in a variety of ways. She may, for instance station her knees on either side of his torso and man control of the speed of thrusts. But in porn, you can't entertain variations that may obscure your view of the goods. "When you're on camera, you have to prop yourself up on your hands and feet," explains adult entertainer Whitney Wright. "You basically have to turn into a human table; opening up to the camera while elongating your body and neck." Understandably, the position demands a lot from all four limbs. "It's great for the camera because you can see the girl's [breasts] bouncing and full view of the penetration, but I don't of know any girl who is that ecstatic to do it when the time comes around," says Whitney.
Legs Wide Open
Yet another adaptation of reverse cowgirl better fit for the big screen. You know the one. He's laying flat on his back. She's sitting atop his pelvis, facing his feet. Her legs are up in the air and flying spread eagle. It is, admittedly, a great position for porn. It allows the camera to capture an uninterrupted view of the action, and all the other exciting bits. But it isn't necessarily the best one to entertain at home. It requires a lot of core strength on her part, for one. Keeping your legs up in the air may look like an instinctual reaction to sex in porn, but in reality, it's tiring. It's also hard to keep up for an extended amount of time. Besides, it doesn't seem like the most comfortable position for guys, either. I mean, you have the entire weight of a human body planted right there on your pelvis. Could you imagine how much pain a misdirected thrust could deliver in that position? Leave this one off the sexual bucket list.
Pile Driver
In this position, the woman rests most of her weight on her neck and shoulders while her legs extend over her heard, almost as if she's in the midst of a backwards roll. Or, Wright phrases it, "Your upper half is more or less scrunched up while you're being pounded from above." You can check out this illustration if you're craving a better sense of what we're talking about. It's a position that requires a lot of flexibility and one that offers a pretty theatric depiction of sex. And that makes it great for the camera. But it is also really awkward in practice. And uncomfortable. "Good luck looking up and trying to find your partner, or the camera," quips Wright. "It's crazy." With that, it's probably best to leave this one on screen and out of the bedroom.
Reverse Cowboy
Yeah, it's a thing. In this position, the guy positions himself on top of his partner while facing the opposite direction. In order to achieve penetration, he'll have to angle his penis towards his backside, which isn't exactly the most natural move for a guy to make during sex. Yeah, maybe looks kinda cool on camera, but still, it comes in exchange for a whole lot of awkwardness. Most descriptions of the act say this position allows the man to "ride his partner like a horse." Try selling that one to your partner. There's also the view to take into consideration. As much as women adore the male buttocks, not all want to be confronted with something so hairy and raw during sex. Maybe, just maybe, you want to save this one for the computer screen.
Hold and Carry
This one is pretty straightforward. In this position, the guy picks his partner up so she can wrap her legs around his waist and penetration can begin. Again, it looks cool on camera, and you can film it from a lot of different angles. But it requires work. Weight and strength can have a big impact on your ability to maintain your grasp. Plus, the position doesn't exactly allow either of you to zone out and enjoy the moment. I mean, no one wants to see someone get dropped. "You want to make it look hot for the camera but your brain keeps going back and forth," says Whitney. If you're looking for a more relaxing move, Wright suggests sticking to something easy, like missionary, or doggie-style. "They look great on camera, they're everyone's favorites, and they feel the best," she says.
This article was originally published on