The A-Spot Is the G-Spot Alternative You Need to Know About
Here's everything you need to know about the lesser-known erogenous zone.
by Carrie Weisman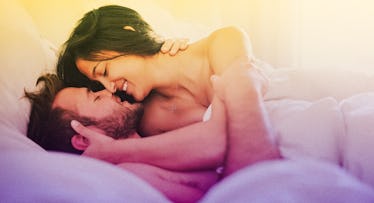 Some women like to get spanked, and others don't. There are those who enjoy oral and there are those who favor intercourse. The point is, the body contains a multitude of erogenous areas from which women can derive pleasure. You just need to know where to look for them. One of the least explored is the A-Spot. Located beyond the G-spot and just above the cervix is the anterior fornix, or the "A-Spot," a lesser known, albeit powerful pleasure point. When stimulated, the A-spot can provide a sexual gratification and increased lubrication. Below, we walk you through how to find it, and how to have fun with it.
Go Deep
Because the A-Spot is located further back in the vaginal canal, it requires deep penetration to access. If you want to explore with your hands, make sure to come with clean hands and trim nails (seriously). If you prefer to find it during sex, try entertaining some positions that cater to deeper penetration. "This can improve your accuracy in stimulating the A-Spot," says Andy Duran, head of educational outreach over at Good Vibrations. Doggy style and cowgirl are two good options. Though, there's another "position" out there that's said to stimulate the spot with even more accuracy. "Anal sex is often a way that people report discovering their A-spot," says Duran. Discuss with your partner and pick the right approach for you.
Bring In The Toys
As mentioned, the A-Spot is located deep inside the vagina, which can make it difficult to access. Toys designed for deep penetration can help you find the area with more accuracy. For this, Duran suggests the Njoy Pure Wand, a curved instrument made of medical-grade silicone. Stimulating the area before sex might even make the most sense. As we noted above, A-Spot stimulation helps increase vaginal lubrication. And, as anyone who's ever suffered a micro-tear will attest, more lube always leads to better sex.
Combine The Pleasure Zones
It's always exciting to discover a new point of pleasure on a partner's body, but don't forget about the rest. Combining different forms of stimulation is a great way to increase arousal, and, as Duran reminds us, "arousal will always help to increase sensation." Brush up against the G-spot as you make your way deeper into the vagina. Put a finger on the clitoris while you're at it. Reach down and kiss her where she most desires. Be good, and be giving.
Keep Your Expectations In Line
We all walk into sex with some expectations in mind, but it's important to operate within the realm of reality. While certain kinds of internal stimulation can lead to exciting sexual displays, like say, squirting, the A-Spot isn't exactly known for inspiring the same kind of reaction. "Though the A-spot is less associated with orgasm and ejaculation than its G-spot neighbor, it's definitely worth visiting while you're in town," says Duran.
This article was originally published on