A Professional Dominatrix's Advice For Powering Up Your Sex Life
A professional Dominatrix explains how a trip to the dungeon can help average couples enhance their sex lives.
by Carrie Weisman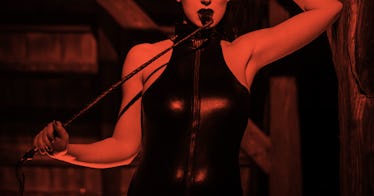 It's been said that every hopeful needs a mentor, and it may be so. But when it comes to sex, there's not a lot of hierarchy around to guide you. Unless, of course, you look to the professionals. Mistress Justine Cross has been a professional BDSM consultant and lifestyle Dominatrix for more than a decade. In that span, she's helped a lot of individuals bring their deep-seated fantasies to life. More recently, however, she expanded her practice to include a new demographic of potential clients: married couples. She brings couples down to her dungeon and offers them tips, tricks, and a little bit of rough treatment. Considering how one of the most popular sexual fantasies in America is BDSM, it's a smart business move. We spoke to Cross about what the dungeon can teach these duos about intimacy, communication, and good sex.
Booking an appointment with a professional Dominatrix seems like a pretty extreme move, especially to the pedestrians out there. What could regular couples gain from a trip to the dungeon?
I think heterosexual couples tend to have one idea of what sex is and why it needs to be a certain way. BDSM allows you to explore things that fall outside of the standard penis-in-vagina sex. There are other intimate things to do. I do consultations with people who want me to talk them through different dynamics and role-plays. Other times, I introduce couples to some new moves. I teach them how to tie each other up, or how to hit someone without hurting them. I'm there to spice things up for them. I'm there to make things more fun.
How often do they come back for more?
I get some repeat clients. It's not usually something they do all the time. It's kind of a special occasion thing. I get a lot of birthdays and anniversaries. A lot of women come in on their own, too. They want to learn about BDSM and bring home some skills to surprise their husbands with.
Sex is a pretty intimate process. Why would a committed couple want to bring a third person into the mix?
When there are two people, there's no referee. I kind of act as a mediator. I get to see what the dynamic is between the couple, and then I get to call them on their shit. Sometimes one partner is trying to communicate something but the other isn't listening. That's when I get to tell them to shut up and let their partner talk. I can also be nicer than that. But, basically, the goal is to give both people what they want in a way where they can both be seen and heard. I also leave some time towards the end of the session for couples to be alone. It's important for them to reconnect within the space without me there.
Sexy stuff aside, how can this kind of experience bring couples closer together?
Well, it's kind of weird coming in here. I mean, a lot of people come in excited, but it is kind of weird, if you think about it. You're about to go into this dungeon located in a strange part of town, where you're going to take off your clothes and this tall, mean, and beautiful woman is going to do things to you. I mean it's exciting, but also scary and weird as hell. It's definitely different from going to pick up the dry-cleaning together. It's a different kind of adventure.
Which BDSM staple would you most recommend couples adopt?
Communication. I'm always trying to get couples to really express what they like, and what they don't. It's important to have an idea as to what those things might be. Sometimes people spend a long time fantasizing about a certain scene, or a certain kind of sex that they want to have, and then realize it's not actually for them. It's important to recognize why they didn't enjoy it, what they might want to change, and how they might want to experiment in the future. It's important to give yourself room to make mistakes. You might not know what your limit is until you meet it. Being able to talk about it is what makes people feel safe.
Are there any common requests you get from couples?
With heterosexual couples, the guy is often put in the dominant position. But some guys want to switch it up. If their partner is also submissive, I can top both of them. Or maybe I'll co-top one of them alongside their partner. There are a lot of different ways it can play out. I just cater to the couple in terms of what they want.
Is there anything else the dungeon can teach us about a healthy approach to sex?
I think it's important to remember that sex can also be funny. It's important to be able to laugh. Maybe you have a whole scene mapped out in your head, but you trip and fall in the middle of it all. It's ok to laugh about it, even if your partner is tied up across the room. You have to give yourself room to make mistakes.
Most people become parents as a result of having had sex. At the same time, "parenthood" and "sex" aren't exactly considered compliments. How do you think BDSM can help bridge the gap?
When people have sex, there's really no plan. But BDSM scenes are very directed. You can put together a checklist of things you want to happen, or don't want to happen. It's like, 'I have an hour to play with you, and it's going to run this way.' It can be very convenient when you're on a schedule. You know you're getting your carnal needs met in this specific way, in this specific time window of time. You get to look forward to it. And that's an approach you can apply to more vanilla scenarios as well. People don't really schedule sex as much as they maybe should. They think it should always be spontaneous. But that's just not reality. It's not a bad idea to have some kind of arrangement in place. Especially after kids.
This article was originally published on