Scott Campbell Talks About his Kids, Inking Iron Man, and Tattoo Culture
Scott Campbell versus 'Frozen' is no contest.
by Donna Freydkin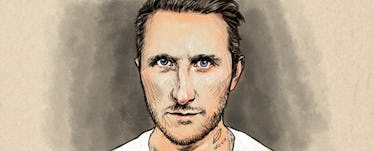 Kreg Franco for Fatherly
Scott Campbell is one of the best tattoo artists on the planet — if in doubt, ask Howard Stern or Robert Downey Jr. — and an unapologetic, outspoken feminist. He started a cannabis brand he named after his beloved grandmother, Be Boe. He relentlessly praises his wife Lake Bell for being a fierce mother, and even more badass wife. Badassery must run in the family. Campbell helped deliver his son Ozzie at home 2017 after a harrowing home birth. Being a dad to Ozzie, 2, and daughter Nova, 4, has changed Campbell, in every sense possible. And his commitment to raising independent, outspoken, forthright children is one of the many reasons he's one of Fatherly's coolest dads.
"Healthy male role models are so important to girls growing up. I want to be the best husband and dad I can be so she doesn't grow up dating shitty guys. I never talk down to her," he says.
Fatherhood aside, Campbell is deeply respected for his ink prowess and his ongoing global Whole Glory project, in which brave souls stick their arms through an opening and let Campbell work his magic without ever communicating with him. It goes part and parcel with his own backstory: The New Orleans native was raised in a conservative Southern Baptist family, but yearned for something different. So he moved to Brooklyn, opened up Saved Tattoo, and gave Heath Ledger a tat of a bird. The rest, as they say, is inkstory.
What's the coolest thing about being a dad?
One of my biggest fears in having kids was that my artwork and my career — which was important to me — would be divided into two sections. This is what I did before kids, and this was after I had kids. I was nervous about that. But I accepted that. I want to know that magnitude of love feels like. I found myself — I work up from a dream a couple of months before Nova was born — I had a dream that I had died before she was born. All I was to her was this work I left behind. I remember waking up and deciding to edit all the bullshit out of my life.
OK, that's deep.
I am never making anything insincere again in my life. It felt good. I'm super proud of my work, life and career since we had them. It's made me incredibly efficient. I go to work for eight hours a day and I get seven hours and 59 minutes done. I started a wine brand and I have a cannabis company. All of this growth has happened since we had kids. It's made me more focused. I didn't see that coming when Lake peed on the stick.
In the most broad sense, how has fatherhood changed your outlook on life?
I'll improve myself for my children in ways I wouldn't do for me. Seeing myself through their eyes — it pushes me to do more and be more for them.
How did deal with your life changing when you became a dad?
We found out my wife was pregnant with our daughter, who's 4. Our son is 2. Originally we were like, oh yeah, let's keep the gender a surprise, it'll be so fun. We didn't want to find out. But then, as she got five months down the line, for mothers pregnancy is real and tangible. They feel their life changing. For fathers it can be abstract and tangible. I talked to her and said knowing the gender would help me understand what's coming. We found out the gender. The moment the child was a she and not an it, it helped me wrap my head around fathers and daughters and what it means.
Speaking of your daughter, how are you raising her to she's strong-willed and knows boundaries?
I'm just trying to stay out of her way. My daughter is one of the best attorneys I know. I never talk down to her. Last night, we were wrapping up to go to bed. She wanted a smoothie. I told her the blender was put away. She's like, you can put the blender in the dishwasher and run the dishwasher. That's a solid argument. I respect her ability to find loopholes.
Who's the stricter parent?
We're tougher with different things. I don't allow sugar in the house. When they go to a birthday party, they can have the cake. They're not the weirdo who can't have the cake. I grew up in a house where we drank soda with dinner every night. Gross. I might be the tough one. She can watch two Daniel Tiger on Saturdays. That's the only TV she gets.
And how's that working out?
Even with all my fighting screen time, she still got obsessed with Frozen. I can't get it out of my life. She's never even seen it. She knows the songs and she'll sing the songs. I ran into Jay Z the other day in a social setting. I wanted to say to him, 'Can you please tell Beyonce thank you for knocking Frozen out of my life?' Beyonce has overshadowed Frozen in her life. I'm so grateful. She's like Single Ladies and Halo. We're old school.