Saying Goodbye to Our Family Dog
His absence has left this house with an incredibly loud void to fill.
by Cesar Suero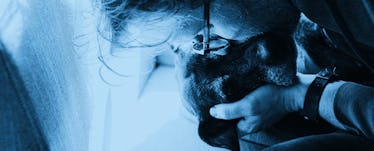 It all happened so quickly. Over a 24-hour period Louie's health deteriorated. When we got the call at 6 a.m. last Tuesday morning letting us know that our little pup was critical we prepared for the worst because the worst appeared to be inevitable.
We marched down the stairs and into the car. This was going to be the longest 25-minute drive we've ever had. As I buckled my seatbelt I turned back to my daughter who was half asleep and delivered the news.
"Louie might not make it," I said gently.
After a short pause a tear slowly trickled down her round cheek as she whispered, "But he has to make it."
This story was submitted by a Fatherly reader. Opinions expressed in the story do not necessarily reflect the opinions of Fatherly as a publication. The fact that we're printing the story does, however, reflect a belief that it is an interesting and worthwhile read.
We were on our way to say our last hello because we knew we would never be able to say goodbye. As I drove, holding on to a small glimmer of hope that Louie would perk up the minute we walked into the room, my daughter uttered the most heartbreaking sentence.
"Are we now just going to be a regular family?" she said. "Regular, regular, just regular?"
I took a big gulp to digest what she meant as tears now started trickling down my cheek. In her eyes, Louie made our family special. He completed us. Maybe it was the quiet, calm presence of him that provided our family with steadiness even through the most tumultuous times.
Sadness visits us like an unexpected neighbor. When it knocks, it knows you are home and you have no other choice than to let it in. Sadness knocked that day when the doctor tapped on the door of the waiting room where we sat patiently. Louie was brought to us and placed on a table about waist high. He laid motionless, his eyes barely open.
"Come on boy, come on boy," I cried over and over again into his ears. "Let's go home."
Sadness knocked and unexpectedly barged through the door of our hearts. And when the unexpected happens there is nothing that can prepare you for it.
We staggered our way out of the vet that day in tears. I stood in front of the door struggling to untie the knot around the COVID required yellow gown we were forced to wear. I picked my head up in a failed attempt to shake off some of the sorrow when I noticed a sobbing stranger standing on line waiting for her dog's turn to be seen. After a few slow steps towards my parked car I took a look back at the stranger who was there involuntarily to witness our grief. Unexpectedly, that moment, as short as it was, provided me with a tiny bit of comfort. Our grief had now become her grief. Our tears had now become her tears. Our deep love for our dog was felt by a total stranger.
As of this writing, it's been seven days since we put our dog Louie to rest. It's been seven days of learning how to cope with this incredible pain. A pain that comes and goes yet somehow always stays. This pain is going to stay for a while because every word of condolence is a reminder of the heartbreak. Every question about what happened leads to a series of thoughts second guessing every decision made. Every walk to the store is a walk past the fire hydrant, a walk past the light pole, a walk by the many spots often visited by Louie.
His absence has left this house with an incredibly loud void to fill. There's something obviously missing. I can still feel the crackling sounds of his nails hitting the hardwood floor. The barking at the buzzing doorbell still echoes through the walls. Every walk out the door is preceded by a glance over the shoulder to an empty dog bowl. A glance to a now-empty space behind me that was once filled by a jittery, healthy pup.
Dogs, like us, are creatures of habit. I hadn't realized how many habits Louie and I had formed over these past 11-years. Dogs are consistent in ways that humans can only wish to be. As selfish as it sounds, they become part of our daily routines. They rely on us for the most basic things. Food, walks, and the occasional belly rub. They repay us by providing so much more in return. They give us a level of companionship and loyalty unmatched by even our closest human friends. They protect us. They teach our children. They complete us.
Without them, as my daughter put it, we're regular, regular, just regular.
Dogs, we don't deserve them.
Cesar Suero is father of one (soon to be two) living in Brooklyn, NY. Since recently being laid off he now happily enjoys golfing as often as his 7-year old daughters schedule allows him to.