Rob McElhenney on Fatherhood, Family, and What Masculinity Means to Him
The man behind Mythic Quest and It's Always Sunny in Philadelphia spoke to Fatherly about lockdown leadership, what masculinity means to him, and how he parents two very different boys. 
by Donna Freydkin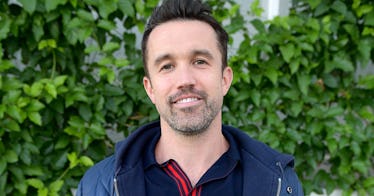 Here's the thing about Rob McElhenney: He's not cynical. Not even a little. Yes, he's the man behind It's Always Sunny in Philadelphia, an indictment of human nature masquerading as a beloved sitcom, but McElhenney is a generally happy guy. He makes stuff that makes him happy. He also makes stuff that makes other people think. It was McElhenney who pushed for his character Mac, an aspiring but insecure Irish Catholic bully, to come out as fat, gay, and jacked (not necessarily in that order). Why did McElhenney gain 60 pounds then go on an obscenely intense workout diet then risk the ire of just about everyone by showcasing America's first truly awful gay character? He wanted to know what it would feel like and if the jokes would land.
"I'm fascinated with masculinity," he says. "I want to explore it in any way I can. I continue to do that with the characters I play. I'm a man and existing in the world."
It's no wonder McElhenney is interested. He's the father of two boys, Axel, 9, and Leo, 8, with co-star and wife Kaitlin Olson and the proud son of gay women. He is, in short, almost the precise opposite of Always Sunny's Mac and Ian, the lead in his new Apple Series Mythic Quest: Raven's Banquet, a small-town narcissist pumped Silicon Valley-crazy on money from his hit video game.
McElhenny spoke to Fatherly about lockdown leadership, what masculinity means to him, and how he parents two very different boys.
Mythic Quest continued filming during the California lockdown and your quarantine episode became a sort of instant cult sensation in the Zoom community. What inspired you to shoot a remote show?
I wanted to get people paid for three weeks of work. From there, I thought that if we're going to do it, let's do it right. When people see it, we don't have to apologize for the quality. It was a creative choice. We wanted to do something different.
I'm seeing a lot of Instagram posts by very affluent famous people complaining about lockdown. I'm texting people to tell them to shut the fuck up.
Right. Unlike other celebrities, you have controlled your desire to emote and tell everyone that you feel their pain.
This has been and continues to be a global catastrophe, but I can't pretend that I'm struggling. I'm not. I've been on a TV show for 14 years. That provides the means that allow us to live pretty well. The best we can do is raise awareness and money and be thankful for what we got.
My kids hate coming to the set. It's so boring to them. To me it's still magical, but they could care less. If I'm at work I don't get to see them. Now I see them all day long. It's great. We kind of hit the lottery, because they're the perfect age for this circumstance. They would rather spend time with us than with anyone else. We only have that for a couple more years. But they can go and play by themselves when everyone needs space.
How do you raise, to use a very tired word, grounded and sane kids when you're living in this very privileged bubble?
We're fortunate enough to have Danny DeVito and Rhea Durham in our lives. They raised their children in very specific circumstances and they raised three kids who could not be better human beings: kind, respectful, driven, courteous. We defer to them.
How do you tackle symptoms of problematic privilege in your kids? As a parent, it's easier to just let things go and just say yes.
We have a saying in our house. I say, 'Guys, whose money is it?' And they say, 'Your money.' That's important to me. I tell them they're not getting any of it. We are going to give you support and love and boundaries and we're going to say no a lot and we'll say yes a lot, but we're not creating generational wealth. We'll give you opportunities and you'll take them and do with them what you will.
I'm not giving anyone anything. Is it going to work? I don't know.
Presumably you also try to model the behavior you want to see in your kids.
Just the word model is not something I understood or knew until I had kids. That's tricky for parents. I'm saying you need to calm down but you're watching how I react when I don't get my way. If he sees that when my iPhone freezes and I throw it, the whole concept doesn't work. This idea of modeling, and recognizing that our actions are more powerful than anything we can say to them, is something I take seriously.
Another issue that you've tackled is our idea of what masculinity means. What have you learned about yourself in the process?
The phrase toxic masculinity opened my eyes to so many things that I wasn't as receptive to in the past. I'm fascinated with the positive aspects of masculinity. We don't need to be celebrating those as much as we have but we also don't want to pretend there aren't positive aspects of masculinity.
But one thing that I wrestle with is aggression. I've wrestled with it my whole life. It's just one of those things in exploration — if harnessed correctly, aggression can be used for good and creativity and to foster and create exciting and safe environments. At its worst, it can be destructive in ways we have seen for thousands of years. How do we not pretend it doesn't exist? I have hormones coursing through my body. There's a natural biological response I'm having and I need to learn to live with that and it's not an excuse for any behavior. I want to learn how to modulate that behavior.
You and your wife met on It's Always Sunny. You got married. You work and live together. How do you keep things working when you're together so much?
We had the benefit of having a working relationship before we had a romantic relationship. We found a good rhythm. That changed over time as we became more intimate and got married and had children. We do a pretty good job of separating our professional and personal lives. That's why it's worked as well as it has. It's clear when one of us needs space. The other one finds something else to do. I can tell when she's at her breaking point, often before she can.
You've been vocal about causes that are important to you. What's one you want to spotlight?
One of the organizations we're working with is Mercy Corps. It's doing so much in terms of its Covid response. We raised money for them as a cast and a crew. I want to be respectful and cognizant that people have been asked to give and they have not been able to work. I just want to be respectful as I ask people. If you can, please do. If you can't — we appreciate what you have done.