YouTube Superstars Rhett & Link Share How They Romance Their Wives With Humor
This article was produced in partnership with Pandora Jewelry. ADVERTISEMENT Fact: Any partner who's ever told you they were fine with a romantic love letter in lieu of a gift was lying. Also a fact: A romantic note paired with the perfect gift will win you points that will last you into the New Year... View Article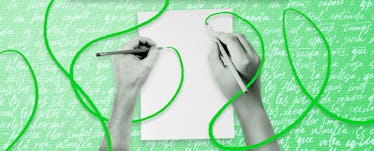 This article was produced in partnership with Pandora Jewelry.
Fact: Any partner who's ever told you they were fine with a romantic love letter in lieu of a gift was lying. Also a fact: A romantic note paired with the perfect gift will win you points that will last you into the New Year and beyond. Such a note shouldn't recount your entire epic love story — there's only so much paper real estate on fine stationery — so a short and sweet encapsulation of the unique love you've found is all you need. In Found Love: Gift Notes, we asked fathers to share a quick tip on how to say a lot to the mother of their children in only a few words.
Charles Lincoln "Link" Neal III
A love note should be short and sweet (with an equal emphasis on both). Short, to increase the chances of writing them more often, and sweet because that's kinda the point.
Christy, I was just thinking about when you agreed to go van-camping with me and we thought we were gonna be killed by some strange dude who insisted on showing you his special photos. I love your adventurous spirit and I love escaping with you. Let's do it again soon! — Link
Rhett James McLaughlin
A love note to your partner should be something that could only come from you and only be for them. A tailor-made message that you can't find in a card anywhere on Earth. And it helps if it's funny (unless you're not funny, then don't try).
Jessie, even though you know what I look like without a beard, you've still chosen to stay with me after all these years. I don't know how this Harnett county boy ended up with that Wake county girl, but I'm gonna make the most of every second I have with you until the Universe figures out that it gave me someone I don't deserve. You get better with each passing day. I love you. (Oh, and Universe, if you're listening, I WILL FREAKING FIGHT YOU FOR HER).
Rhett and Link are the hosts of the wildly popular YouTube series Good Mythical Morning and are heads of their own media empire. Their spouses are Jessie McLaughlin and Christy Neal, respectively.
The perfect note deserves the perfect gift. Take our quiz to reveal which piece of Pandora jewelry best fits your partner's personality.
This article was originally published on