Renting in the Suburbs: What All Parents Need to Consider
Renting in the suburbs can make a lot of sense. If you're considering making the move, here's what should factor into your decision.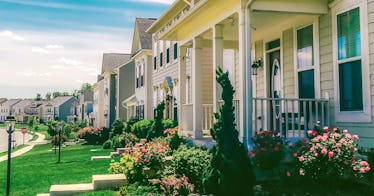 For a lot of young couples, the suburbs are where you move when it's time to finally buy a house and put down some familial roots. But these days, the connection between homeownership and an urban exodus is starting to erode.
The last several years have seen quiet migration of renters to the hinterland, including many newer parents. A recent analysis by the property search site RENTCafé found that, over the past decade, the number of suburban households that rent grew more quickly than urban ones in 40 of the 50 biggest cities.
And while that trend seems to hold true across the age spectrum, a number of factors are causing young moms and dads in particular to seek out rentals beyond the city limits. Affordability certainly plays a huge part in the equation. But the prospect of more green space and, often, better public schools can also lead new parents to pack up and leave the bustling polis for a rental pad further out.
So what does it take to make renting in the suburbs a winning proposition? Here are some of the factors any couple should weigh before making the move.
The Cost of Renting a Home in the Suburbs
It's true that owning a home is actually less expensive than renting in many parts of the country. But for a lot of couples who are straddled with student debt and stagnant wages, it's still hard to come up with a substantial down payment. Others simply want to keep their long-term options open.
For these and a host of other reasons, a lot of Millennials are opting to lease, even after starting a family. And, most of the time, the suburbs represent a better bang-for-the-buck.
A 2018 report by Zillow found that, in virtually all of the nation's biggest metro areas, rental prices per square foot in and around the city center surpassed those in the burbs – often by a wide margin. In Washington, DC and San Francisco, for instance, city renters paid 140 percent more than their suburban peers for a similarly sized unit. In Seattle, urban dwellers forked over 91 percent more, on average, to rent a house or apartment. If you're a city-lover who's struggling to pay the landlord every month, it might be time to give the suburbs some thought.
As with all things real estate, nationwide trends don't always apply; you have to see what the numbers are in your neck of the woods. And the cost-savings of an apartment away from downtown might be quickly eroded if you have to pay more for train or bus fares to work. Any financial comparisons you do should include these ancillary expenses as well.
What Are the Nearby Schools Like?
For parents with children who are school-aged, or will be soon enough, getting them a quality education is naturally near the top of the list when choosing a new home. Without question, it's one of the big reasons why moms and dads with young kids leave city life behind.
In the post-No Child Left Behind world we live in, searching for a good school district often means looking at test scores in different parts of the metro area. GreatSchools.com is a pretty handy starting point because it's so easy to navigate. It's also fairly holistic in its approach; in addition to rating the school's standardized test scores, it also includes ratings for how well kids are progressing from one year to the next and how well it's serving disadvantaged students.
That said, it's questionable what numbers alone can tell you about a specific school. If you're not talking to other parents who have kids there – or at least getting a walkthrough with the administrators – your homework is incomplete.
When it comes to your child's education, RENTCafé's Mihaela Buzec recommends doing some long-term planning. "You don't want to be close to a great elementary school but have no good middle or high school nearby," she says.
What Will Our Commute Look Like?
If you're planning to move into the distant suburbs but still work in the city, it's worth taking a cold, hard look at what your daily commute to the office is going to look like. Are you saving a few bucks on rent, only to find yourself losing an extra hour or more of your day to agonizing traffic jams? You may want to ask yourself if the blind rage you bring through the threshold is worth it.
Google Maps has a nifty feature where you can estimate travel times at a given time of day, allowing you to simulate what your morning and evening commute will look like. After plugging in your start and end points, click where it says "Leave now" and scroll down to the "Depart at" option. From there, you can enter the time you leave for work or head home on a typical day.
Extending your commute not only takes an emotional toll – it can also drain your pocketbook. Add up things like train fares, tolls and extra gas to see if you're really saving by moving to a hamlet farther away.
How Will It Change OurLifestyle?
For long-time city residents, it's easy to look at suburban living as a pretty blasé affair, packed with cookie cutter housing developments and non-descript apartment buildings. But over the past several years, real estate developers in many parts of the country have tried to spice things up, building "town centers" that create a community vibe far away from the city. Today, it's possible to find units where local restaurants, grocery stores, or barber shops are just down the block.
Of course, these urban-style enclaves aren't for everyone. They often charge a premium for the more high-end appointments they usually offer. And some folks may like the quiet – not to mention ease-of-parking – that you'll generally find in less densely populated areas.
In any case, you'd do well to look beyond the house or apartment itself and make sure the community around it offers the type of lifestyle you're seeking. For parents, it's also worth taking into consideration the proximity of amenities that your kids will enjoy.
"If your child is enrolled in extracurricular activities at a recreation center or library in the city, it makes sense to find a suburban equivalent rather than commute back and forth," says Buzec.
How Safe is Our Neighborhood?
One of the suburbs' big draws is the lower rate of crime compared to urban neighborhoods. But the fact is, even towns that are well outside the city borders can have persistent problems. For young parents who have children to protect, it's worth doing some research to find out if the community you're looking at is safe.
Fortunately, there are a number of online tools that make it a lot easier to track down crime statistics. The website SpotCrime, for example, provides a crime map that lets you the see the precise location of assaults, thefts and arrests. Before signing your name to a lease, it's also a good idea to visit the National Sex Offender Registry to make sure you won't be living down the street from a creep.
Part of your due diligence, however, is talking to people who live in the area and even walking the neighborhood. Things like cracked car glass on the street or dilapidated housing could represent harbingers of safety issues within the community.