How To Spend Less Time Managing Your Inbox, More Time Managing Your Kids
by Chase Scheinbaum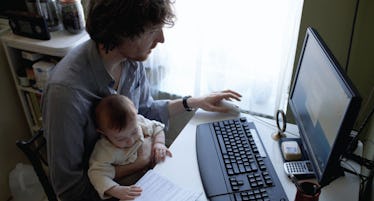 You don't have much time, so let's make this quick: Your emails, texts, and voice messages are probably wasting precious hours that could be spent paying attention to your kids — or something even more productive. Randy Dean says all it takes to stop being a slave to your inbox and resume being a slave to your family is a few new habits. He should know — there's a reason his book, Taming the Email Beast, is an Amazon bestseller. It's because email is a huge time suck and life is passing you by while you "sort by folder." Here are his tips for making sure the robots work for you and not the other way around.
Do It Once, Not More
Dean says the average person looks at each email 3 to 7 times before they deal with it. If you've taken the time to open your inbox, determine what to do with new messages once and for all. If it requires more time and thought later, set aside a few minutes and mark it in your digital calendar. When it's time, handle it. "Otherwise you're burning time that could help your career or be given back to your family," he says. Don't be the guy who didn't take his kids out for ice cream because he was dealing 47 offers for penis enlargement pills.
Schedule Your Reaction Time
Don't be umbilically connected to emails and texts. By choosing not to be "reactive" when you're pinged by a push notification, you'll have more control. So, rather than constantly checking messages, or keeping them open on your screen, check them periodically. You can set your own schedule. Every 15 minutes? 30 minutes? Waning gibbous cycle of the moon? Whatever works for you.
Knock Out The Small Tasks
Little things pop up all the time. Dean says get those small tasks — like deleting a bunch of email newsletters — out of the way quickly and stay on top of it. Think of yourself like John McEnroe swiftly returning the volley with economy of movement, and screaming "f–k" as you do it. Once you're done swatting away the easy stuff, you're left with the more time-consuming tasks. Write those down on a piece of paper, task manager, Evernote, whatever. Then get in your time machine and find an extra few hours to take care of those things.
Prioritize People
Setting up different ringtones and notification levels for your kids, spouse, boss, and proctologist is a pain in the ass the first time, but it will ultimately save you time by letting you know if your attention should really be diverted. Just try to be more creative than giving your proctologist fart noises.
Train Your Kids to Email You
As lawyers, politicians, and the NSA know, emails never disappear. If your kids email you about a big game, a musical recital, or a friend's birthday party, you have a record. Next time you sit down to prune your inbox, you can add that item to your calendar, set notifications, and alarms. You can even use IFTTT to connect your calendar and your email automatically so there's no chance you'll forget. "This way, it goes into the rotation of all my inputs," says Dean. "If they just mention it into space over breakfast, I might say yes and then forget."
OOO Yeah!
Your hotel reservation in St. Bart is for 7 days, but that's just between you and Expedia. To save yourself from being bombarded when you get home, set your out of office reply for 10 days so you can give yourself a buffer. Also, try drinking a daiquiri while sifting through those backlogged emails — it takes a while to transition from island time.
3 Is The Magic Number — Of Email Accounts
Most people have 2 email accounts: One for work, where you get long memos regarding the longer memo you got about that memo you forgot about. One personal, for all those hilarious gifs, toddler birthday invitations, and fantasy baseball updates. Try using a third account (or just an alias) for all of the spam and junk emails. Don't worry, if Pottery Barn really needs to reach you, they'll call.
This article was originally published on