These Photos of Parents Before and After Kids Show a Hilarious Vision of What's to Come
The "Got Toddlered" Instagram account posts photos of parents pre- and post-kids. It's a hilarious, unfiltered reminder of the stark reality of parenthood.
by Adam Bulger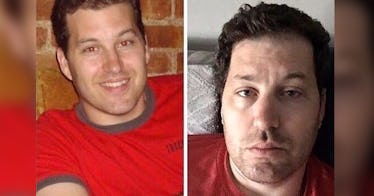 GotToddlered/Instagram
Toddlers are wonderful, but they will mess you up, literally and figuratively. They slather their moms and dads in dirt, food, and gunk grown-ups can't and wouldn't want to identify. They tug and tear once-flattering clothes into crusty canvases. And they need so much time, parents often forgo self-maintenance they once took for granted, from salon and spa visits to shaving and showering.
As they contend with that real world mess, parents face a metaphysical one as well. Their lives and identities have radically changed. They perceive themselves differently. This isn't shocking, but it's often confusing and rarely pretty.
The instagram account Got Toddlered documents the mess in hilarious fashion. The account posts split-screen photos of parents before and after kids. The "before" photos show sophisticated, urbane seekers of fun and enjoyers of solitude. They're often cliche "I'm partying!" pics from college or early post-college life that feature plenty of alcohol, kissy faces, and party outfits. The "after" photos depict the same person in the thick of of parenthood. They are often covered in spit-up and looking solemn or just flat out exhausted as their child is screaming or stepping on the soft of their back. The photos are very funny. They also serve as a stark contrast to the endlessly curated photos of "perfect" families that tend to populate Instagram.
The starkness of Got Toddlered is, of course, intentional. Toddlers are a force of nature the account's creator, Brooklyn dad and blogger Mike Julianelle, hilariously refers to as "the scourge of silence, the devourers of all that is tranquil, the enemies of all personal space."
"I posted a before and after pic of myself for some Twitter #hashtag game about 10 year differences, and I tweaked it to focus on pre-kids/post-kids," Julianelle tells Fatherly. "A follower saw it and suggested I ask for users submissions. They immediately flooded in and my Got Toddlered page on IG became about the ways parenting destroys you instead of your home and things."
Often, the before shot is taken outdoors, in front of scenic backdrops, like the Roman Coliseum or a sun-kissed mountain and features the not-yet-a-parent in the center of a cleanly composed image. After pics are usually haphazardly framed indoor shots of the same adult, now haggard, exhausted, and overrun by children on beds or couches.
The post below, juxtaposing a pic of a man tandem skydiving before becoming a dad and lying face-down in front of a crib with a baby riding tandem on his back arguably boils the whole idea down to its essence.
The posts are earthy, real, and funny. But while the account aims to be relatable entertainment for parents, its light-hearted honesty about kids may help parents well-being and point to a healthier consumption of social media.
When you become a parent, you take on a new identity and change how you relate to people. And that's often unpleasant. New research indicates that mothers of young children commonly experience issues related to self esteem. A 2018 study of over 80,000 Norwegian mothers, for instance, found that the first stretch of motherhood puts women's self-esteem through a rollercoaster of highs and lows. Researchers found that first-time moms felt highly of themselves for the first six months of motherhood until their self image crashed down at the half-year mark. Meanwhile, their relationship satisfaction decreased around childbirth and continued to fall thereafter.
Assuming the research is correct and there's a biological preponderance to feel bad about yourself when you have kids, moms are likely to comb through their lives in search of times when they felt good about who they are. If they've been on Instagram for a while, they can do that search right on their phone by scrolling through their personal feeds. Looking at those foregone days of freedom and self regard could inspire despair or make you feel trapped. Or, you could see those pictures fit in the context of Got Toddlered, enjoy the mordant humor and feel, if not better, at least a little less alone.
"I try to be honest and funny about the challenges of parenting, and I attempt to promote a feeling of solidarity," Julianelle said. "Everyone's kids are different, but all kids are essentially the same. We're all in this together, so we should stop judging each other and save our ire for the true enemy: our offspring."
Julianelle thinks that presenting parenthood as a series of perfect magical moments does a disservice to the real experience of raising kids.
"I love my kids," Julianelle said. "I just hate parenting. It's hard, it's stressful, it's a huge pain in the ass. I use my sense of humor and healthy amounts of sarcasm and hyperbole to survive. It's all in good fun."
And while Got Toddlered lets parents commiserate over their lost coolness, attractiveness and ability to travel, it quietly up-ends how people consume social media. Social media posts usually function like highlight reels of people's lives, featuring vacations, sunsets, fancy dinners and doctored images of domestic bliss. It seems like everybody's at Disney World all the time except for you.
All that Insta-self promotion takes a toll. A 2017 survey of British teenagers and early 20-somethings, found Instagram to be the worst social media platform for mental health. Respondents used Instagram to express and define themselves but often experienced high levels of anxiety, depression and FOMO, "fear of missing out" while using it. It's a simple, toxic two-step. Users post carefully edited and curated images of their bodies and lives to present perfect versions of themselves. Their followers see those images in moments of boredom and dissatisfaction and feel despondent.
As one Got Toddlered fan commented on a post where a woman's time-jumped from sipping rose' on a boat to hoisting a can of spiked seltzer with a baby strapped to her chest, "it's not the worst, but it's not the best. It's parenthood. The pic is perfect."
With Get Toddlered, the mask of Instagram posting slips off. There's no acronym for the polar opposite of FOMO but that's what parents feel looking at Got Toddlered. And the pictures, captions and comments are consistently funny, which means that they have value even though they don't inspire envy. Through the accounts relatability and entertainment, it boosts your spirits far more than an Instagram influencer posing at an exclusive cliffside resort on Maui ever could.
And when you do see that influencer flashing their toned physique in exotic locations, your mind skips ahead a decade to after shot, where their kids will make as chubby and disheveled as the rest of us.