Paralympic Athlete Josh George On The Best Advice He Got From His Father
Step 1: Take the push handles off the chair.
by Chase Scheinbaum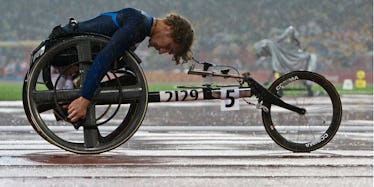 Usain Bolt is probably the greatest track athlete of all time, right? How do you think he'd perform if, the day after winning gold in the 200 meters, he competed in another race — but this one was 34,762 meters? That's basically what Josh George will do this week in the Paralympic Games, when he competes in the 400, 800, 1500, 5K, and marathon wheelchair races.
George is already the world record holder in the 800, and a 5-time Paralympic medalist, which is impressive enough on it's own. It's even more impressive considering he fell out of a 12-story window when he was 4, shattering his legs, dislocating his hips, and damaging his spinal cord. That would rank as an 11 on the terrifying-moment-for-a-parent scale. But, even when Josh lost the use of everything below his midsection, his father, Scott, never questioned whether his son could lead a fulfilling life. But there's "fulfilling," and then there's "the best wheelchair athlete in the world."
George says that even though his dad was more analytical than athletical, he instilled the grit, tenacity, and healthy perspective about the wheelchair that keeps George moving … fast.
https://www.youtube.com/watch?v=6IlgxHJ8b3Q
Focus On The Goal, Not The Path
"My dad works in finance; he's not really a guy that was big into athletics. Amazingly, when I ended up trying to do that as a career, he was incredibly supportive. At the beginning, I wasn't making a ton of money. I moved back home for a couple of years after college. The future didn't exactly look bright. Every now and again we'd have a conversation about it, but I never felt any pressure or doubt from him. It was always about whether this was what I wanted to be doing, and not about how I should take a different path. He was never one to push his opinions on me. He would offer advice and say, 'What are the options to accomplish what you want to do?'"
You're Not Defined By The Chair
"My parents were young — in their late 20s — when I had my accident. From Day One their focus was in treating me exactly the same as if I'd never fallen. If I walked with them somewhere before the accident, then I'd go there in my chair, too. I had push handles on my first chair and they took them off right away. This was 1998 and the landscape for disabilities was so different then. But there was never a doubt in my dad's mind I would go to college. If someone tried to treat me as if I were different, my mom and dad were quick to get between them and me, and end that conversation."
Where Business And Athletics Intersect
"My dad has a Masters in business, and I'm sure he would've been incredibly happy if I made that decision for myself. Whenever I toyed with the idea, I started to do well racing and my focus would immediately shift to that. In the past few years, I've been working with a start-up selling lifestyle products for wheelchair users. When it all started I could see how excited my dad was now that he could relate to what I was doing directly. He gives feedback and advice, but if we go in a different direction he understands. He's super level-headed; there's never any hurt feelings. I strive to be more like that in racing. You can get caught up in your own head and create judgments from others that don't exist. My dad's always looking at things from a fact-based, rather than emotion-based standpoint. That's how I try to be."
Money Isn't Everything — Especially If You Lose Some
"I lost a lot of money with my first [financial] manager. He came highly recommended but we didn't know what we were doing. We spent a lot of money and got nothing out of it. I was crushed after that because I didn't have much income. My dad made it clear that this is what happens in life: Sometimes you make poor judgment calls that cost you, but fortunately it only cost financially, and that's something you can make back. He helped soften the blow of that. Now I'm embarrassed I ever felt that way because I understand it's not that important in the scheme of things."
This article was originally published on