My Father The Drug Lord
"It was difficult trying to convince the most wanted man in the world to surrender. But I told him I was tired of the violence."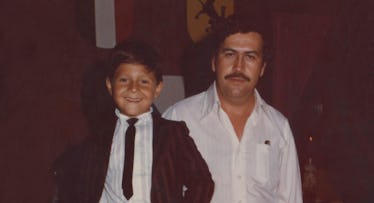 Courtesy of the Escobar Henao Family
My name is Sebastián Marroquín. I am a 40-year-old architect and industrial designer in Buenos Aires, Argentina. I have a wife and a four-year-old son, Juan Emile. I was born in Medellin, Colombia, in 1977. My given name is Juan Pablo Escobar. Pablo Escobar, the world's most famous drug kingpin, is my father.
From the beginning, I want to make clear that my father is 100 percent responsible for his criminal acts. But I also want to make clear that, as a father, he was a wonderful man. We were very close friends. He always talked to me very straight and without any doubts. Here is an example: In 1984, my father ordered the assassination of Colombia's Minister of Justice, Rodrigo Lara. We immediately went into hiding in Panama since the Colombian government did not distinguish between my father and his family. They were hunting for us all.
One day, my father and I were standing outside the house. He turned to me and asked "Do you know what a bandit is?" I said I did. He said, "I am a bandit and that's what I do for a living." He told me that he had chosen this life and to live like a bandit. So, from an early age, I was very aware of what he did. I did not, however, realize the extent or the size of his organization.
Later on, I found a guy who spent the day with my father on the day he ordered the minister killed. My father had told him that if he didn't kill the minister, he would kill himself. My father was desperate. At the time he ordered the assassination, he was a politician. It was a big decision for him to have the minister killed since it was telling the world publicly that he was a bandit. In some ways, though, it gave him a sense of freedom not to have to have a double face. Politicians are full of lies. At least, my father was an honest bandit.
After that murder, everything changed not just for Colombia but for us too. The first years of my life were full of memories like playing soccer with my dad and having big meals together. But, after the assassination, we went into hiding and he was often not with us. It wasn't anything like how the Netflix series Narcos portrays it. Not only does the show glorify the violence in order to make money, but it also gets facts wrong. For instance, we weren't staying in mansions — where obviously the authorities would be looking — but rather in small and dingy homes. I remember thinking at the time, What's the use of all my father's money if he still has to live like this? It seemed like a pointless way to live.
But, even when things were very dark, he was always near us. He called us, sent letters and recorded tapes for me and my sister telling us stories. And we did see him too. When I was eight years old, for instance, he sat me down and told me about drugs. He explained to me every drug that was available and the consequences of doing them. He said, "A great man is the one who doesn't do drugs." But he knew I was surrounded by drugs. All my friends had tried them. So he said, "When you become curious about it, just call me and we will do them together." By the time we had this conversation, my father was moving mostly cocaine, a lot of it. It was the biggest business in the world. But the only drug he tried personally was marijuana. He never tried heroin because he was very aware of how addictive it could be. He was very aware of that.
When my father was alive, I did my best to persuade him to change. I told him if you have to defend your ideas with guns, you have to check your ideas. But, of course, he was grown man. He never listened to anyone, not the authorities, and not his family. However, in 1991, when he surrendered to authorities in La Catedral prison in Medellin, he made a speech dedicating his surrender to his 14-year-old pacifist son. It was difficult trying to convince the most wanted man in the world to surrender. But I told him I was tired of the violence, tired of watching my family and friends disappear. I myself had barely survived a car bomb in 1988. There was just so much blood you can't imagine. I told my father he was the only person who could stop it. So he surrendered. Unfortunately, he couldn't stop. While in his prison, he tortured and killed two of his lieutenants and shortly thereafter went back on the run.
I was sixteen years old when my father died. I spoke to him ten minutes before. He said, "I'll call you later." That was the last time I heard his voice. I didn't know he was dead until a journalist told me on television. I went mad. I threatened the country and said that if my father was truly dead, I would kill everybody. Of course, I regret those words now. I will be more remembered for those five seconds of threats than the twenty three years of peace that followed them.
Now, I speak about my father's legacy in an attempt to prevent more carnage and violence. I am trying to leave a better future for my son and a better past than I inherited from my father. At the same time, my father was one of the best fathers in the world. He was very clever, full of love for me, my sister and my mom. So in that way I am trying to imitate him, but only the good parts.
– As told to Joshua David Stein
Sebastián Marroquín is an architect living in Buenos Aires, Argentina. His book, Pablo Escobar: My Father, was published in 2016.
This article was originally published on