This Oral Sex Advice Is Something All Men Should Know
International sexologist Dr. Yvonne K. Fulbright offers some advice to enhance the quality of your time in the bedroom.
by Carrie Weisman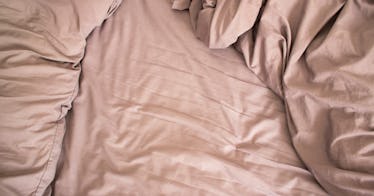 When oral sex is on the table, women have a better shot at achieving orgasm. And that's not just a random hot take. According to the researchers over at the Kinsey Institute, men have a pretty good shot at attaining orgasm through vaginal sex alone. Women, on the other hand, prove to be much more orgasmic through a variety of sex acts. And yeah, that includes oral sex. Of course, incentives to engage in cunnilingus extend far beyond the promise of orgasm.
Dr. Yvonne K. Fulbright is an international sexologist who's been recognized by the U.S. Secretary of Health as an expert and key leader in the area of sexual and reproductive health. She's spent the better part of her career steering individuals toward a healthier approach to sex and relationships. And oral sex just so happens to be part of that equation In fact, Fulbright is so enthusiastic about the act she even authored a guide to help instruct men on their approach. Fatherly spoke to Fulbright about how oral sex operates in service to both pleasure and partnership and what men should keep in mind.
Why do you think oral sex is such an important area to explore within a relationship?
When people indulge in sexual experimentation or when a gal gives the green light to let a lover go down on her, there is a certain degree of vulnerability involved. The variety could be a reflection of other things in the relationship that are beneficial, like a strong sense of trust. Unfavorable relationship dynamics can act as barriers, first in a lover feeling up for being adventurous, and then being able to let go knowing that you're a safe person to be vulnerable with. Consider how you engage your lover outside of the bedroom, and if there are things you could be doing better in building trust.
Why do you think there's so much ambivalence surrounding oral sex on women?
People are largely unfamiliar with the vulva. They're lucky to simply learn the names of each intricate part in a high school biology class. Female sexual pleasuring is still a relatively new concept in human history, and for those up for the task there's still the fear that they don't know what they're doing. A number of females don't even know how to provide a lover with instruction, given they still face the taboo of exploring their sexuality, especially on their own.
Let's get down to brass tacks. What are some of the most common mistakes men make when performing oral sex?
Some men think that the urinary opening is the clitoris. A number of them don't warm her up properly. They dive right in, and that can make for a lot of discomfort. Also, any signs of hesitation or being turned off by what you're about to do can cause her to shut down. Men need to at least come across as confident with what they're doing.
How might porn have changed the way things are performed?
For better or for worse, people learn from porn. It can show some techniques for pleasuring, but at the same time, it puts a lot of pressure on women to react a certain way, and that includes being able to produce female ejaculation as part of her reaction. One other related point is that some women who have seen the airbrushed vulvas of porn stars may feel self-conscious that their vulvas don't look as symmetrical, hairless, or otherwise "perfect."
Is that what motivated you to put together a "guide to going down" for men?
There was a need for a female expert's guidance and opinion on things. A lot of men would like to learn about cunnilingus from the ladies themselves. I welcomed the opportunity to deliver facts, clear up myths, empower lovers, and equip readers with a number of hot ideas for better lovemaking.
Do you have any favorite "techniques" you'd recommend to someone who isn't exactly confident in their oral sex skills?
A big part of this is taking your time. It's about tending to other parts of the body and making her feel good about herself. It's also teasing as you're warming her up. Instead of zeroing in on her clitoris and going to town, get the entire vulva wet. Firmly brush over the clitoris on occasion, but tease it. After some build up, firmly push the tip of your tongue against it as you rhythmically massage it, gradually building up the speed and paying attention to signs of whether there's too much stimulation or if she wants more.
How can more oral sex increase a woman's odds of achieving orgasm, really?
For a number of women, cunnilingus is the only or most effective way she climaxes. For a number of women, receiving oral sex is necessary if lovers want her to ultimately orgasm. Though, I warn lovers to avoid making orgasm the goal of any kind of sex and to enjoy the ride. This takes pressure off of the situation and people involved, and keeps you in the moment. Hopefully, this means that lovers won't rush, especially if they know that the woman tends to be more easily orgasmic via oral sex.
Some say that more cunnilingus in the bedroom could help end the orgasm gap. Would you agree?
Yes and no. For some lovers, more is desirable, especially for women who know this is a primary way for reaching climax, whether as the main play or foreplay. But for ladies who cum as effectively during certain sexual positions involving vaginal penetration, more cunnilingus may not be necessary. Every couple needs to figure out what's best for them and communicate about that.
This article was originally published on