Open Enrollment 2020: 5 Tips to Save Money on Health Insurance
Open enrollment season is almost here, which means it's time to take a good look at your family health care plans. When you do, keep these money-saving tips in mind.
by Daniel Kurt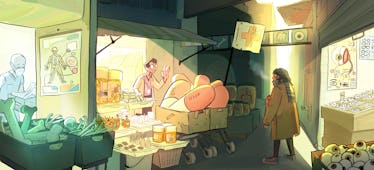 Geo Barnett for Fatherly
Thank God my family — myself, my wife and our two kids ages five and two — have health insurance. We're lucky to have it. I know many who don't. But it's still costing me a fortune every month. And, frankly, it's a struggle. Co-pays and deductibles are wringing us dry. Is there a way to shop around for better health care? With open enrollment soon approaching, I wanted to get an opinion about what to do to lower my costs if possible. What are some pointers to keep my bills in check? What about tax savings? Ideas for cheaper prescriptions? Anything and everything would be helpful to hear. Thank you very much — Jonah, via Email.
This is a question just about every parent should be asking themselves this time of year. For states that use the federal health insurance marketplace, open enrollment runs from November 1 to December 15 (states that run their own marketplace may have different enrollment periods).
That means there's precious little time to start figuring out what you're going to do for insurance next year. And because health coverage is likely one of the biggest line items on your family's budget, it's a decision you don't want to make without some serious thought.
There's no way around it – unless you have pretty amazing benefits through work, insuring a family of four is freaking expensive. According to Modern Healthcare, the average monthly premium for marketplace plans covering a household that size will be $1,520 in 2020 (believe it or not, that's a four-percent dip from this year)
However, you may be able to bring those costs down to Earth a bit. Here are some ways how to lower your health care and health insurance costs.
1. Shop on Your State's Exchange
Yes, you can buy individual plans outside of the Marketplace. But that can be a costly mistake, since you won't be eligible for government subsidies that the vast majority of consumers who use the exchanges receive.
For example, if you make less than 400 percent of the federal poverty level, you qualify for premium tax credits that will lower your monthly insurance bill, says Jordan McIntosh of Stride Health, a website that helps people buy individual plans. You certainly don't need to be living in squalor to qualify; in 2019, it meant bringing in less than $103,000 for a family of four.
If your household income is less than 250 percent of the poverty level for a family your size, you may also qualify for cost-sharing subsidies that lower your deductibles, co-pays and coinsurance. Unlike premium tax credits, you need to have a "silver" – or middle tier – plan to receive cost-sharing subsidies.
2. Anticipate Your Health Care Costs
Given how painfully expensive health plans can be, it's tempting to simply opt for the one with the lowest premiums. That's a good solution if you and yours are in great health. But those "low-cost" policies often come with sky-high deductibles and higher co-pays that may cost you in the end. "Those plans can get people into trouble," says McIntosh.
Unless you have a lot of faith in your astrologer, no one knows what next year's medical costs will be. But you may be able to get a rough idea without calling a "900" number. Does someone in your family need high-priced prescription meds? Are you planning on having surgery, or expecting a new child? You might want to slide up to a higher-tier plan that pay a higher percentage of your expenses.
3. Don't Leave Tax Savings on the Table.
Some lower-rung plans have deductibles of $5,000 or more, which can be a scary proposition when you have four people in your family receiving health care throughout the year. But in Uncle Sam's eyes, any policy with a deductible of at least $1,400 for individuals or $2,800 for family plans is considered a "high-deductible health plan," or HDHP.
If yours fits that bill, you can pair it with a health savings account for any out-of-pocket expenses you incur throughout the year (though you can't typically use them for premiums). It's a nifty way to shave off your tax bill, since contributions to the account are tax-deductible up to $3,550 for individuals and $7,100 for family plans in 2020.
Even if you don't have an HDHP, you can write off unreimbursed health care expenses that exceed 10 percent of your adjusted gross income. However, you have to itemize your deductions to get that particular tax break.
"Bank of Dad" is a weekly column which seeks to answer questions about how to manage money when you have a family. Want to ask about college savings accounts, reverse mortgages, or student loan debt? Submit a question to Bankofdad@fatherly.com. Want advice on what stocks are safe bets? We recommend subscribing to The Motley Fool or talking to a broker. If you get any great ideas, speak up. We'd love to know.
4. Make Sure Your Doctor Is Still Covered.
Physician groups have contracts with private insurers that periodically get renegotiated. So you'll want to do a little due diligence now that open enrollment is around the corner. "Before picking a plan for the year, confirm that your doctors are in-network," says McIntosh. That way, you won't have to find out after the fact that your insurance offers reduced coverage for your primary care provider or the kids' pediatrician.
If a doctor you prefer is outside your network or the service isn't covered, McIntosh says you can ask for "cash pricing" before receiving services. As long as you're willing to pay the full amount ahead of time, some providers are willing to give you a break on the price. Since you're paying for the medical care upfront, insurance doesn't get billed and the amount doesn't count toward your deductible.
5. Request Generic Medications
At some point, most of us have experienced a case of sticker shock when heading to the local pharmacy. Often, it's because your doctor prescribes a name-brand version of the drug when a cheaper generic is available.
In fact, a report by the AARP's Public Policy Institute earlier this year found that the average cost of name-brand prescriptions is a staggering 18 times that of non-patented equivalents. If you're getting hammered with drug costs, it's worth asking your doctor if a lower-priced generic is equally effective.
Is there a pill you have to take every day? McIntosh says you might want to consider the mail-order option that many insurance plans offer. Often, you can get a 90-day supply of medication for the cost of just two co-pays.
Alas, none of this is going to make health insurance cheap in the year ahead. But when you're feeling squeezed by premiums and out-of-pocket