Online Dating Might Be Changing the American Family
Tinder could be a force for good when it comes to stable, happy marriages.
by Ben Marx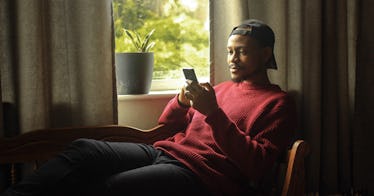 While letting people know that you and your partner met online isn't always the most exciting meet cute, the truth is that dating sites and apps are ubiquitous. Today, more than one-third of marriages start online, and that might actually be a really good factor for healthy relationships. A new paper suggests that couples who meet by swiping right have stronger and longer marriages than those that meet offline.
According to the paper, written by Josué Ortega at the University of Essex in the UK and Philipp Hergovich at the University of Vienna in Austria, meeting online is now a much stronger indicator of a marriage's potential for success. The researchers measured the compatibility between two partners in 10,000 randomly-generated societal simulations. They then calculated the strength of marriages according to their degree of compatibility. And after adding online-dating connections to those societies, what they found was that those online connections noticeably increased compatibility, presumably leading to better marriages.
These findings line up closely with earlier studies that suggest that online dating could be related to happier marriages. One 2012 study, for instance, looked at about 19,000 people who married between 2005 and 2012. On the whole, couples who met online said they had more satisfying marriages than couples who met offline, and those marriages were less likely to end in separation or divorce.
Before you single folks double-down on your Tinder swiping, it's important to note that these findings just indicate a connection between online dating and good marriages. There's no conclusive evidence that meeting online guarantees a stronger relationship, nor does it at all mean that meeting partners the old-fashioned way is a lost cause. There are a lot of factors that affect these results, including whether people who sign up for dating sites are also likely ready to get married.
It could also have a lot to do with the fact that people frequently meet their future partners through mutual friends, and online dating exposes users to a much wider social network. Breaking out of "friend of a friend" blind dates simply increases the number of new people that users can meet. So, it could be a numbers game.
Either way, while you're likely to see more and more marriages spawning from eHarmony or Tinder, meeting your partner offline first doesn't destine you for a worse marriage.