7 Ways Being a New Dad is Just Like Being a New Doctor
#4 At a certain point, you stop caring about your appearance.
by Adam Stern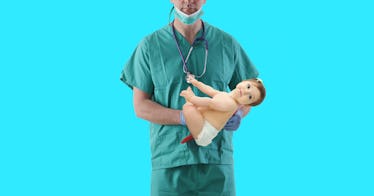 Somewhere between the hours of four and five AM, I realized I wasn't going to get any more sleep for the rest of the morning. As the baby stared up at me and smiled broadly, unsympathetic to my exhaustion, I was reminded of the last time I felt that sense of necessary learned helplessness. It was when I was first out of medical school and just trying to find my footing. In a lot of ways, being a new dad is just like being a brand new doctor.
1. You learn to distrust the quiet.
This story was submitted by a Fatherly reader. Opinions expressed in the story do not necessarily reflect the opinions of Fatherly as a publication. The fact that we're printing the story does, however, reflect a belief that it is an interesting and worthwhile read
2. You never really feel comfortable having so much responsibility.
3. You learn that empathic listening almost always comes first.
4. At a certain point, you give up caring about your appearance
5. You begin to engage in revenge bedtime procrastination
6. You become eerily superstitious
7. Your missteps never leave you, but your successes make it all worthwhile
Adam Stern, MD is an assistant professor of psychiatry at Harvard Medical School and the author of the upcoming memoir Committed: Dispatches from a Psychiatrist in Training, due out on July 13, 2021.