The 50 Best Places to Work For New Dads 2018: The National Basketball Association
Our list of 50 Best Places to Work For New Dads in 2018 recognizes companies with exceptional paternity leave and benefits programs.
by Fatherly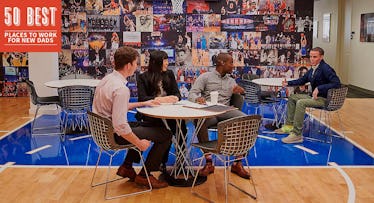 NBA
Fatherly's annual ranking of the best companies to work at for new dads are a celebration of corporations committing to helping men manage their dual roles as providers and caregivers. Though only one company can be ranked number one, every company featured has provided real support for working parents with exceptional and thoughtful offerings.
The National Basketball Association
Rank: 19
2017 Rank: N/ANumber of Employees: 1,500
Perhaps the healthiest of America's major sports leagues, the NBA is committed to engaging with social causes and supporting its employees who are also parents. Headquartered in New York, the league employs people across the globe, all of whom are entitled to 12 weeks of fully paid parental leave. The NBA is notable for offering this perk not only to full-time employees but to part-time employees after 90 days of employment.
The NBA also offers employees backup emergency childcare, a dependent care flexible spending account, and access to Cigna's Healthy Babies Program. The NBA also offers access to, well, the NBA, which many would consider a major perk.
It is worth noting that the most visible people associated with the NBA, professional basketball players, are not actually employed by the league. NBA players, who rarely take extended leave and tend to face criticisms from fans and talking heads for taking even a game off for personal reasons during a season, work for individual NBA franchises and negotiate the terms of their employment with their individual employers.
Fatherly's 2018 rankings are based on a scoring metric inclusive of data related to company policies on the following issues: paid parent leave, ramp-back time, flextime, onsite childcare, childcare subsidies, backup childcare, number of sick days, support groups, fertility aid, adoption aid, student loan assistance, education funding, bereavement leave, elder care planning. Length of paid leave, onsite childcare, and ramp-back time were the most heavily weighted ranking factors.