My Kid the Motorcycle Champion
Behind every incredible kid, there's an amazing parent cheering them on from the sidelines. In Fatherly's new series, "My Kid The…", we're putting the spotlight on these kids chasing their dreams despite the odds — and the ways their parents support them, no matter what. In this episode of "My Kid The…", Fatherly explores the... View Article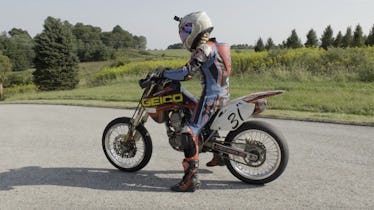 Behind every incredible kid, there's an amazing parent cheering them on from the sidelines. In Fatherly's new series, "My Kid The…", we're putting the spotlight on these kids chasing their dreams despite the odds — and the ways their parents support them, no matter what. In this episode of "My Kid The…", Fatherly explores the world of Kayla Yaakov, a 10-year-old motorcycle champion from Gettysburg, Pennsylvania.
Kayla has been racing motorcycles since she was 5 years old, and since she's started racing, she has had 185 wins and 25 championships. Kayla, though very young, constantly competes and wins against adults on races reaching speeds of 130mph. While standing next to grown men in the podium, Kayla aspires to go professional and race for Moto American and Moto GP. And while the age limit for most racers is 14, Kayla was sanctioned to race with adults at just 9 years old.
She has also followed in her father Dave's footsteps, once seeing videos of him racing and telling him she wanted to do that herself. He then took her to her first racing track, and she started competing just a couple of months later. He is now her coach and mechanic.
In this episode, we see Dave and Kayla's relationship as not only father and daughter but also coach and racer, while Dave is also a single dad taking care of Kayla's younger sister. Their love for the sport brings them together, and Dave is so confident in Kayla's talent to become professional that he is seldom worried about the dangers. He also encourages her, as she is one of the very few girls in a male-dominated sport.
This article was originally published on