My Kid the Chef
Behind every incredible kid, there's an amazing parent cheering them on from the sidelines. In Fatherly's new series "My Kid The…", we're putting the spotlight on these kids chasing their dreams despite the odds — and the ways their parents support them, no matter what. In this episode of "My Kid The…", Fatherly explores the... View Article
by Fatherly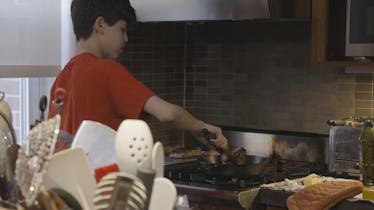 Behind every incredible kid, there's an amazing parent cheering them on from the sidelines. In Fatherly's new series "My Kid The…", we're putting the spotlight on these kids chasing their dreams despite the odds — and the ways their parents support them, no matter what. In this episode of "My Kid The…", Fatherly explores the world of Josh Reisner, a 14-year-old professional chef from Queens, New York.
Josh is a food enthusiast. He was a finalist in MasterChef Junior and has been cooking since the age of 5. His passion for food has been evident for the longest time, but he's built his culinary career while still making time for school. He has worked at Momofuku and Smorgasburg and has constant kitchen takeovers and cooking pop-ups.
Josh hopes to work with more chefs around the world on different types of cuisine and aspires to own his own Michelin-starred restaurant one day. In addition to such success, Josh claims he would not be where he is today if it weren't for his dad, Brad Reisner.
In this episode, our host, Joshua David Stein, enters his world by exploring this fascination for food. He meets Josh for a day full of grocery shopping and has a meal with the family cooked by Josh himself to examine the life of the Reisners. He meets with Josh's dad, who has pushed him throughout his entire journey; they talk fatherhood and supporting a prodigy child so that he or she can follow their dreams no matter what.