My Father, The Gangster
My dad was a wiretapper for mob boss Mickey Cohen. Then, he met Billy Graham and became something quite different. I knew nothing about it until I was 12.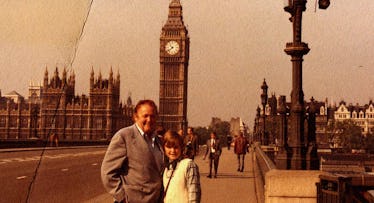 Jim Vaus Jr. was a wiretapper. A very good one. The best, probably. He was a master of the art of planting taps and listening into other people's lives to dredge up dirt that could be used as evidence or leverage. Jim started with the L.A.P.D, where he helped bust Hollywood madam Brenda Allen. Then, he brought his talents to a private detective agency where he eavesdropped on behalf of such Hollywood Legends as Mickey Rooney. Eventually, Jim's particular set of skills caught the eye of notorious crime boss Mickey Cohen, in whose service he worked for years.
Jim's illicit career was soaring. But one night in 1949, on his way to St. Louis to set up a continental wire that would rig horse races for illegal off-track gamblers, he happened upon Evangelist Billy Graham's revival tent. From then on, Jim was a tried and true convert to Billy Graham-flavored Christianity. He started youth groups for inner-city kids in New York and California, and a summer camp in Virginia. Both his career and his return to redemption were widely popularized because of the fame of the people around him. Eventually, Jim's story served as inspiration for the 1955 film, The Wiretapper.
His son Will didn't see any of that. He wasn't born until 10 years after Jim's conversion and grew up with what he thought was a relatively normal father. Hell, he didn't even learn his father's background until he turned 10. In 2007, Will wrote My Father was a Gangster: The Jim Vaus Story which recounts his father's life and unlikely road to redemption. Here, Will speaks about his dad, the man he was, and the man he became.
Mickey Cohen got out of jail a second time in 1972. My father remained friends with him. On one occasion, my parents, with Mickey, watched the movie that was made of my father's life, The Wiretapper. That's the first time I became aware of my dad's background and involvement in organized crime.
I know it sounds strange, but like all children learning about their parents, I learned things gradually. I never met any parents that sat down with their children and explained everything about their previous life before their children came along. It just doesn't happen that way. So you know I had even though that was a new piece of information, I knew that my father was a well-known figure because he'd done television interviews and that sort of thing.
My dad got into wiretapping very innocently, really, at first. When he was growing up, his parents had someone boarding in their home who was interested in radios. He taught my father how to build his own. From that point on, my father was really self-taught. He was a hand-radio operator from a young age. His first wiretapping escapade was actually wiretapping his sister when she was on a date. His parents were very strict. I don't think they let my aunt go out on a date. One night, she brought a young man to the house and she was in the living room with her date. My father set up a hidden microphone underneath the couch and ran the wire to his speaker out in the yard and sold tickets so that kids from the neighborhood could hear.
My father spent time in the army, served some time in prison, and then went back into the army and got an honorable discharge. Then, he came back and resettled himself in the Los Angeles area and he started an electronics shop. He was acting as a manager for an apartment complex for a friend who had gone on vacation or something. While he was serving as the manager of the apartment complex, people in the apartment came complaining to him about this single woman, who lived there and entertained men in her apartment late at night. He reported this to the police. They sent out two officers to check on it, they couldn't do anything because they were never able to catch her in the act. My father said, "Well, don't you have a way to listen in to what's going on inside the apartment?" So my father set up a hidden microphone in her apartment and that enabled the police to listen in and then catch her in the act. That's how his work with the LAPD started.
Like all children learning about their parents, I learned things gradually.
Because of that work, he came in contact with a private detective who did a lot of work for movie stars. My father wiretapped Mickey Rooney's wife and that began the whole series of jobs working for different movie stars who were going through a divorce.
Then, he got introduced to Mickey. Mickey wasn't the only person he worked for in organized crime. My father's feeling about the fact that Mickey was involved in illegal off-track betting was that he felt like Mickey was ahead of his time. Because today, off-track betting is totally legal.
So anyway, through Mickey, my father met a guy who went by the name "St. Louis Andy." Andy wanted my father to develop a system by which they could electronically withhold information about the horse races so that they could find out who the winner was and then place bets off-track on horses they already knew had won. He developed this system where they could withhold the race results, and really all the information coming over the continental wire. Of course, this was before the days of television and long before the Internet, so these were the sources of information. They were successful in controlling the race results coming into Southern California. My father was supposed to set up this system to control the whole western half of the United States, but he never made that meeting.
By chance, he went to hear Billy Graham speak. And after he did, he committed his life to follow Jesus Christ and immediately got out of his work in organized crime. He told St. Louis Andy he wouldn't be showing up. It was only afterward that my father found out through somebody who worked in the mayor's office in Los Angeles that there was a rival gang that was set up to kill my father in St. Louis.
For my father, that experience didn't happen in a vacuum. He was brought up with Christian faith. Even when he was involved with organized crime, I think he would have said he believed in the teachings of Christianity intellectually. He just didn't want to follow the teachings or ethics of Christianity personally. But my father was at a very critical point in his life. He had gotten involved in something that was so much bigger than he was and so very problematic in so many ways. He had seen people killed right in front of him, and he was starting to wonder how long his life might last if he continued in organized crime.
Growing up as a preacher's kid, I think there was a strong expectation on him that he would go into Christian ministry like his father. The strictness with which he was brought up was part of what drove him to rebel.
That night, in the tent, Mr. Graham said, "There's a man in the audience tonight who has heard this message many times before, but he's never given his life to Christ, and this may be his last opportunity." As far as I know, that was not a gimmick that Billy used. It was something he only said that night for whatever reason. One of the Bible passages, Graham mentioned that night was the one where Jesus said, "What shall it profit a man if he gains the whole world but loses his soul?" That verse described my father to a T. He didn't want to lose his soul.
After my father's conversion in 1949, he wanted to make things right, to confront and deal with his past, and confront things he had done wrong. He had committed perjury in a grand jury trial in order to sort of defend Mickey Cohen. His testimony had resulted in a police officer going to jail. He asked for permission to come back before the grand jury and change his testimony, which he did. He never got caught for any of his wiretapping. Also, as he was wiretapping for both Mickey and the police, the police didn't want to bring charges against him. It would expose what they were doing.
My father and I often played poker and blackjack on Sunday afternoons. I remember the Sunday my father said he was going to teach me how to play cards when we got home from church. That was the strange person he was. He grew up in a family that was very fundamentalist. His family never would have played cards. Growing up as a preacher's kid, I think there was a strong expectation on him that he would go into Christian ministry like his father. The strictness with which he was brought up was part of what drove him to rebel. I don't think he ever could have imagined how far he would go with that rebellion and his involvement in crime nor could he have imagined that coming back from that, he would eventually end up in Christian ministry. But my he was a man of many lives.
– As told to Lizzy Francis