My Father Died When I Was a Kid. I'm Still Grieving, 30 Years Later.
Loss, it turns out, is not something you ever get over.
by Surjit Singh Flora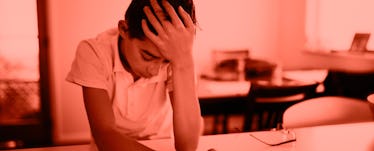 Losing a parent is always difficult, but saying goodbye to your mother or father when you're still a child brings its own, unique kind of heartache, and the grieving process is especially long. My dad always wanted to move to Canada from our home in India so he could provide a better education for his kids and a better life for his family. I was only 5 years old when he left.
Thinking back on our life in India, I recall a modest house with three rooms, a kitchen, a bathroom, and a little room my dad used as a post office. He was a postmaster. I lived in that house with my parents, brother, and four sisters. We weren't rich or poor. Just a nice, happy, loving family. But my dad always believed a real future for his family could not be found in India.
This story was submitted by a Fatherly reader. Opinions expressed in the story do not necessarily reflect the opinions of Fatherly as a publication. The fact that we're printing the story does, however, reflect a belief that it is an interesting and worthwhile read.
It took 11 years until he was granted landed immigrant status. He wrote to us saying he was going to come back for us, and we were finally all moving to Canada. But his visit back home never came.
By the time my father received approval for himself and his family to immigrate, the stress he experienced during that long wait, the constant worry about being sent home, his worrying about his family back home in India — it all took a toll on him. He became quite ill. He suffered high blood pressure and developed a heart problem and diabetes. Sadly, he died of a heart attack before he could bring us to our new home, and we never saw each other again.
I was 5 years old when he left and 16 when he died. My memories of my dad are the vague — the foggy memories of a small child.
My uncle who had helped Dad get to Canada once again came into our lives as an angel. He did his best to support us and played a major role bringing about my family's success in our new country. We think of our new home as a promised land of wealth and opportunity, but our family's history in Canada is so deeply tied to losing my father that it always brings tears to my eyes.
Today, I'm 47 years old and Canada has been my home for almost 30 years. Canada is a wonderful country. I continue to learn new things, confront new challenges, and enjoy new experiences. But at the same time, I can't help but think that it was immigration that took my dad from us.
My immigration story has something in common with countless others: it is one of heartbreak and hardship. And this has been true throughout the many decades of immigration to this country, stretching back over a century. It is also true that with each new generation the process becomes more efficient, humane, and effective.
To this day, whenever I experience difficulties in life or in my career, I feel sadness and regret at not having my father to help me through the difficult times. I live with the hope that time will heal the pain one day, and try to remember that his memories, influences, and teachings are still with me and will always be. I use them to give me strength and believe they make me stronger. Sometimes they do; sometimes they just bring tears to my eyes.
There's nothing that can help rid me of the pain of losing my first superhero, my father. He might not be here for me, but that doesn't decrease the love I have for him. I feel like my dad is always with me. Perhaps not beside me, but within in my smile, thoughts and actions.
So, I try to make my pain my strength and not my weakness. I try to become the person that my father wanted me to be. Before I do anything, I ask myself if it would make my father proud and happy. Also, I make time for things that make me happy and do them, with the hope that, wherever my father is, he is watching me and nothing would make him happier than to see me being happy.
Father's Day is hard. I miss him. When I see how everyone simply dotes on their dads, gives them gifts on Father's Day, wishes them a long, happy life, I want to do the same — but to whom can I give my Father's Day gift and card? Where can I get a warm, loving hug, a kiss from my father who loves me?
And it hurts, that life is so short, all too short, and the ones we love and who sacrificed so much for us are taken away from us so very early. So early, in fact, that we couldn't even get around to telling them how much we love them.
Surjit Singh Flora is a journalist and freelance writer based in Brampton, Ontario.