Musician Taylor Goldsmith Shares A Love Note To His Wife Mandy Moore
Why he believes unsolicited expressions of gratitude are essential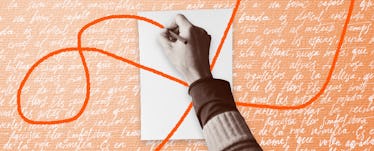 Presented by Pandora Jewelry.
Fact: Any partner who's ever told you they were fine with a romantic love letter in lieu of a gift was lying. Also a fact: A romantic note paired with the perfect gift will win you points that will last you into the New Year and beyond. Such a note shouldn't recount your entire epic love story — there's only so much paper real estate on fine stationery — so a short and sweet encapsulation of the unique love you've found is all you need. In Found Love: Gift Notes, we asked fathers to share a quick tip on how to say a lot to the mother of their children in only a few words.
A note to your romantic partner should be some kind of reminder of your appreciation for them. We all have different private languages, so I'm sure that will mean different things to different people. But it's so easy to get lost in our daily routines that an opportunity for an unsolicited expression of gratitude is often overlooked, but in my opinion it's essential. It regulates everything. Resets the equilibrium. And I don't care how good you already are with saying "I love you." When two people really love each other, it can't be communicated enough. We just always need to look for new ways of saying it.
Here's a sample:
I tell other people about how much I love you all the time. But I don't tell you enough …
I love you. I hope you feel it throughout your day.
Taylor Goldsmith is the lead singer, guitarist, and songwriter of the folk rock band Dawes. He is married to actress Mandy Moore.
The perfect note deserves the perfect gift. Take our quiz to reveal which piece of Pandora jewelry best fits your partner's personality.
This article was originally published on