The Most Fun I Ever Had With My Kids, According to 25 Dads
Looking back, what memory with your kids stands out the most? Here's what 25 dads had to say.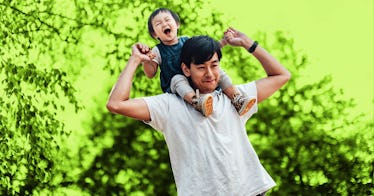 "We're just here to be memories for our kids," remarks Matthew McConaughey's Cooper in Interstellar. "Once you're a parent, you're the ghost of your children's future." It's a sneakily impactful line, and if you have children it probably resonated. One of the main jobs of a parent s to make memories for our kids, to help mold them through experiences, but also give them — and ourselves — things to look back on with fondness and love.
As is often the case, the memories that we look back on with the biggest smiles aren't always the ones that feel like cherished memories it in the moment. This became very apparent when we asked a group of dads 'What was the most fun you had with your kids?" While, yes, some answers were more traditional (First trips to Disneyland; watching a favorite movie for the first time with a child finally old enough to see it) many of them were far less so (painting a child's room; building a deck with a young child "helper"; reading a beloved children's book again and again). We hope their answers, chronicled below, give you inspiration for making memories, and, maybe, just maybe, sharpen the truth that some of the best parenting memories come from unexpected places.
1. The First Time We Took Our Kids to the Zoo
"I'll never forget the first time we took our kids to the zoo. My wife and I are both huge animal lovers, and the zoo is a special place for us. We didn't want to take the kids when they were too young, so we waited until our youngest was in first grade. We wanted the kids to be able to look at the animals and have their minds blown, rather than just not know what they were looking at. It was the right move. Seeing their faces when they looked at new animals for the first time was incredible. It was just surprise and awe, and it reminded me of the times my parents took me and my brother to the zoo. Now the zoo is something we share as a family, and it always feels as fun as the first time." – Jimmy, 37, Pennsylvania
2. When We Read Hop on Pop Together
"I'm not sure I can describe the joy I felt when my son read Hop on Pop to me for the first time. Now, I'm sure he memorized the book because I read it to him every night for like two months, but having him point to the words and say each one out loud made me feel like such a good dad. He was so proud of himself, too, and that brought me so much joy. It seemed like the first time he realized his own accomplishment. Like, kids don't know they've taken their first steps. They don't really comprehend the magnitude of a first word. But reading that book was such an achievement for him, and that's a memory I'll have forever." – Sean, 38, Kentucky
3. The Day I Introduced My Kids to My Old LEGOS
"LEGOs were always my jam when I was a kid, and I still have all of the ones I played with. One day, I decided to bring them down from storage and my kids and I played with them for, like, four hours. I got into them when I was a little older, so I always followed the instructions and tried to build the sets according to directions. But all they cared about was mashing blocks together, and using their imaginations. And that was really, really fun. They still ask to play with the LEGOs all the time, even years later, and have gotten into some of the more complicated ones. I'll never forget the fun of that first building session, and all the good times it led to." – Kevin, 35, Minnesota
4. When We Entered a Pie Eating Contest
"This was a one-time thing, but it's one of my absolute favorite memories. It was about three years ago, and our family went to the county fair. We go every year, but this time they had a pie eating contest. Well, my son wanted to enter it. Initially, I wasn't against it, I was just nervous. But, seeing how giggly and excited he got gave me the strength to destroy that pie. We came in second, and both ended up with huge, pie-filled smiles for the pictures. It was the start of the silliness that exists between us, and that's something I cherish every day." – Kurt, 37, Michigan
5. When My Daughter Helped Me Plant Our Garden
"I've always enjoyed the commitment of tending to flowers and plants and vegetables. It's a good feeling to be able to look at a beautiful garden and know you had a hand in making it. The same could be said about a kid, I guess. I have a small garden/greenhouse in our backyard, and one summer my daughter asked if she could help me tend it. I was blown away. This was when she was about 8 or 9, and she was into sports and screens. So it was a shock to hear her ask to help with the 'manual labor' of a garden. But I went with it, and we spent the whole summer learning about plants, caring for them, and giving them to people as gifts. It was the definition of a bonding experience, and it remains one of my favorite summers to this day." – Andrew, 40, Connecticut
6. When We Played An Indiana Jones Arcade Machine
"This actually started out as a trip to the bowling alley. They have this awesome vintage Indiana Jones pinball machine, and my son became absolutely fixated on it. This thing has been around since I was a kid, and I remember playing it over and over. So, when he asked to play it, it brought a huge smile to my face. I don't necessarily love pinball, but I think what made it so special was the fact that it drew him in the same way it drew me in when I was his age. It was like a magical artifact from the past that still had its power. If that bowling alley ever goes out of business, I'm definitely going to buy that thing." – Aaron, 39, Illinois
7. The Day We Painted their Rooms Together
"We have twins, and they shared a room until they turned 10. Then, we gave them both separate rooms, and I helped them both paint the walls. It sounds boring, but it was a whole process that turned into a really, really fun project. We picked out the colors, got all the supplies, then got super messy painting the whole weekend. In the end, they both loved their new rooms, and I think that's what makes it one of my most fun memories. I walk by their rooms and the feeling still washes over me. Once they grow up and move out, I'm sure we'll end up repurposing them, but it's going to be hard. I love those rooms." – Ryan, 42, California
8. When We Built a Clubhouse Together
"One day my sons came home from their friends' house going on and on about the treehouse he and his dad built. We don't really have any trees in our yard, but I thought it could be a fun challenge to build them a clubhouse. So, I looked up some plans online, and we got to work. I'm definitely not the handiest guy, but that was part of the fun. And part of the learning experience. They saw me make mistakes. We all saw each other working really hard. And, in the end, we built an absolutely bitchin' clubhouse. It was so fun. Even the frustrating parts. I made sure it was big enough for me to fit inside, too, and it still tickles me whenever the boys ask me to come hang with them. It makes me feel like they want me in their world, which is all a dad can ask for. And building that clubhouse is part of the reason why." – Michael, 40, Colorado
9. When My Son and I Worked on the Plumbing Together
"Weird one, right? But, my teenage son helping me fix our toilet remains one of my most fun experiences as a dad. I love fixing stuff, but that project was giving me a hard time. We live in an older house, pipes didn't match up, fittings weren't the right size. Just kind of a disaster from the start. I can still hear my son, completely on his own, asking, 'Need some help, Dad?' And I did. That was the best part. If it was a project I was breezing through, it wouldn't have been as special. But figuring it out with my son — teaching him about all the plumbing stuff I knew, and learning more stuff as a team — made it my favorite household project so far. Who knew fixing a toilet could be a fun time?" – Todd, 43, South Carolina
10. When We Completed a Ropes Course Together
"A few years ago we took a trip to a place called Ausable Chasm, which is this massive gorge in upstate New York. We spent a few days there, white-water rafting, hiking, and stuff like that. They had this thing called the Adventure Course, where you climbed around the canyon walls with basically just a sheer drop under you. I was terrified the whole time, but everyone else had a blast. I got into it, though, and enjoyed it. Mostly because of how much my family enjoyed it. What a great family trip." — Ken, 48, New York
11. When We Saw The Who
"When I was in high school, The Who was one of my favorite bands. My father took me to see them one summer, and I was blown away. Years later, my own son became a fan and I knew we had to go recreate the same magic. In 2015, when he was 12, The Who did a 50th anniversary tour. I got the best tickets I could, and we had an awesome time. The band still rocked as much as they did in '89, and it was so wonderful to see my son enjoying them the same way I did when I was younger." – Jeremy, 47, New York
12. When We Played Whirlyball
"Most people I talk to have never heard of Whirlyball. It's like bumper cars meets lacrosse meets basketball. You drive around in 'Whirlybugs', smash into each other, and try to score goals with a scoop and a Wiffle ball. It's just good, old-fashioned fun. I suck at it. We've played four or five times, and I think I've scored two goals. But my sons are really good at it, and they have such a great time when we go. It's always an afternoon of constant laughter, jokes, and silliness as a family. Even though I'm terrible, I love going so, so much." – Matthew B., 42, Ohio
13. When We Took My Son to Do a "Train Whistle Blow"
"My son is fascinated with trains. They're definitely his thing. Last summer, we learned that you could go about two hours south of where we live, take a tour of an old-fashioned train, a short ride around some tracks, and then blow the whistle at the end. For my son's birthday, we surprised him with a trip to do it all. He was absolutely ecstatic. I'd never seen him that happy. I cried. Total tears of joy. He even asked me if I was 'happy crying', and I told him I was. He says it was the best day of his life, and it was absolutely one of mine too." – Marc, 37, Vermont
14. The Day We Finally Watched Jurassic Park
"Jurassic Park is my favorite movie. My son has been into dinosaurs since he was little, and I always looked forward to the day when I'd be able to watch it with him. Obviously, I had to wait until he was old enough – it's an intense movie. So, when he was 11, we finally sat down to watch it. And now, it's his favorite movie too. At 11, his attention wasn't always easy to keep. But as soon as the movie started, with that scene where the guy gets sucked into the raptor cage, he was hooked. He sat there with his mouth hanging open for most of the movie, and I was just so overjoyed watching the movie and, more importantly, watching him watch the movie." – Jason, 41, Arizona
15. When My Son and I Visited Colleges Together
"When it was time for my son to pick a college, we did a whole father/son road trip to go check out a few. It was the most fun I've had with my son since he became an adult, which made it incredibly special. It was a pretty classic adventure – driving all over, blasting music, eating junk food, and sleeping in hotels. And when we weren't taking tours or checking out spots on campus, we just hung out. His high school career was busy, so we didn't get to do that a lot. So this time together was really, really precious and special. College is a once-in-a-lifetime experience for a kid, and a trip like this is a once-in-a-lifetime experience for a dad." — Alan, 47, New Jersey
16. The Day My Son "Helped" Me Build Our Deck
"This was a classic 'hand Daddy the flashlight' scenario, where my young son — I think he was like seven at the time — and I built a small deck in the back of our house. I did all the work, but he was there with me the whole time, mini tool belt and all. It was adorable. In between heavy lifting, he would ask me questions, run to get us snacks, and just sort of watch and take the whole thing in. Now it's a few years later, and he loves telling his friends about the deck he built with his dad. The actual project itself was really rewarding, but knowing how happy he is showing it off and talking about it makes me think it's going to be one of his favorite memories in the future too. That's the cherry on top of what was one of the most fun experiences I've ever had as a dad." – Coby, 34, Texas
17. When My Son and I Went Christmas Shopping Together
"When my son was about five, I took him Christmas shopping with me. Just me and him, on a mission to buy gifts for Mom, his sisters, and a few other people. It didn't start as anything too remarkable, just a normal Christmas shopping trip. But we had so much fun. It filled me with joy to see how much he got into picking stuff out for people. I think it was the first time I got a glimpse of the generous spirit he has. At first he wanted to buy everything for everybody. But when I explained that wasn't possible, he really started thinking hard. Like, 'Okay, what would be the one present that Mama would really love?' We saw Santa. We got hot chocolate. It was a perfect day with my son." – Ian, 43, Florida
18. The Day My Daughter and I Went Horseback Riding
"I've realized that a lot of my favorite memories come from times I've stepped outside my comfort zone with people I love. My daughter started horseback riding, and instantly fell in love. Other than dropping her off and picking her up, I've never been within 50 feet of a horse. I've certainly never ridden one. But, she kept insisting that I give it a try. So, we went to her stable one day and took two horses out on a trail. I was pretty terrified when we started, but by the end I'd had the time of my life. She was such a great little instructor, and I think that's what made it so fun. She could tell I was scared, and kept cheering me on. And the horse, Christian, and I became fast friends. I'm so glad I gave it a shot. It was one of the most fun experiences of my life." – Billy, 39, West Virginia
19. When We Rented Out a Movie Theater With Our Pod During COVID
"During COVID our local movie theater offered the option to rent one of their screens for a private showing. I told my son about it, and he was speechless. He just said, 'Are you serious? You can do that?' We got a few of his friends and people inside our 'bubble' and went to watch a double feature of Wreck-It Ralph and The LEGO Movie one Friday night. Part of the fun was watching them enjoy the movies. But the most fun part was watching them laugh and giggle like they were the coolest kids on the planet for being able to say they had their own private movie theater. The parents and I sat in the back, and all the kids sat in the middle, and watching them laugh and cheer from behind was easily the most fun I've ever had at the movies." – Steven, 40, North Carolina
20. When My Daughter and I Wrote a Story Together
"One day my daughter came home from third grade with a homework assignment to write a story. She asked for my help, and we both just dove right in. We started brainstorming, then I helped her make an outline. She wrote a first draft, and I helped her draw illustrations. The whole time we were laughing, being creative, and having fun. I've helped her with homework before, but this was different. Seeing how excited she was about the assignment, and being able to see her smiling face while we worked on it was something I'll never forget. The story ended up being called The Chameleon Who Couldn't Change Colors. To this day, it's still my favorite book." – Matthew G., 36, Kansas
21. When We Finally Went to Disney World
"It's the happiest place on Earth, right? So it's no surprise that the most fun I've ever had with my kids was our trip there a few years ago. We stayed there for a week, and did everything we possibly could. Visited all the parks. Rode all the rides. Met all the characters. On one hand, it was fun because seeing my kids' faces smiling nonstop for a week was just incredible. On the other hand, I genuinely had a fantastic time myself. I hadn't been to Disney since I was a kid, and it was like riding a bike. Coming back to 'real life' was kind of a bummer, to be honest. But the good news is we're planning to go back next year. And we can't wait." – Josh, 37, Connecticut
22. When We Took a Glass Blowing Class
"My son and I took a glass blowing class two years ago, and it was incredible. I knew glass blowing was a thing, but that was about it. Then a glass blowing studio opened up in our town, and we decided to give it a try. We've done a lot of the traditional father/son outings, like baseball games, museums, and mini golf, so this was a bit of a twist. We both got super into it. He loved the way the glass got super heated and turned bright orange, and we both loved the whole process of blowing and shaping our creations. It was just a really fun, unique activity that we got to share. Everytime I walk by the finished piece in our living room I remember what a great time we had." – Mike, 34, Michigan
23. When We Went to the NBA Playoffs
"When the Cavs made their Championship run in 2016, I took my son to a first round game against the Pistons. To start, he got on the Jumbotron. Then he got his picture taken with some of the cheerleaders. And the Cavs just dominated the whole time. It wasn't his first basketball game, but the energy inside the arena was completely different. It was special. You couldn't tell what, but you could tell that something was going to happen. And, sure enough, the Cavs shocked everyone and won the whole thing. I got the tickets framed with a picture of us from the game. They're all in his room, by his bed, and I smile every time I look at them and think back to that night." – Nathan, 40, Ohio
24. When We Opened a Bank Account for My Son
"My son got a part time job caddying between his freshman and sophomore years of high school. It was rough. The summer was really hot and, from what he told us, most of the people he caddied for weren't very nice. But, he made good money, and he was proud of that. He asked if we could open a bank account because he wanted to save it after working so hard. I had to go with him because he wasn't 18, and it was a surprisingly fun experience. Not the actual paperwork and all that, but we got lunch to celebrate afterwards, and just talked like friends the whole time. It wasn't a typical 'fun' experience. No roller coasters or vacations. But the joy of his accomplishment, and the pride I felt watching him take another step toward becoming a man made it a fun afternoon with my son that I'll always remember." – Patrick, 50, New York
25. When My Son and I Took Karate Lessons
"My son and I took karate lessons together for five years. We started together, and we finished together, both earning our black belts on the same day. As a father, that whole process was the most fun and most rewarding experience I've ever shared with my son. We both started out not knowing what we were doing. There were times when we both wanted to quit. But we kept each other going, and really supported each other throughout the journey. We broke boards and bricks together. We sparred with each other. We really did the whole thing as a team, and it's a fun, special memory I'll always have with my son." – Gregory, 43, Pennsylvania