Simple Hacks to Help Parents Master the Morning
If mornings always seem like a slog, a fight, or just something you dread, it's time to bust out a few tips, tricks, and, yes, breakfast ideas.
by Dave Campanaro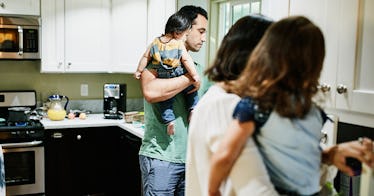 This article was produced in partnership with Dave's Killer Bread®.
The morning rush is perhaps the most challenging part of the day for parents. (Even now, when we don't necessarily know what day it is.) The negotiations to get out of bed, the boring bathroom regimen, the breakfast menu malaise, and the chore of putting on socks and tying shoes. Plus, you have to get the kids up and ready, too.
We're all at the mercy of the mornings, but there are some simple tips and tricks you can take on to get off on the right foot every day.
First and foremost, the kids need sleep. If they get enough of it, they're going to be less groggy and a whole lot easier to deal with. How do you turn a 10PM fight into a 9PM snooze-fest? Five minutes at a time. Keep the schedule down for this and they'll never know what hit them.
Next up, prepare everything you can the night before. Decide on outfits — theirs and yours — the night before and keep all the school supplies in the same place each night so you always know where they are. An organized home, after all, is an efficient one.
A visual checklist is another great tool. Kids process images quickly, so pictures of a toothbrush, or elements of their outfit can be reminders of what needs to get done. And moving magnets into a "done" column gamifies the process a bit, gives them a sense of accomplishment, and creates a fun twist on morning chores.
Then there's breakfast. Spending time making your kids a whole meal when you're trying to get them moving through the day, trying to respond to emails, and get yourself looking presentable is too high a bar. So instead of a three-egg Denver omelet, aim for the English muffin. With a little twist, it is just as nutritious and all the more delicious.
Start with organic English muffins from Dave's Killer Bread®. They're power-packed with protein, fiber and whole grains, and no artificial ingredients added.
Then, think of your kids' taste and find the healthiest options to go on top. Here are a few ideas.
The classic: add a little butter, and DKB's organic English muffins' flavor craters will capture the taste.
Millennial morning: Throw on some goat cheese and avocado for an avocado toast twist that's a healthy kick-start to the day.
Breakfast sammy: DKB's organic English muffins are the perfect base for eggs and tomatoes, a BEC, or any other quick and egg-citing combo you can think of.
PB&J: A quick flick of the spoon creates the iconic kid-friendly treat, and the organic English muffins add a killer twist that white bread just can't match
Now that your morning is more efficient, it's time to clean up your work habits — but that's a discussion for another day. For now, go enjoy all your extra time.