Everything You Need To Know About Parenting In 11 Mel Brooks Quotes
It's good to be the king.
by Fatherly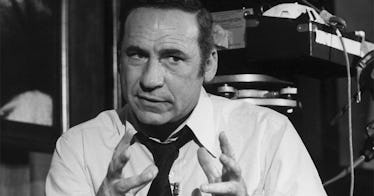 GETTY
Mel Brooks, at 90, is funnier than most of your friends at 40. In fact, most of your friends owe a lot of their best material to Brooks, who turned out legendary comedy movie after comedy movie in the 70s and 80s — from History of the World Part 1, to Blazing Saddles, to Young Frankenstein, to Spaceballs (the movie, not the flamethrower). Then just when you thought that Mel didn't have a third act, The Producers becomes a hit by turning a film about a musical into a musical of the film. So what's the secret to having a hilarious career? An amazing relationship with his late wife Anne Bancroft, and being the father of 5. Here is the collected wisdom from the king.
On The Difference Between Comedy, Tragedy, And An ER Visit
"Tragedy is when I cut my finger. Comedy is when you walk into an open sewer and die."
On Getting Through The Day
"As long as the world is turning and spinning, we're gonna be dizzy and we're gonna make mistakes."
On "You Think This Quote Is About You"
"A brushstroke of vanity is good to add into the mix, to balance your timidity. We're all blessed with a lot of timidity and a lot of worry and anxiety, and vanity is a good antidote."
On Explaining How You Ended Up With A Kid
"Everything we do in life is based on fear, especially love."
On Marriage Advice
"All short women have a delayed fuse. Marry a taller woman: My wife was an inch or 2 taller than me; it's a sign of security."
On The Meaning Of Life
"Look, I don't want to wax philosophic, but I will say that if you're alive you've got to flap your arms and legs, you've got to jump around a lot, for life is the very opposite of death."
On Why You Should Be Laughing
"Humor is just another defense against the universe."
On Every 3-Year-Old's MO
"Bad taste is simply saying the truth before it should be said."
On Being Stuck With An Infant In Coach
"If God wanted us to fly, He would have given us tickets."
On Getting Ahead
"I don't believe in this business of being behind, better to be in front."
On The Final Act
"If Shaw and Einstein couldn't beat death, what chance have I got? Practically none."
This article was originally published on