I'm a Male Escort and a Dad. Here's How I Balance Both Worlds
"It's afforded me the ability to give [my daughter] a great life and secure her future. At the end of the day, that's the end goal."
by Carrie Weisman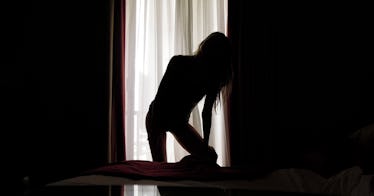 Tommy's daughter was born about nine years ago. That's when the questions started. Will she be funny? Will she be kind? What kind of student will she grow into? What kind of job will she land? The question of whether or not she will follow in her father's footsteps, however, isn't one Tommy chooses to entertain.
"Nah," he says, "That's not going to happen."
Tommy is a male escort. He's been in the industry for about six years. Tommy used to have his own company, but that went under when the Great Recession hit. Knowing he had a child to support, a friend ended up offering him a job. That friend happened to be Garren James, founder of the Nevada-based Cowboys4Angels, a male escort agency that caters exclusively to female clients.
"It's afforded me the ability to give [my daughter] a great life and secure her future. At the end of the day, that's the end goal," Tommy explained. "That's why I'm doing everything I'm doing."
Tommy charges $750 for two hours of his time. Overnight rates jump to $2,750. An entire week of his company costs $22,500. Clients pay for time. Whatever happens during that time is the choice of both consenting adults.
"I travel a lot," he explains. "I was home maybe 50 days in 2016. That's how busy I was."
Tommy enjoys the work. But that's not why he spends so much time on the job.
"I definitely don't want to be doing this after 50," he said. "I just turned 43. I'm thinking I'll retire by the time I'm 45."
Still, that leaves two more years of travel; two more years of being away from his daughter; and two more years for her to start asking questions. For now, Tommy is sticking to the same cover story he's always used on her. And, as far as his daughter knows, he works security detail.
"She thinks I protect people for a living," he explained. "But I have noticed, as she starts to get older, she's getting more curious. I have to be more careful now. She's starting peeking over my shoulder, reading my texts…"
Eventually, Tommy plans to tell his daughter the truth about what he does for a living. "I'm a really honest person," he said. Even if he weren't, he'd probably be outed at some point or another. His photos are listed publically on the company website. He also did an interview with National Geographic a few years back, which is still alive and well on the web today.
But coming out to his daughter about his life as an escort is one thing. Coming out to everyone else seems a little less important. "I don't go around announcing it, that's for sure," he said.
Still, life has a way of coming back at you, specifically if that life touches anything taboo. Most individuals working in the escorting industry use some kind of social media to attract prospective clients. Typically, these profiles are kept separate from their personal accounts. But, because of the algorithms that social media sites like Facebook uses to connect users, professional accounts can sometimes show up in personal networks.
A few years back, someone at the dance school Tommy's daughter attends ended up sending a "friend request" to his professional profile. "I took them off, but they ended up sending me another request, so they definitely saw my page. I guess I don't know how many people know [about my job], but probably more than I realize," he explained.
To date, he's only had one guy call him out on the gig, but not for lack of opportunity. Though he travels often, there are specific days he makes sure to be home, with his daughter. "There are certain times I'll let them know I'm not working. Recitals, birthdays, the first day of school…"
When he isn't working an overnight, he's typically free during the day, which means he can pick his daughter up from school, and take her out to do something special, like to get a manicure or go to dinner. It also means he's available for decidedly less fun activities, like helping his ex take their daughter to the dentist, or the doctor. "I try to be as helpful as I can," said Tommy.
"It's easier doing this as a dad, for sure," he says.
Tommy is currently separated from his daughter's mother. He gets his daughter two days a week, sometimes three, which allows him to work without worrying about childcare. Even before his daughter was born, being a guy meant he was able to dodge a number of challenges pregnant women face, like securing certain accommodations at work or putting in a request for maternity leave. These are services most new moms-to-be depend on. These are also services to which women working in the industry typically don't have access.
"This is an entirely different industry for women," says Tommy. "If my son wanted to follow in my footsteps, well, what could I say? My clients like to go shopping. They take me sightseeing. Sometimes we'll go hiking. But with men, it tends to be all about one thing."
In attempts to steer his daughter away from the world of adult entertainment, Tommy's started up a side gig. "I've gotten into buying rental properties," he said. "I figure I'm going to need some kind of exit plan eventually. And my plan is to leave her with everything."
Leaving the industry isn't going to be easy, though. He's a popular escort, for one. "I found a few grey hairs a couple years back and told Garren I was probably getting too old for this. He told me not worry. He told me they'd start marketing me as a 'silver fox,'" he said with a laugh. "He'll be sending me out on appointments in a walker."
But while his concerns about aging out of the industry may remain unfounded, there is a certain something — a certain someone — motivating him to eventually leave the business. "I wouldn't say I'm missing out on my daughter growing up, but it is flying by," he explained. "You realize that as a parent, that time is very precious. I wish I had a little more time for her. But I do the best I can and plan on making up for it later."