The MLB Is Slowly Making Paternity Leave a Big League Conversation
While it offers a meager number of days off for new dads, the MLB's paternity policy does work by bringing the conversation, well, into the big leagues.
by Chase Scheinbaum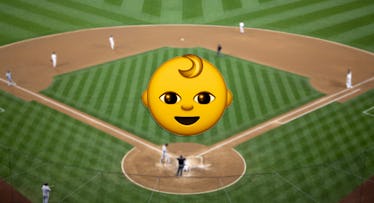 If you take social cues from such dyspeptic sports talk radio hosts as Michael Felger, you'd think a Major League Baseball player taking paternity leave was the worst sin in the world. How dare he, a professional athlete who works "six months out of the year", take time off to "tickle the baby"? But the truth about dyspeptic sports talk radio hosts is that they're starting to sound woefully outdated. Most people are more or less okay with the 20-odd baseball players who have taken paternity leave each year since 2011, when the league instated it.
"There hadn't been an outcry before and not since, that's really the story here," says Scott Behson, professor of management at Fairleigh Dickinson University and the author of "The Working Dad's Survival Guide." "Baseball as an employer and institution, as well as the fans see paternity leave and involved fatherhood as normal. As it should be."
What's more, as it's the only major sports league that offers paid paternity leave, the MLB could be doing a favor to millions of dads who can't hit a fastball to save their lives — even if that was never the league's intention: bring the paternity leave conversation into a widely watched masculine institution.
"Here's a very American masculine institution of baseball that is communicating that babies are men's work as well as women's work, and we need to support them becoming a father," says Claire M. Kamp Dush, an associate professor of family science at The Ohio State University. "That's a very important cultural message."
Before 2011, when a player wanted to witness the birth of his child, his team had two options: They could choose to play one man short while the new father was away. Or they could suspend the player and deny him pay while he was AWOL — because that was the only way the team was permitted to replace him with a player from the minor league. It was really a question of playing shorthanded or not. So the notion for paternity league in baseball came from team general managers, not the league itself, nor the players association. The GMs pushed the idea for rather practical reasons
"General managers felt it was inappropriate not to pay players their salaries when they were just going for a few days for the birth of their child," says Paul Misfud, the league's vice president and the author of the rule. "They didn't want to create a situation where a player stays with the team just to get paid."
Under the rule, players must miss at least one game but can be absent for no more than three. They get paid, the team doesn't have to play shorthanded, and one more baby can brag that their dad passed out in the delivery room.
If three days sounds a bit paltry, don't expect it to get any longer. "It's been a dormant issue since 2011," says Misfud, who takes that as an indication that the teams are doing fine and the players feel it's adequate. So why would the league feel pressed to change the rule? "We haven't gotten any pushback from the players union asking for more time," he says. But, "It would only take three or four players to need more time during the delivery of their child to bring the issue back to the table."
Elvis Andrus
"Sports have always been a vehicle for change and progress in society, especially baseball," Behson says. "They're very proud of their role in the integration of other aspects of society. If someone we look up to takes parental leave, it makes it more acceptable for others to do so."
This year so far at least eight players have taken advantage of the policy, including Texas Rangers shortstop (and guy with a very rock'n'roll name) Elvis Andrus, San Diego Padres center fielder Manuel Margot, and — guy who also has a very rock'n'roll name — Cleveland Indians first baseman Carlos Santana.
The odds of dads-to-be taking paid leave has doubled since 2004, according to the Department of Labor (though it's still at a pitifully low rate). But regardless of one's batting average, fewer than one fifth of employers offer paid leave, according to the Society for Human Resources Management. And that number hardly matters anyway, since more than a third of guys say they wouldn't take parental leave for fear of negative consequences at work.
While it certainly doesn't put it in the company of such paternity-leave power players as Patagonia, Deloitte, and Netflix, the MLB's policy brings the paternity leave conversation, well, into the big leagues.
"Baseball putting the idea of paid designated leave out there reminds people that it's still something most Americans don't have access to," says Janine A. Parry, a political science professor at the University of Arkansas and author who's written about family leave. "That makes it an important part of the national conversation."