Love Your Family. But Also, Love the Act of Loving Them
To raise kids in 2021, you need the patience of a saint, the will of an ox, the wallet of a banker, and the inner calm of the Dalai Lama. But in the end, it all comes down to love.
by Michael Mazenko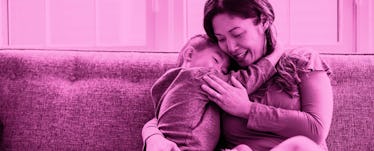 "Love them." That's the best parenting advice I've ever heard. It comes from a culminating scene near the end of a somewhat obscure but sappy little gem of a movie from 1995. The film Bye Bye Love, with Paul Reiser, Randy Quaid, and Matthew Modine, arrived a few years before my wife and I married and had our first child, but I've always remembered the scene with the advice and all its sappy sentiment. And, even now, as my kids are into high school and college, and I enter my fifties reflecting on the love with which I was raised, and the same love I hope has guided my parenting, I remember this movie and its guiding principle for being a mom or dad.
This story was submitted by a Fatherly reader. Opinions expressed in the story do not necessarily reflect the opinions of Fatherly as a publication. The fact that we're printing the story does, however, reflect a belief that it is an interesting and worthwhile read.
First, a bit of a warning about this film I view so fondly and nostalgically: the movie received pretty harsh reviews from Roger Ebert who called it "a soppy sitcom that would like to pass as a quasi-heartfelt story," and the Washington Post critic who decried it as "a warm fuzzy commercial." I won't counter with anything other than the simple admission: "I really liked it," and I've wept through a lot of commercials. I especially like the wisdom that comes at the end from a dad who has seemed anything but soppy, warm, or fuzzy throughout the film. His insight is a sentiment that's apparent throughout the film, but it's only verbalized in the final ten minutes: "Love them. Just love them."
In the film's final scenes, Vic, one of the three divorced dads played by a grumpy curmudgeon Randy Quaid, has crashed the studio of a radio talk show from Dr. David Townsend, whose monologues have played in the background, anchoring the film with Rob Reiner pseudo-narrating the parenting conflicts in every scene. And, Vic has finally lost his patience and plans to confront Dr. Townsend who is forever dispensing criticism and advice to parents of divorce, telling parents "it's not so hard" and they need to do better. Vic can't stand the guy but also can't stop listening. He cares about his kids and about parenting and about the struggles of his friends; he's also been pushed to the brink of sanity by a failed blind date with Lucille, played hysterically dead-pan by Janeane Garofalo.
In the studio, as a clearly panicked Dr. Townsend tries to de-escalate Vic, the image of the loving father emerges when Vic describes not the challenges and frustrations but instead the joy and comfort he has discovered as a single dad. After dismissing the doctor's patronizing attitude, Vic explains how in the early days of child-rearing, he was disconnected from his kids, coming home from work to hear from his wife which kid to praise and which had been naughty. Since the divorce, however, when the kids are handed off for the weekend, Vic reflects, "Now, it's just me." He's the one who washes the hair, helps with the homework, laughs at the silly jokes, and watches The Yearling for the umpteenth time. He's no longer distant, for out of separation came connection. And Vic appreciates and relishes that because at the end of the day it's just him and the kids, and he loves it.
The value of love and acceptance is not a mystery, but it's so obvious as to be easily overlooked, especially at those frustrating moments when the child won't sleep or eat or pick up toys. Or when she has decided she'd rather spend the evening with friends than be at home with her family. So, it's not a surprise or an innovative idea, but it's still the most important. It was ultimately the message of arguably the first parenting manual, Dr. Spock's Baby & Child Care, which informed the parenting of the Silent Generation and the early Boomers. The message was to trust your instincts and to rely on the love that led to your decision to become parents in the first place.
Of course, the daily task of parenting can be tough, challenging, even frustrating. How could it not be? In fact, it can be terrifying at times beginning with the moment the delivery room nurses send you out the door, and you arrive home, overjoyed and exhausted and wondering "Can I do this?" And many times it seems we can't. But that's parenting; that's life. Perhaps if we didn't have this silly expectation that we have to be blissfully happy all the time, we wouldn't be so disappointed during all the times we're not. Bliss is unsustainable, However, contentment is not. We're not designed to be happy and laughing all the time. Failing to understand that has led some parents to admit they "hate parenting," according to writer Jennifer Senior whose book about raising kids implied it was all joy and no fun. Focusing on love for the child as opposed to an unrealistic ideal of personal satisfaction is the key to parenting.
As a child and later a petulant teen, I know I tested the very boundaries of patience and understanding my parents had for me. I baffled them, disappointed, frustrated, and even infuriated them at times. But the love never changed. It never wavered because it couldn't. Love is what is there first, and it's what remains after everything else goes away. Love is literally healthy and important for both the physical and emotional growth of kids. In fact, brain growth and emotional well being are linked to parental affection and children knowing they are loved. In the whirlwind of 2020, the kids of Generation Z need love most of all in an increasingly complicated world. At a time of impermanence and uncertainty, the one absolute should be unconditional love. When we can't look to anything else, we must rely on love.
So, yes, love your kids. Love is the guiding light of parenting. And, as importantly, love the act of loving them. It's the most precious of gifts, and it's the only thing that remains after all the challenges and frustrations and good times and bad moments. If you haven't seen Bye Bye Love, but you are a parent or might someday become one, I'd recommend the movie. But if you don't ever see it, hold on to the advice. Love them.
"That's all," Vic says. "Just love them."
Michael P. Mazenko is a school administrator and AP English teacher in suburban Colorado. He has been writing about contemporary American culture for many years, serving as a Colorado Voices columnist for The Denver Post. He has also written for Salon, Pop Matters, and the CS Monitor, as well as blogging at A Teacher's View where he writes about "education, parenting, politics, pop culture, and contemporary American life."
This article was originally published on