The Big Lessons of Learning Pods, Two Months In
As many parents are learning, there's a lot more that goes into setting up an education than they thought. But things can go smoothly.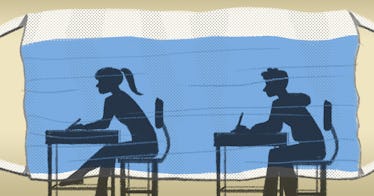 Joy Velasco for Fatherly
Stuart Jakub, 42, and his wife started looking into learning pods this summer when school reopening looked chaotic. The Jakub's son, age seven, is immunocompromised. Naturally, they didn't feel comfortable sending him back to school. They wanted him to be safe. But they also wanted him to be able to socialize and learn in a smaller, more contained environment. Forming a learning pod seemed like a good solution.
But despite two months of searching for the "holy grail" of learning pods — a group of five families, whose kids all get along, taught by an experienced teacher who also doesn't want to risk going back to school — the Jakubs had a difficult time setting one up. First, they struggled to find families interested in forming one. Even when they did find a group of parents, they struggled to agree on the terms. How would they choose the teacher and curriculum? Should everyone wear masks inside? Would the children be allowed to visit their grandparents? Are they allowed to take public transportation? Eventually, the plan fell through.
"What we've learned is no one can can commit to anything," says Stuart. "People are literally paralyzed with decision-making right now because they don't know what's going on. Everyone's opinion changes every day."
Eventually, the Jakubs relented on forming a learning pod. Now, their son participates in remote learning at his regular school. They compensate for virtual learning's shortcomings in ways they can, planning masked outdoor playdates for their son and his friends. It's not the ideal scenario, but it works. "We just gotta evolve as the situation does," says Stuart.
Like the Jakubs this summer, many parents were faced with a back-to-school conundrum: in-person or virtual learning? According to a July survey by the Kaiser Family Foundation, a large majority of parents were worried about their children, themselves, or a family member getting sick if the schools reopened. At the same time, two-thirds of parents also worried about their children falling behind academically and socially if schools did not return to in-person learning.
As schools shut down and education became virtual, learning pods appeared as a solution for parents of a certain means. In essence, a learning pod is a modern one-room schoolhouse: a small group of students led by a parent or teacher for either in-person or virtual learning. There may be a hired tutor or parents may do the teaching; the pod may meet at only one location or it may be a week-on, week-off arrangement where each household hosts a week-long session. For parents, skeptical of schools' contingency plans, but still wanting quality education for their children, learning pods had immense appeal.
But learning pods may not offer the solution many parents initially envisioned. In order to work, parents have to decide on basic parameters like curriculums and schedules. They have to agree on protocols for COVID exposure. They have to find a teacher. Evidence from the tens of thousands of members on Facebook groups like 'Pandemic Pods,' show it's been possible for many families to successfully form pods. But as many parents are learning, there's a lot more that goes into setting up an education than they thought.
The Jakubs' experience is not unusual for parents in search of learning pods. Software engineer Richard Zack, 39, and his wife were able to find a learning pod solution for his daughter, now in second grade. They started out by talking to parents of their daughter's classmates. But he encountered a similar challenge when it came to parents agreeing on the rules of the pod.
"Have you tried getting four or five parents to agree on anything, ever?" says Richard.
Scheduling, location, homeowners insurance, sharing school supplies, payroll, and safety protocol are just some of the issues that Richard says were debated by the families in the group. And that was before they all had to agree on preventative measures against COVID exposure. What if one of the kids is exposed to COVID-19? What about a parent or a teacher? Who pays for PPE supplies? Who is tracking daily temperature checks?
Eventually, Richard says that he and his wife realized that setting up a learning pod was essentially like "setting up our own school." Their first pod, which consisted of five families plus two open spots for low-income families, fell through at the last minute. One of the other families wanted to pay the teacher under the table, but the Zacks wanted everything to be by the book.
Their second attempt was more successful. Their daycare, open as an essential business during the pandemic, began hiring teachers and setting up learning pods. Currently, Richard's daughter goes to the daycare everyday with a class of 10 kids. They follow the public school's virtual learning curriculum with the help of in-person teachers in a setting that already has the necessary infrastructure.
"The carers have most of the safety or security precautions figured out, they're kind of comfortable with it," says Richard. "And they're already a business, so they're going to be paying teachers properly."
If necessity is the mother of invention, maybe it's also the mother of appreciation. Education experts say parents are now coming up against difficulties that they've never had to think about before when it comes to their kids' education. As parents scramble to form learning pods, they're realizing just how hard it is to run a school.
"One of the things I've kind of enjoyed is watching the flow of information of people saying, 'Oh my god, teachers really do have a hard job,'" says Kay Merseth, a lecturer at Harvard School of Education.
Mordechai Levy-Eichel, a lecturer in the Humanities Program and the Political Science Department at Yale University notes the experience is probably valuable for parents.
"None of this is easy. We're not used to doing it as a society. And we're going to not only individually, have lots of frustrations," he says. "But we should be prepared to experiment, because hopefully that gets you trying to do something new and that can be fun."
One consequence of doing the grunt work of forming a pod is that parents have started to wonder if they can make the experience easier for other people. Having navigated the learning pod experience, the Zacks realized they could share what they'd learned. Richard is a software engineer and put together a site called Pod Mom, a matching service for other families looking to form pods. Parents can make an account, find other pods to join in their area, or create their own based on their own criteria.
Pod Mom is just one of many education platforms that are stepping in to help alleviate the burden of setting up learning pods. Pod Mom was created as a response to the pandemic, but pre-existing companies like the online tutoring platform K12 as well as the teacher matchmaking services Selected and SchoolHouse pivoted to pod creation and streamline the service. They've seen a significant increase in interest from parents interested in forming pods.
Learning pod companies have been a great help for parents seeking a solution outside of remote education. Rebecca Halperin, 37, a social worker, has an autoimmune condition. She has two daughters — one in preschool and one in Kindergarten — and is about to give birth to her third child. Her husband is a doctor and has also been working with COVID patients. Looking to minimize exposure, the Halperin family decided to pod and turned to SchoolHouse.
First, Halperin gathered a group of parents interested in podding together. Then, with guidance from the company, Halperin then sent out a detailed survey to the group in order to establish safety protocols that everyone would be comfortable with. Through SchoolHouse, Halperin and her pod were provided with a list of experienced teachers with their resumes as well as videos containing answers to the pod's specific questions. Eventually the pod agreed on a Kindergarten teacher with a public school background. Halperin feels that they lucked out and that she exactly what they wanted for a teacher. "She is very calm and very warm," she says.
The Halperins host the pod in their basement or their backyard under a tent when the weather permits. The teacher arrives at 8:00 a.m. and class starts at 8:45. Halperin even takes her daughter "to school" by walking her outside to access the basement. The pod agreed that when parents were all together inside they would wear masks, but kids don't have to wear masks. They also agreed that kids weren't allowed to have inside playdates with children not in the pod. For Halperin, forming the pod went smoothly not only because of third party expertise, but because SchoolHouse helped the parents to make informed decisions.
Halperin says the initial conversations to establish these rules were "pretty tough," but that generally the parents were on the same page and were able to compromise with each other. As for any new situations that arise, the pod ultimately decided to "just be super honest and give as much context as they could."
Regardless of how well they work, pandemic pods pose obvious problems to the future of education.
"Will those parents who put their children in a pod ever want to come back to the public schools?" asks Merseth. "I'm not as worried about this as some of my colleagues, but some people feel this could begin to be the demise of public education, as we know it. And, again, asking the question, who's going to be left behind?"
From talking to parents through Pod Mom, Richard also anticipates big changes in current schooling.
"Every single parent we've spoken with is convinced that this is going to be happening for years and we may in fact be witnessing either the ending or a fundamental transformation of the public school system," he said.
Halperin admits that choosing to form a learning pod felt like "jumping ship" on the public school system. "All things considered, they're just doing the best they can and working so hard, and definitely not getting enough credit," she says, and insists that if it weren't for their unique situation, their daughter would probably be enrolled in public school right now. The Halperin's plan on enrolling their children in public school when "things get better."
For parents navigating these uncertainties, Harvard's Merseth offers reassurance. "Nothing is irrevocable. You can start in this homeschooling situation and you can say after a month, 'they're not learning, I don't see any progress.' You can go back to back to the public schools, or vice versa."
This article was originally published on