Does a Layaway Plan Make Sense? The Pros and Cons
Layaway plans let consumers chip away at big purchases (think: furniture, appliances, electronics) by paying in small installments instead of a lump sum. It makes sense. But it also doesn't.
by Adam Bulger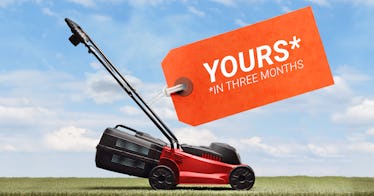 Imagine looking at a credit card statement without looking at being overwhelmed by the wrenching regret and panic of debt. You could bring home what you want not worry about how you're going to pay for it. It's called "being born rich" and boy, does it ever make life easier. But failing that, there's the option of layaway plans.
For many, layaway plans, which make consumers pay down a purchase before bringing it home, seems like a holdover from the Great Depression. It's far less convenient than credit and goes against the grain of our culture-wide need for immediate gratification. But while layaway plans require patience, they make plenty of sense in certain situations.
Like credit, layaway plans let consumers chip away at big purchases (think: furniture, appliances, electronics) by paying in small installments instead of a lump sum. But unlike credit, which requires you to buy things before you have the money to pay for them, layaway plans offer little instant gratification. With most layaway plans, consumers don't get what you're paying for until you finish paying for it.
Layaway plans impose more financial discipline than other payment methods, which is one of the most compelling aspects, says Tyler Reeves, founder of Birmingham, AL's Plimsoll Financial Planning. "It forces you to save up enough money to pay for the item and cash before you walk out of the store with it," Reeves says. "And once you have the item, you have no more payments."
Americans generally don't pay for one thing at a time. Credit cards are quick, readily available and convenient. As a result, more than half of Americans with credit cards use their cards to charge everyday purchases. With a credit card, the $300 someone charges at Sears will commingle with a flurry of $4 charges from Starbucks, a $150 grocery store, a $29 oil change and a healthy schmear of interest. Now, if you're able to pay off your credit card at month's end, that's a fine way of doing things. Plus: credit card points! But, only about 42 percent of Americans pay off their credit cards in full each month, meaning that $300 Sears charge is likely to haunt for months.
"If you get a new credit card with a $10,000 spending limit, there's nothing stopping you from spending $10,000 a day and not having any means to pay that back within the next month or even year," Reeves says. "When you take out $10,000 of items on layaway, you are 100 percent going to have paid $10,000 before you can get the items."
Thinking about money strategically and suffering through the discomfort of financial discipline might save a lot of money and grief. Say someone's dishwasher is on its last legs but that the legs are sturdy enough to keep it upright for a couple of months. With a downpayment and possibly a small fee, it's simple to set in motion a series of events that will result in a shiny and chrome appliance getting installed in the kitchen in several months.
Most store layaway plans entail fees but some, like Walmart's layaway plan, only require a down payment. Plus, standard layaway fees are usually, but not always, less than the interest one would incur with a credit card. For example, Sears charges a $5 fee for an eight-week layaway plan and a $10 fee for a 12-week layaway plan. Say someone charged a $1,000 purchase using a credit card with the current average APR for new credit cards, 17.3-percent. If someone paid off their credit card purchase in 12 weeks with three monthly payments of $350, they'd pay $28.67 in interest, nearly triple the fees for a 12-week layaway plan. Newer brands are also getting in on the action: Such companies as QuadPay, which allows customers to split any purchase into four payments, and UpLift, which offers layaway but for vacations, are modern versions of the concept.
Now, for most layaway plans, the math doesn't favor smaller purchases. If someone made a $300 purchase — Sears' minimum for a 12-week layaway — and paid off the 17.3 percent APR card in three months, the interest would be $8.96, a little less than the layaway fee. But if someone is spending thousands on big ticket items, layaway starts to look much better than using a credit card as interest gets bigger but layaway fees stay the same.
Not every financial expert is bullish on layaway, however.
"I tell clients to avoid layaway," South Carolina financial planner Charles H Thomas III says. "There's too much potential for fees and getting overextended. These plans can be better than personal loans or credit cards for retail purchases, but the better choice is to avoid these altogether."
It's a smart point. When committing money to a layover plan, the money can't be used elsewhere. So if someone is two months into paying for their new refrigerator and they blow a tire, redirecting the money to cover the suddenly arising emergency entails difficulty and, most likely, a cancelation fee.
Luckily, financial advisors say there is a way to get most of the benefits of layaway without tying up money with a retailer: budgeting. As St. Petersburg, FL financial advisor Jack Arnold suggests, you can save up cash with digital tools like YNAB or digit. "It's kind of a personal layaway plan."
Socking away enough cash to cleanly purchase offers most, but not all, of the benefits of a layaway plan. Making an agreement with a retailer has its upsides. By agreeing to a store's layaway plan, consumers are locking in a certain item at a designated price. Otherwise, both the price and availability could change while they're counting their pennies. But at least with layaway, customers get to keep the pennies.