Actor Lance Reddick Offers Foolproof Advice On How To Write A Love Note That'll Make Your Partner Cry
This article was produced in partnership with Pandora Jewelry. ADVERTISEMENT Fact: Any partner who's ever told you they were fine with a romantic love letter in lieu of a gift was lying. Also a fact: A romantic note paired with the perfect gift will win you points that will last you into the New Year... View Article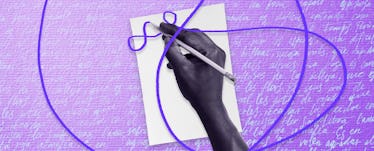 This article was produced in partnership with Pandora Jewelry.
Fact: Any partner who's ever told you they were fine with a romantic love letter in lieu of a gift was lying. Also a fact: A romantic note paired with the perfect gift will win you points that will last you into the New Year and beyond. Such a note shouldn't recount your entire epic love story — there's only so much paper real estate on fine stationery — so a short and sweet encapsulation of the unique love you've found is all you need. In Found Love: Gift Notes, we asked fathers to share a quick tip on how to say a lot to the mother of their children in only a few words.
A love note should make the other person feel so warm inside that they either want to smile or cry. For example:
Youth told me that love is bold and loud, and filled with dramatic pain. You taught me that it is gentle, quiet, thoughtful and kind. Thank you baby.
Lance Reddick is best-known for playing Cedric Daniels in The Wire and Phillip Broyles in Fringe; his spouse is Stephanie Reddick.
The perfect note deserves the perfect gift. Take our quiz to reveal which piece of Pandora jewelry best fits your partner's personality.
This article was originally published on