This Halloween, Please Don't Forget About Kids With Food Allergies
With a little mindfulness, we can make this unconventional Halloween a little better and safer for all of our kids.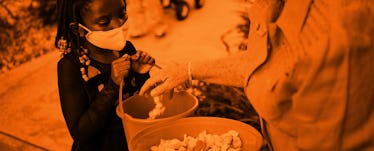 When my son, Jack, was about 18 months old, he had a severe allergic reaction to hummus. Time stopped as he vomited uncontrollably, struggled to breathe, and a rose-red rash cloaked his normally pale complexion. Subsequent blood tests revealed peanut, tree nut, and sesame allergies. This week, we received Jack's updated blood work; his peanut allergy is off the charts.
Why do I bring this up? Because while Halloween 2020 will certainly look different from years past, children across the country will still partake in the time-honored tradition of gorging themselves on candy, cookies, and other sweets, whether or not they go door-to-door to do it. With more than 5.6 million U.S. children living with a food allergy, food safety should be among parents' top priorities for ensuring these festivities are as safe as possible.
Today, according to the Centers for Disease Control and Prevention, nearly eight percent, or one in 13 children, have a food allergy — a condition in which the body's immune system triggers an abnormal response to a particular food. Among those responses is anaphylaxis, a sudden, severe, and potentially life-threatening allergic reaction that more than 40 percent of children with food allergies have experienced.
Thanks to the Food Allergen Labeling and Consumer Protection Act, food packaging requires the plain-language labeling of eight main food allergens specified by the legislation. The law has made it far easier for the families of children living with a food allergy to identify and avoid problem foods.
In the years since the FALCPA was enacted, lawmakers have recognized the need to build upon the legislation, and have pushed the Food and Drug Administration to strengthen disclosure requirements to put necessary information in the hands of consumers and to protect public health. Indeed, any parent with a child with a food allergy can tell you that precautionary language on food labels (think statements like "may contain" and "processed in a facility that also processes") is voluntary for manufacturers.
Not only that, equally dangerous but non-FALCPA allergens like sesame — currently the ninth most common food allergy among U.S. children and adults — are not required to be disclosed as allergens on food packages.
This is all to say that while food allergens are a very real threat, they are not always easily identifiable. That's what makes it so important for everyone distributing food this Halloween to take precautions to keep problematic food away from food-allergic children.
But isn't it the responsibility of the parents and families, especially those with small children who can't yet read, to ensure that their children aren't consuming unsafe foods? Yes, of course it is.
But would you mix Tide Pods or nicotine gum into a Halloween candy bowl and leave it up to the parents to dissect the contents? Of course you wouldn't. The same should be true for Halloween treats that contain allergens or potential allergens.
Also, what if the child's parent isn't present at a given moment? During school pick up one day pre-pandemic, Jack told my wife and I that the parent of a classmate offered him a cookie (ingredients unknown) before we had arrived, without even asking him about food restrictions. Luckily, Jack is very mindful of his allergies ("Is this allergic to me?") and declined. But what if he hadn't?
I'm not suggesting scrapping Halloween candy altogether. Instead, leave a note indicating candy that contains or may contain allergens or that may have been cross-contaminated. Better yet, provide non-food items like glow sticks, stickers, or spider rings in a separate bowl. (For more ideas, see FARE's "Teal Pumpkin Project" guide.) Not only will this go a long way in keeping kids safe, it will engender a more inclusive and enjoyable Halloween experience.
It may seem misguided to fixate on Halloween allergen exposures during a global pandemic that caused nearly 300,000 "excess deaths" in the U.S. through early October and decimated the economy. Traditional trick-or-treating, after all, is not exactly a socially-distanced activity.
But what about candy left outside the home? What about treats distributed at outdoor costume parties? Or about socially-distant Trunk-or-Treat celebrations? The point being that families and communities across the country are planning creative ways for their children to more safely celebrate Halloween, and plenty of candy will figuratively change hands.
One of the many lessons of the COVID-19 pandemic is, undoubtedly, that we all have a responsibility to the health and safety of others. That's why we wash our hands, disinfect shared surfaces, and diligently stand six feet apart. It's also why we should all make sure to provide safe Halloween treats for food-allergic children.
It is not easy to watch a child — let alone your own child — suffer an allergic reaction. With a little mindfulness and a few dollars to spend on vampire fangs, we can make this unconventional Halloween a little better and safer for all of our kids.Mike Burns is a communications professional in the U.S. House of Representatives. He lives in Reston, VA with his wife and two small children, who are much cooler than he is.