Katherine McNamara on the Power of Families to Spread Love and Acceptance
And when the whole becomes greater than the sum of its parts.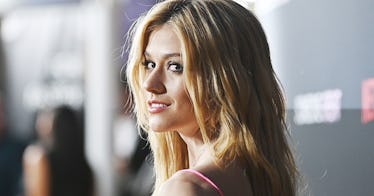 Getty
Every time you like and share this post, Johnson & Johnson will donate $1 (per social action), up to $500,000, via the Global Moms Relay to help improve the health and well-being of families worldwide in support of Shot@Life, UNFPA, Girl Up, UNICEF USA, and Nothing But Nets.
What is a family?
It's a group of individuals that come together because they're related by blood, or because they simply love each other. That's what we must remember when it comes to family, it's all about love.
Even though we're all different, we're all individual, we have different lives, different perspectives, jobs, relationships, ways of living, when we can remember to communicate with each other and to share our gifts, and our talents, and be accepting of the gifts and talents of others, that's when the whole becomes greater than the sum of its parts.
That's when families work.
What I would wish for every family all over the world is communication, love, and acceptance, and the joy that comes from appreciating the gifts and talents of the people you love.
Missouri native Katherine McNamara is an up-and-coming young starlet who can currently be seen starring as the lead, Clary Fray, in the brand new Freeform series Shadowhunters, a screen adaptation of the bestselling The Mortal Instruments books. News of her casting traveled fast and wide, including Deadline, Variety, The Hollywood Reporter, and The Wrap, to name a few. The series premiered to stellar ratings, becoming the first number-one series debut in more than two years, and helped launch the rebrand of the channel alongside fan favorite Pretty Little Liars. In 2015, McNamara closed out a lightning year, portraying another fierce female role as Sonya in the second installment of The Maze Runner trilogy, Maze Runner: The Scorch Trials, alongside Dylan O'Brien and Kaya Scodelario.
McNamara began her career on Broadway at the age of 13 as Fredrika in A Little Night Music, starring opposite Catherine Zeta­-Jones and Angela Lansbury. Her other roles include Esther Jane in the pre-­Broadway world premiere of A Christmas Story, the Musical! as well as To Kill a Mockingbird, The Crucible, Inherit the Wind, and Galileo. She has also been cast in a number of Equity workshops and readings, including PAN with Laura Osnes, which was created by the In the Heights creative team.
You share, they give: Each time you 'like' or share this post via the social media icons on this post, watch this video or comment below, Johnson & Johnson will donate $1 (per social action), up to $500,000 divided equally between Shot@Life, UNFPA, Girl Up, UNICEF USA and Nothing But Nets. The Global Moms Relay was created by the United Nations Foundation and Johnson & Johnson with support from BabyCenter, Fatherly, Global Citizen, and Charity Miles to help improve the lives of families around the globe. Share this post with the hashtags #GlobalMoms and #JNJ, and visit GlobalMomsRelay.org to learn more.
You can also use the Donate A Photo* app and Johnson & Johnson will donate $1 up to $40,000 per cause when you upload a photo for Shot@Life, UNFPA, Girl Up, UNICEF USA or Nothing But Nets, to a maximum total of $200,000. You can help make a difference in seconds with the click of your mouse or snap of your smart phone.
* via the Donate A Photo app for iOS and Android. Johnson & Johnson has curated a list of trusted causes, and you can donate a photo to one cause, once a day. Each cause will appear in the app until it reaches its goal, or the donation period ends. If the goal isn't reached, the cause will still get a minimum donation.
This article was originally published on