What Kamala Harris' Husband Doug Emhoff Can Teach Men
As the first-ever second gentleman, Doug Emhoff has a chance to show the country what a truly supportive husband looks like.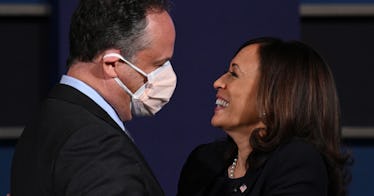 GETTY
Senator Kamala Harris made history on Saturday as the first woman, first person of color, and first South Asian to ever be elected to the office of Vice President. It's an incredible accomplishment for Harris, who has already broken several barriers in her political career.
Harris' husband, Doug Emhoff, has also forged into new territory, becoming the first second-gentleman. This means he is the highest-profile, supportive male-partner ever. The second-gentleman is a new position that provides an opportunity for Emhoff to show millions a new vision of masculinity on the country's biggest stage. And while it's not exactly an elected position, our second-gentleman elect has already offered signs that he's up to the role.
In modern, healthy relationships being truly supportive of a spouse demands understanding, validation, love, trust, honesty, good communication, and the ability to strive for equity at home. It's often tricky for couples invested in traditional gender norms to balance these traits. After all, traditionally masculine men may balk at playing a supportive role to a powerful woman.
But Emhoff is unafraid to express his pride, solidarity, and support of his wife. Shortly after the news was announced on Saturday morning that Joe Biden had defeated Donald Trump to become the 46th president of the United States, Emhoff tweeted a picture of he and Harris sharing a tender, celebratory hug on a walking trail. The caption read, "So proud of you."
surveystudyEmhoff answer kids questions in Fatherly's "Ask a Grown-Up" series. You can see the video here.